Jason Christie Wins Bass Pro Shops PAA All Star Series Title
By editor on Apr 23, 2011 | In Bass Tournaments, PAA

PAA News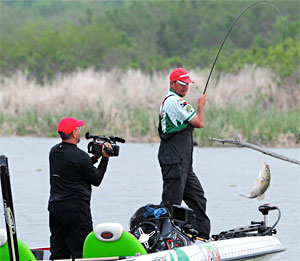 Diet Mountain Dew pro Jason Christie of Oklahoma catches one of his five bass early Saturday in his PAA All Star Series win on Lake Ray Hubbard. Photo Credit: PAA / Chris Dutton
GARLAND, Texas – Diet Mountain Dew pro Jason Christie won the inaugural Bass Pro Shops PAA All Star Series title with a three-day total of 61.93 pounds on Lake Ray Hubbard, bringing in a limit weighing 18.35 pounds on the final day to secure the win by four pounds.
Christie threw a green pumpkin Booyah jig with a Yum Money Craw or Craw Papi trailer on 25-pound Silver Thread fluorocarbon all week. He fished up the lake at the convergence of two rivers and in the East Fork Trinity River.
"It was just a good week of fishing," he said. "One time I went to get a loop out of the spool, cast out in the middle of the bay and when I was reeling in my jig I caught a 3 1/2-pounder. One big thing is I didn't lose any fish all week long. I had a pathetic practice, but was fortunate to get some bites when the tournament started and learn something from them."
He had 18.35 pounds Saturday to win by almost four pounds over Ranger pro Todd Auten of South Carolina (57.95). Christie won a new Nitro Z-8 rigged with a Mercury 225 and T-H Marine Atlas jackplate. He also won the Minn Kota Big Bass Award for the tournament's biggest bass, an 8.37 pounder, which was good for a Minn Kota Talon shallow water anchor. Christie also earned an additional $500 from BoatUS Angler by participating in its Weigh-to-Win tournament bonus payout program.
Auten threw a 1/2-ounce green pumpkin Chatterbait all week, starting shallow to take advantage of a shad spawn and moving to deeper water as the day progressed. He caught 21.60 pounds Saturday, but his second-day catch of little more than 13 pounds was the telling difference. A dock pattern he established late in the first day didn't materialize again and he had to scramble, but rebounded Saturday.
Nitro pro Matt Reed of Texas was third (56.80) followed by Nitro pro Ott Defoe of Tennessee (56.05) and Yamaha pro Dave Mansue of Texas (50.91).
The rest of the 12-man finalists:
6. Dave Wolak, North Carolina – 47.93
7. Brian Snowden, Missouri – 47.48
8. Dave Lefebre, Pennsylvania, 46.22
9. Aaron Martens, Alabama – 44.65
10. Woo Daves, Virginia – 44.13
11. Harold Allen, Texas – 43.60
12. Stephen Johnston, Texas – 43.37
About the PAA
The Professional Anglers Association is a non-profit organization that gives professional anglers a unified voice in order to aid in the growth of the sport of professional bass fishing. The PAA also aims to administer educational programs to the average angler, to increase enjoyment of the sport, and to embrace sound conservation practices to further the future of the sport. Web: www.FishPAA.com
2011 PAA Tournament Series
What: Bass Pro Shops Tournament Series presented by Carrot Stix
Where: Table Rock Lake in Branson, Mo
When: June 21-23
Launch/weigh-in: Launches at 7 a.m. and weigh-ins at 3 p.m. at Table Rock Lake State Park, with the final day weigh-in at 3 p.m. at Bass Pro Shops in Branson
At stake: $100,000, including cash and a 2011 Nitro Z8 with Mercury 225 and T-H Marine Atlas Jackplate to the winner
Online: www.FishPAA.com
2011 PAA Tournament Series Premier Sponsors: Bass Pro Shops, E21 Carrot Stix, OPTIMA Batteries, Nitro Performance Bass Boats
2011 PAA Tournament Series Associate Sponsors: Lazer TroKar, Jasper Engines & Transmissions, Mercury Marine, Boat U.S. Foundation, Fishouflage, U.S. Reel, Sign Designs, Toyota Texas Bass Classic