Oklahoman Jason Christie Surges into PAA All Star Series Lead with 25.33-pound Catch on Day 2 at Lake Ray Hubbard
By editor on Apr 22, 2011 | In Bass Tournaments, PAA

PAA News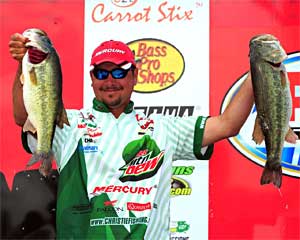 Diet Mountain Dew pro Jason Christie of Oklahoma slammed 25.33 pounds Friday to take the lead into the final day of the Bass Pro Shops PAA All Star Series on Lake Ray Hubbard. Photo Credit: . PAA / Chris Dutton
GARLAND, Texas – Diet Mountain Dew pro Jason Christie of Oklahoma bolted into the lead Friday in the Bass Pro Shops PAA All Star Series after smashing Lake Ray Hubbard for a limit weighing 25.33 pounds and two-day total of 43.58.
"It was one of those days when it seemed like I could pull in anywhere and catch one," Christie said.
His catch started with a 5-pounder Friday morning and then an 8.37 pounder that sits as the tournament's big bass. Southern winds up to 25-30 mph battered the lake but Christie said he believes that helped him.
"I think it positioned the fish in the shallow drains a little better," he said. "I'm just throwing a Booyah jig and spinnerbait, and covering water."
Nitro pro Matt Reed of Texas is on his heels with 40.26 pounds after another consistent day. Reed caught a limit early, then his biggest that weighed 6.54 pounds and "culled a little bit the rest of the day, but didn't get another big bite."
The PAA All Star Series featured 48 of the world's best anglers in a fight to the championship. The best athletes in the sport helped comprise the field, qualifying through the 2010 PAA Tournament Series standings or as special invitees. Up for grabs is $100,000 in cash and a new Nitro Z-8 boat outfitted with a Mercury 225 and T-H Marine Atlas jackplate, along with a Minn Kota Talon shallow water anchor for the tournament's big bass winner.
Lake Ray Hubbard and the city of Garland welcomed major league fishing here for the week. The no-entry fee All Star Series event is part of the evolution of the sport and something anglers have wanted for years. Bass Pro Shops on I-30 is the site for the morning launches, at 7 a.m., and afternoon weigh-ins, at 3 p.m.
From the field that featured numerous tournament winners, FLW, PAA and B.A.S.S. Anglers of the Year and champions, the final 12 pros sport an impressive resume.
Christie claimed the FLW Tour title at Lake Hartwell in March, while Reed is coming off a Top 12 cut last in the Bassmaster Elite Series at Toledo Bend. Nitro pro Ott Defoe of Tennessee leads the Bassmaster Rookie of the Year standings.
Other notables include former Toyota Texas Bass Classic champions Brian Snowden of Missouri and Dave Lefebre of Pennsylvania, former Bassmaster Rookie of the Year Dave Wolak of North Carolina, former B.A.S.S. Angler of the Year Aaron Martens and 2002 Bassmaster Classic champion Woo Daves of Virginia. The dozen pros have combined to win nearly $10 million during their careers.
The Top 12 who will fish Saturday:
1. Jason Christie, Oklahoma, 43.58
2. Matt Reed, Texas, 40.26
3. Ott DeFoe, Tennessee, 38.10
4. Brian Snowden, Missouri, 37.73
5. Todd Auten, South Carolina, 36.35
6. Dave Mansue, Texas, 35.79
7. Stephen Johnston, Texas, 34.36
8. Aaron Martens, Alabama, 31.51
9. Dave Lefebre, Pennsylvania, 31.22
10. Dave Wolak, North Carolina, 31.05
11. Woo Daves, Virginia, 31.22
12. Harold Allen, Texas, 30.66
Big fish: Jason Christie, 8.37 pounds
Two-day total fish/weight: 404 fish, 1,187.99 pounds
About the PAA
The Professional Anglers Association is a non-profit organization that gives professional anglers a unified voice in order to aid in the growth of the sport of professional bass fishing. The PAA also aims to administer educational programs to the average angler, to increase enjoyment of the sport, and to embrace sound conservation practices to further the future of the sport. Web: www.FishPAA.com
2011 PAA All Star Series
What: 2011 Bass Pro Shops PAA All Star Series
Who: Fifty top pros from the PAA Tournament Series, FLW Tour and Bassmaster Elite Series and invited anglers
Where: Lake Ray Hubbard in Garland, Texas
When: April 20-23
Launch/weigh-in: Launches at 7 a.m. and weigh-ins at 3 p.m. at Bass Pro Shops-Garland
At stake: $100,000 including cash and a 2011 Nitro Z8 with Mercury 225 and T-H Marine Atlas Jackplate
Online: FishPAA.com / Facebook.com/fishpaa
2011 PAA Tournament Series Premier Sponsors: Bass Pro Shops, E21 Carrot Stix, OPTIMA Batteries, Nitro Performance Bass Boats
2011 PAA Tournament Series Associate Sponsors: Lazer TroKar, Jasper Engines & Transmissions, Mercury Marine, Humminbird/Minn Kota, BoatUS Foundation, Fishouflage, U.S. Reel, Sign Designs, Toyota Texas Bass Classic