Todd Auten Leads Bass Pro Shops PAA All Star Series After Day 1 with 22.96 Pounds on Lake Ray Hubbard
By editor on Apr 21, 2011 | In Bass Tournaments, PAA

PAA News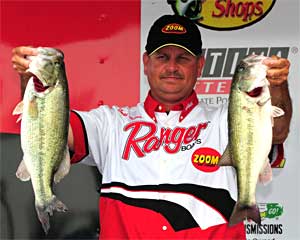 Todd Auten of South Carolina leads the PAA All Star Series with 22.96 pounds after Day 1 on Lake Ray Hubbard. Photo Credit: PAA / Chris Dutton
GARLAND, Texas – Ranger pro Todd Auten of South Carolina leads the Bass Pro Shops PAA All Star Series on Lake Ray Hubbard after the first day with 22.96 pounds.
The field found a finicky bite on Ol' Mother Hubbard, which didn't completely open its cupboard. The big bass predicted by some pros and several locals didn't fully materialize. Skeeter pro Harley Brigman of Texas landed the day's big bass, an 8.34-pounder that snarfed a crankbait.
"Something changed from earlier in the week," Brigman said. "But I'm going back to that area Friday to look for 'em again."
Auten didn't have a specific area he stayed in, but said his milk run paid off Thursday.
"I ended up running around and it all worked out for me," he said. "I figured out a little something, too, at the end of the day that may turn out good. I caught three doing it and don't know if it will (hold up), but I'll see."
Friday's second round will feature the full field before being cut to the top 12 for Saturday.
The Top 12 after Day 1:
1. Todd Auten, South Carolina – 22.96
2. Brian Snowden, Missouri – 22.01
3. Matt Reed, Texas – 21.25
4. Dave Mansue, Texas – 21.25
5. Dave Lefebre, Pennsylvania – 19.71
6. Ott Defoe, Tennessee – 18.61
7. Justin Rackley, Texas – 18.38
8. Jason Christie, Oklahoma – 18.25
9. Terry Butcher, Oklahoma – 18.18
10. Stephen Johnston, Texas – 17.76
11. Takahiro Omori, Texas – 17.26
12. Stacey King, Missouri – 16.89
The inaugural Bass Pro Shops PAA All Star Series features 48 of the nation's best pros who qualified from the 2010 PAA Tournament Series along with special invited anglers. Launches are at 7 a.m. and weigh-ins are at 3 p.m., both taking place at Bass Pro Shops-Garland.
Full results, stories and photos are available at www.FishPAA.com
About the PAA
The Professional Anglers Association is a non-profit organization that gives professional anglers a unified voice in order to aid in the growth of the sport of professional bass fishing. The PAA also aims to administer educational programs to the average angler, to increase enjoyment of the sport, and to embrace sound conservation practices to further the future of the sport. Web: www.FishPAA.com
2011 PAA Tournament Series Premier Sponsors: Bass Pro Shops, E21 Carrot Stix, Optima Batteries, Nitro Performance Bass Boats
2011 PAA Tournament Series Associate Sponsors: Lazer TroKar, Jasper Engines & Transmissions, Mercury Marine, Boat U.S. Foundation, Fishouflage, U.S. Reel, Sign Designs, Toyota Texas Bass Classic