Road Warrior Shin Fukae Eager for PAA All Star Series to Begin
By editor on Apr 20, 2011 | In Pro Anglers, PAA

PAA News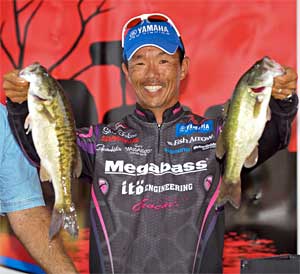 Megabass pro Shin Fukae of Texas believes Lake Ray Hubbard could yield a 30-pound limit this week in the PAA All Star Series event. Photo Credit: PAA / Chris Dutton
GARLAND, Texas – Shin Fukae waited to offer any guidance to his wife, Miyu, who was backing his Chevy Suburban and boat into their camping spot.
She didn't need any help, though. Experienced at putting the big Ranger into tight spots or a wide-open boat ramp, Miyu parked the rig and was ready to eat. They both were after a long day on Lake Ray Hubbard practicing for the inaugural Bass Pro Shops PAA All Star Series tournament that begins Thursday.
"He finished second in the FLW at Chickamauga, then we drove 800 miles and all day on the water," said Miyu, who helps translate during interviews. "It's been a long week, but that's what we do."
The duo has been dynamic for seven years now, starting in 2004 when Fukae won the FLW Tour Angler of the Year title. That was his rookie season in the United States and just a year after he won the Japan Bass Angler of the Year honor. Fukae grew up in Osaka, Japan, and dreamed at a young age of being a professional angler.
His career has taken him to the top in two continents. The Cheez-It pro from Texas has three career wins, more than $1.08 in winnings and was runner up in the 2007 FLW Angler of the Year race.
This week he'll be looking to add to his resume at the PAA All Star Series event, a no-entry fee, $100,000 tournament featuring some of the best anglers in the world. The full field will fish Thursday and Friday before the top 12 compete on Saturday. The winner will take home cash and a new Nitro Z-8 with a Mercury 225 and T-H Marine Atlas jackplate.
Wind wreaked havoc on the anglers again Tuesday as Lake Ray Hubbard was bullied for the second straight day by Mother Nature.
"Windy, windy, windy, windy, windy," was Nitro pro and Texas veteran Tommy Martin's assessment. "It was pretty hard to find a spot to get anywhere out of the wind."
Fellow Nitro pro Stacey King of Missouri concurred.
"I've fished on a lot of lakes and it can get pretty rough at home, but this was one of the roughest I've ever seen," he said. Several pros came off the water by mid-afternoon to get out of the elements and avoid a late afternoon thunderstorm. The big cell moved quickly over Dallas County, dropping hail the size of oranges and golf balls well north of the lake, before giving way to about 90 minutes of sun and calm weather before nightfall.
Fukae battled the elements all day, running to different areas of the lake as is his custom. Meticulous with note-taking and recording GPS waypoints, he checked different areas and depths before taking out at dark.
"I looked at a lot of different things," he said. "This lake is new to me and that can be good sometimes. I think a lot of people will be fishing in the same areas, though."
Fukae had an optimistic outlook, however, with predictions for a big tournament for him or someone in the field. The 22,745-acre lake is rife with standing timber and shallow areas on the upper end, and deep water with several marinas and points on the lower end toward the dam.
"I think … 30-pound (bag), 25-30 pounds," he said. "It's possible. There are some big fish in the lake."
About the PAA
The Professional Anglers Association is a non-profit organization that gives professional anglers a unified voice in order to aid in the growth of the sport of professional bass fishing. The PAA also aims to administer educational programs to the average angler, to increase enjoyment of the sport, and to embrace sound conservation practices to further the future of the sport. Web: www.FishPAA.com
2011 PAA Tournament Series
What: 2011 Bass Pro Shops PAA All Star Series
Where: Lake Ray Hubbard in Garland, Texas
Who: Fifty qualifiers from the 2010 Bass Pro Shops PAA Tournament Series presented by Carrot Stix and other special invited anglers
When: April 21-23
Launch/weigh-in: All events at Bass Pro Shops-Garland, with morning launches at 7 a.m. and weigh-ins at 3 p.m.
At stake: More than $100,000 in cash and prizes
Online: FishPAA.com / Facebook.com/fishpaa
2011 PAA Tournament Series Premier Sponsors: Bass Pro Shops, E21 Carrot Stix, OPTIMA Batteries, Nitro Performance Bass Boats
2011 PAA Tournament Series Associate Sponsors: Lazer TroKar, Jasper Engines & Transmissions, Mercury Marine, Humminbird/Minn Kota, BoatUS Foundation, Fishouflage, U.S. Reel, Sign Designs, Toyota Texas Bass Classic