Respect the Rock
By editor on Apr 20, 2011 | In BASS Elites, BASS

B.A.S.S. News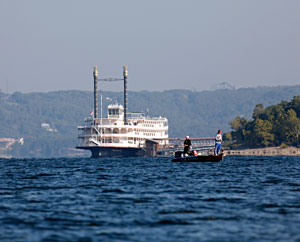 Bass fishing on the big, scenic Table Rock Lake. Photo Credit: B.A.S.S.
According to Table Rock Lake guru Sammy Burks, the second 2011 Bass Pro Shops Bassmaster Central Open should showcase the kind of fishing that the southwestern Missouri impoundment is capable of. He says anglers will be able to catch what they want any way that they want.
Burks is referring to smallmouth, largemouth or spotted bass. All three species will be fired up for this event.
"Table Rock is one of the few places in the country where you can go and catch a 5-pound largemouth, smallmouth and spot in the same day," the door and window shop owner says. "We're going to hit it dead on prespawn. Whatever you want to throw, you're going to catch fish."
Burks describes the lake as typical for an Ozark impoundment: deep, with clear water and lots of timber, most of which is in creeks. The lake covers 43,000 acres.
When the schedule was announced last year, Burks thought the event would be a tough postspawn ordeal. But a harsh winter has pushed the spawn back, meaning the tournament will be lying on the tracks when Table Rock's spawn train rolls through. Though a lot of emphasis will be placed on the spawn, those not sight fishing should do well, too.
"With the way that the winter held on so long, this should've been a grind because by then the spawn is usually over, but that's not the case this year," he said. "That giant snow melt-off has cooled the water off and pushed everything back, and here we are now with a full moon. The water temperatures are climbing, and it's going to be opposite of the first Central Open on Lewisville; everyone should catch 'em."
Before sight fishermen rejoice, a word of caution from Burks: Late-season spawners are fickle.
"They could be there one day when they're really locked on, but then they'll be gone a few hours later," he said. "However, I think it will take a combination of sight fishing and just fishing around to win it."
With so many bass chewing, Burks believes an average five-fish pro limit will run nearly 12 pounds. He goes on to say that there may be a few 20-plus-pound bags weighed in on Day One, but, like all bass tournaments, consistency will be key. Anyone who can bring 18 to 19 pounds a day will most likely win and punch a ticket to the 2012 Bassmaster Classic.
Burks has lobbied for years that B.A.S.S. bring an Open to The Rock, and now that he's got his chance, he'll be on point.
"Getting to the Bassmaster Classic would be everything to me; it really would," he said. "It's what I've been striving for, for a long, long time. I've fished the Opens for six years, and to finally make that dream come true would be unreal."
The event is set to take place April 28-30, and launch from Branson, Mo., about an hour and a half from Burks' Joplin, Mo., home.
Pros in the Bassmaster Opens have a five-bass limit, like the anglers in the Bassmaster Elite Series. However, co-anglers have a three-bass limit. Full fields will fish the first two days of competition, and the top 12 will advance to the third and final day. The best cumulative three-day total will win the event.
As with each of the nine Open events, the winner of the pro division will receive $45,000 in merchandise, $10,000 cash and an automatic spot in the 2012 Bassmaster Classic on the Red River out of Shreveport-Bossier City, La. The co-angler will win $35,000 in merchandise. The payout for all other places is cash. The traditional points system used in the Opens will only determine future Elite Series qualifiers and will have no bearing on Classic berths.
The boats will launch daily at 6:15 a.m. CT from Table Rock Lake State Park Marina, 380 State Park Marina Drive, Branson, MO 65616. Weigh-ins will take place April 28 and April 29 at 2:15 p.m. CT at the launch location.
The final weigh-in, Saturday, April 30, moves to 3 p.m. CT in front of the Branson Landing water fountain next to the Branson Bass Pro Shops, 1 Bass Pro Drive, Branson, MO 65616; 417-243-5200.
Prior to the final weigh-in, Brian Schram (http://schramband.com/) will be performing a 20-minute acoustic set of his fishing songs. at 1:45 p.m. CST, and Branson performing act The Hughes Brothers will be on hand to sing the National Anthem. All events are free and open to the public.
The event is hosted by the Branson Convention and Visitors Bureau.
For more information about the Bass Pro Shops Bassmaster Central Open on Table Rock Lake, go to www.bassmaster.com/opens.
2011 Bass Pro Shops Bassmaster Opens Official Sponsors: Toyota, Bass Pro Shops, Berkley, Evan Williams Bourbon, Mercury, Skeeter Boats, Triton Boats, Yamaha
2011 Bass Pro Shops Bassmaster Opens Supporting Sponsors: Humminbird, Luck "E" Strike, Minn Kota, Nitro Boats
About B.A.S.S.
For more than 40 years, B.A.S.S. has served as the authority on bass fishing. The organization advances the sport through advocacy, outreach and an expansive tournament structure while connecting directly with the passionate community of bass anglers through its Bassmaster media vehicles.
The Bassmaster brand and its multimedia platforms are guided by a mission to serve all fishing fans. Through its industry-leading publications — Bassmaster Magazine and B.A.S.S. Times — comprehensive website Bassmaster.com, ESPN2 and Outdoor Channel television programming, Bassmaster provides rich, leading-edge content true to the lifestyle.
The Bassmaster Tournament Trail includes the Bassmaster Elite Series, Bass Pro Shops Bassmaster Open Series, B.A.S.S. Federation Nation events presented by Yamaha and Skeeter Boats and the ultimate celebration of competitive fishing, the Bassmaster Classic.
B.A.S.S. offers an array of services to its more than 500,000 members and remains focused on issues related to conservation and water access. The organization is headquartered in Celebration, Fla.