Lake Ray Hubbard Virtual Unknown to PAA All Star Series Pros
By editor on Apr 20, 2011 | In Pro Anglers, PAA

PAA News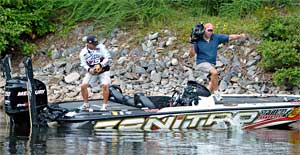 Nitro pro Edwin Evers of Oklahoma is among the field competing in the inaugural Bass Pro Shops PAA All Star Series event on Lake Ray Hubbard. Photo Credit: PAA / Chris Dutton
GARLAND, Texas – Lake Ray Hubbard, nicknamed Ol' Mother Hubbard by locals, will be the great unknown when the field begins practice Monday for this week's inaugural Bass Pro Shops PAA All Star Series tournament.
Three days of practice will yield some clues for the 50 pros competing on the lake, almost all of them for the first time. Some made time to visit before the off-limits period began a month ago. Others, due to hectic spring schedules, will see it for the first time this week.
They may have scoured Internet sites for tournament results, maps and other info. Probably a few phone calls were made asking for any insights. But unlike other well-known fisheries that have hosted events for years, Hubbard pretty much will be a blank canvas.
Gene Larew Baits pro Tommy Biffle of Oklahoma will lead the field out for Thursday's opening day as the 2010 PAA Tournament Series Angler of the Year. The field includes four Bassmaster Classic champions, one Forrest Wood Cup Champion, several B.A.S.S. and FLW Anglers of the Year and two Toyota Texas Bass Classic champions along with pros who have won numerous tournaments.
The full field will compete Thursday and Friday, and then be cut to the top 12 for the final day. Anglers will launch at 7 a.m. from Bass Pro Shops in Garland and weigh in each day at 3 p.m. at the store, located just off I-30. More than $100,000 is at stake, including a new Nitro Z-8 with a Mercury 225 and T-H Marine Atlas Jackplate valued at $45,000.
Lake Ray Hubbard was formed in the late 1960s by damming the East Fork Trinity River to provide water for communities east of Dallas. Lake Lavon is above it, and the two lakes have generally stable water levels. Hubbard has about 22,745 acres with a maximum depth of 40 feet.
The I-30 bridge bisects the lake at about its midpoint, giving the All Star Series field two options: run up into shallow coves and the rivers, or below the bridge to deeper water near the dam. The upper end of the lake is mostly shallow with ample bays, docks and points. Water levels should allow access into the river although running the mouth could prove tricky.
Two schools of thought prevail for Hubbard: larger fish may be found on the lower end in deeper water, while more numbers populate the upper end. With a waning full moon this week and temperatures climbing, sight fishing might come into play. Spawn and post-spawn situations will be in effect, including bream … and possibly bigger bass feeding on them.
Weather could play a role this week, too, with forecasts calling for temperatures in the high 80s and low 90s and wind gusting to 30 mph the next three days. A cold front dropping in from the Rockies is forecast to arrive Thursday along with the possibility of scattered thunderstorms.
Fans are invited to Bass Pro Shops to meet the pros Wednesday at Registration Day between 3:30-5:30 p.m., followed by free seminars.
About the PAA
The Professional Anglers Association is a non-profit organization that gives professional anglers a unified voice in order to aid in the growth of the sport of professional bass fishing. The PAA also aims to administer educational programs to the average angler, to increase enjoyment of the sport, and to embrace sound conservation practices to further the future of the sport. Web: www.FishPAA.com
2011 PAA Tournament Series
What: 2011 Bass Pro Shops PAA All Star Series
Who: Fifty top pros from the PAA Tournament Series, FLW Tour and Bassmaster Elite Series
Where: Lake Ray Hubbard in Garland, Texas
When: April 20-23
Launch/weigh-in: Launches at 7 a.m. and weigh-ins at 3 p.m. at Bass Pro Shops-Garland
At stake: $100,000 in cash and a 2011 Nitro Z8 with Mercury 225 and T-H Marine Atlas Jackplate
Online: FishPAA.com / Facebook.com/fishpaa
2011 PAA Tournament Series Premier Sponsors: Bass Pro Shops, E21 Carrot Stix, Optima Batteries, Nitro Performance Bass Boats
2011 PAA Tournament Series Associate Sponsors: LazerTroKar, Jasper Engines & Transmissions, Mercury Marine, Humminbird/Minn Kota, BoatUS Angler, Fishouflage, U.S. Reel, Sign Designs, Toyota Texas Bass Classic