B.A.S.S. Reporter's Notebook: Movers and shakers
By editor on Apr 20, 2011 | In BASS Elites, BASS, Pro Anglers, Sponsorship

B.A.S.S. News
Mercury to give away an engine; Vinson's surprise; Ike to Rapala/VMC; A love sandwich for Swindle; Rojas on The Bend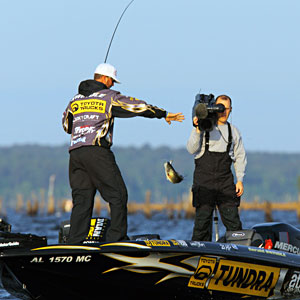 Warrior Alabama Elite angler Gerald Swindle swings aboard a largemouth bass during the 2011 Toledo Bend Trokar Battle on the Bayou. Photo Credit: B.A.S.S. / Seigo Saito
Movers and shakers: Gerald Swindle may have missed the win by 1 ounce Sunday in the TroKar Battle on the Bayou, but he was one of the biggest winners of Toyota Tundra Bassmaster Angler of the Year points.
Swindle's second-place finish in the Toledo Bend event jumped him from 34th into 12th place in the 2011 points race, now at the halfway mark.
The race will determine three prizes at the end of the season: the TTBAOY award, worth $100,000; eight spots in the postseason, another $100,000 contest; and 28 qualifications for the 2012 Bassmaster Classic.
Swindle already owns a Classic berth. He earned it when he won the Bass Pro Shops Bassmaster Southern Open early in the season. Having the Classic in the bag has helped him relax as he competes in the Bassmaster Elite Series, he said. And, ironically, not obsessing over points has helped him win more points.
"I'm learning now: Don't worry about points," Swindle said. "If there's any way, keep it out of your mind; fish each day to win."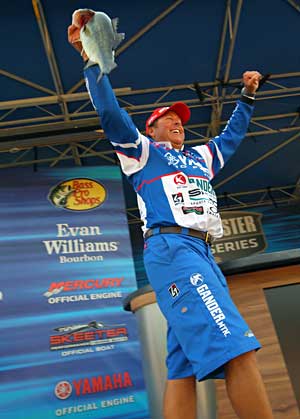 Dean Rojas with a big kicker largemouth bass during his victory at the 2011 Toledo Bend Trokar Battle on the Bayou. Photo Credit: B.A.S.S. / Seigo Saito
Last Sunday's winner, Dean Rojas, advanced even more places in the points standings than Swindle did. Rojas improved by 23 spots, from 31st into that magic eighth place, the cut line for an automatic berth into the July 23-31 Toyota Trucks All-Star Week postseason.
"I've got to keep up the momentum from here on out and fish well and make it to the postseason. That's my next goal," Rojas said. "My first was to make it to the Classic, and now I've done that."
He was referring to the Bassmaster Classic seat he was awarded by winning at Toledo Bend. At the same time, Rojas pushed aside the suggestion that the Angler of the Year prize was on his radar.
"Now, I'm looking at the postseason," he insisted.
Rojas may be feeling the caution of the slow starter. After the season's first event, he was 51st in points. His gains have been steady: 44th after the second event; 31st after the third; and now eighth after four tournaments.
If Rojas and Swindle are the hares, points leader Alton Jones is the tortoise. This season, he's traveled only forward, nose up and trained on the finish line. After his 16th-place finish on Toledo Bend, Jones not only maintained at No. 1, he put 26 more points between himself and No. 2, Terry Scroggins.
Jones, now with a total of 1,096 TTBAOY points, has held the lead for three tournaments running. Ditto for Scroggins in second, Kevin VanDam in third and Jeff Kriet in fifth. The only change Sunday in the Top 5, in fact, was Chris Lane moving into fourth, a spot relinquished by Sunshine Showdown winner Shaw Grigsby, who slipped to 10th.
Besides Rojas and Lane, new to the Top 8 were Fred Roumbanis (seventh, up from 19th) and Steve Kennedy (in sixth from 13th).
Others to watch include Davy Hite, who has been up and down but claimed 13th place Sunday.
Mercury to give away an engine: Mercury Marine is offering a Mercury engine of choice to the winner of a sweepstakes being conducted now through mid-July.
Players ages 18 and older can enter online at Mercury's website before July 15, 2011, for a chance to win a Mercury outboard (2.5-hp through 300-hp, including Verado, Pro XS and Pro FourStroke) or a Mercury MerCruiser (135-hp through 430-hp, including inboards or a complete stern drive package).
Go to www.mercurymarine.com or click here to enter (read the rules, scroll to bottom of the page, click on "I agree," and you will be taken to a form to fill out and submit).
Vinson's surprise: Greg Vinson spent his 34th birthday alone in Louisiana, practicing on Toledo Bend Reservoir for the TroKar Battle on the Bayou. A few days later, when he made his first Top 12 cut of the season, his family, friends and sponsor THY Enterprises decided he was not going to celebrate alone again.
His wife, Stephanie, at home in Wetumpka, Ala., and Dave and Theresa H. Young, owners of technical apparel maker THY Enterprises of Alexander City, organized a private plane trip to Many, La.
A pilot friend, Gene Gwaltney, volunteered to fly his plane from Alexander City to Many, La., for the cost of fuel. On board were Stephanie Vinson, her mother and the Youngs. After landing in Many, they were picked up by a volunteer driver from the local host, the Sabine Parish Tourist Commission. The group arrived at the weigh-in site in time for the Top 12's on-stage appearance.
Vinson said no one spilled the beans to him as he waited in his boat, cued up third in the line of trailered rigs leading to the weigh-in stage. His cheering section was in the front of the audience, ready to surprise him.
"There was such a huge crowd, I couldn't see them from my place in line," Vinson said later. "Then, as I was pulled up to the stage, right before I reached to take my fish out of the livewell, I spotted the NQ logo. It's so new, I thought it was unusual to see it there. Then I saw who was wearing the logo."
Pages: 1· 2