Dean Rojas closes on fourth Bassmaster win by 1 ounce
By editor on Apr 17, 2011 | In Bass Tournaments, BASS Elites, BASS
B.A.S.S. News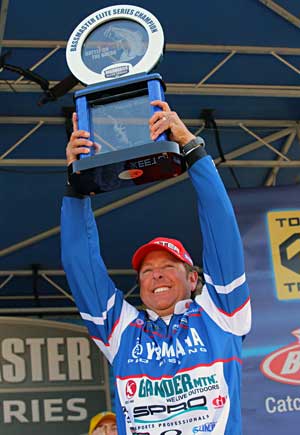 Dean Rojas led the TroKar Battle on the Bayou all 4 days but only beat 2nd place finisher Gerald Swindle by 1 ounce on Toledo Bend. Photo Credit: B.A.S.S. / Seigo Saito
MANY, La. — As they met backstage, Dean Rojas and Gerald Swindle shook hands, then gave each other a man hug. Both smiled graciously, both teared up a little.
It was hard to tell who had just beat who, but it was Rojas who had bested Swindle by 1 ounce in the TroKar Battle on the Bayou. Rojas secured a wire-to-wire win, his second Bassmaster Elite Series victory. It was his fourth Bassmaster career win, one of which, like Sunday's win, was on Toledo Bend Reservoir.
Rojas collected a $100,000 check and an automatic entry into the 2012 Bassmaster Classic. He also jumped 23 spots in the all-important Toyota Tundra Bassmaster Angler of the Year points race, also the road to the postseason.
"I'm going to the Classic; this is so huge," he said. "Everything about the win I love — the trophy, the check, the points, the Classic, and winning a tournament in 2011."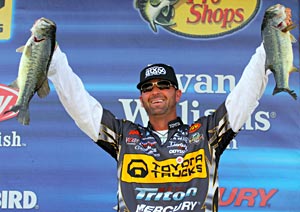 Gerald Swindle missed victory by 1 ounce on Toledo Bend at the 2011 Elite Series event. Photo Credit: B.A.S.S. / Seigo Saito
At the same time, Rojas said, he felt for Swindle, who was philosophical and gracious.
"I wasn't out to beat Dean, I was out to compete against Toledo Bend and fish to the best of my ability," said Swindle, who already secured a 2012 Classic seat by winning a Bass Pro Shops Bassmaster Southern Open earlier in the season. "The competition is the fish … and most of the time yourself is the enemy if you beat yourself up, get too bent out of shape.
"I could sit here and write a book about all the big ones that jumped off during this tournament," he added. "You have to say, 'It was meant for Dean Rojas to win' because I put 110 percent heart and soul into this and I didn't make any stupid mistakes."
Rojas led for three days, putting together a margin of almost 4 pounds against David Walker going into the final day. But in the end, it was Swindle who challenged Rojas, charging from third place with Sunday's big bag of 18-14. The final tally was Rojas with 70 pounds, 15 ounces, and Swindle with 70-14.
Walker finished third with 70-2, Chris Lane was fourth with 67-3, and Fred Roumbanis was fifth with 67-1.
Rojas had a routine he followed throughout the tournament, and a two-pattern plan that produced all his fish over four days.
"All week, I kept it simple: sight fishing and topwater," Rojas said, with his topwater bite producing his larger fish by working one lure, a natural-shad SPRO Hydro-Pop topwater on Sunline monofilament line, slowly on the edges of grass.
Rojas said his final day started slowly, as every day of the tournament had. He caught one keeper on the popper, and then a 5-pounder about 45 minutes into the day. But after the 5-pounder, he didn't boat another fish in the area, so he left and went to his sight fish at 10 a.m.
"That's been my normal routine to get out of there and go for my sight fish. I filled out my limit with my sight fish, and then went back to that area. I thought, 'Well, there was one big one there, there's got to be more,' so I went back."
He stayed for a few more hours, and culled once to gain a pound of weight.
"Thank God I culled, or I would have lost today," Rojas said — but noted that he also lost a fish or two that could have made the difference.
Rojas said he caught all of his sight fish on a WarMouth, a plastic bait he designed for Big Bite Baits. He rigged the bluegill imitator on a 3/16-ounce Eco Pro Tungsten bullet weight and on 22-pound Sunline Shooter line.
"That bait was pivotal all four days," he said. "That bait triggers them to bite. I don't think there's a finer sight-fishing bait on the market right now, nothing to compete with it."
Rojas, known for frogging, said he tried a frog bait in practice, but it produced smaller bass than did the popper in the grass pockets he was fishing.
"Shad were spawning in the grass, and fish were blowing up on the shad in the pockets, and I was working the bait through there, and they'd come up and eat it," Rojas said.
While Rojas moved up in the points standings, Alton Jones kept his lead. The points standings determine Classic qualifications and eight entries into the $100,000 Toyota Trucks All-Star Week postseason competition.
The Berkley Big Bass of the Tournament award and $500 bonus went to Ish Monroe for his Day Two 10-15.
Next up for the Bassmaster Elite Series is the fifth regular-season event, the May 5-8 Pride of Georgia on West Point Lake out of LaGrange, Ga.
Final days standings and points rankings through today on the B.A.S.S. Forum
2011 Bassmaster Elite Series Official Sponsors: Toyota, Bass Pro Shops, Berkley, Evan Williams Bourbon, Humminbird, Mercury, Minn Kota, Skeeter Boats, Triton Boats, Yamaha
2011 Bassmaster Elite Series Supporting Sponsors: Lowrance, Luck "E" Strike, Nitro Boats, Power-Pole, Ramada
About B.A.S.S.
For more than 40 years, B.A.S.S. has served as the authority on bass fishing. The organization advances the sport through advocacy, outreach and an expansive tournament structure while connecting directly with the passionate community of bass anglers through its Bassmaster media vehicles.
The Bassmaster brand and its multimedia platforms are guided by a mission to serve all fishing fans. Through its industry-leading publications — Bassmaster Magazine and B.A.S.S. Times — comprehensive website Bassmaster.com, ESPN2 and Outdoor Channel television programming, Bassmaster provides rich, leading-edge content true to the lifestyle.
The Bassmaster Tournament Trail includes the Bassmaster Elite Series, Bass Pro Shops Bassmaster Open Series, B.A.S.S. Federation Nation events presented by Yamaha and Skeeter Boats and the ultimate celebration of competitive fishing, the Bassmaster Classic.
B.A.S.S. offers an array of services to its more than 500,000 members and remains focused on issues related to conservation and water access. The organization is headquartered in Celebration, Fla.