Pirch Wins Walmart FLW Tour On Lake Chickamauga Presented By National Guard
By editor on Apr 17, 2011 | In Bass Tournaments, FLW Tour, FLW Outdoors
FLW Outdoors News
Former Japanese, FLW Angler of the Year places second in fourth event of season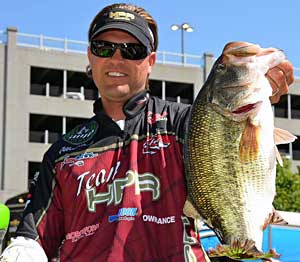 FLW Tour Lake Chickamauga champion Clifford Pirch with his final day kicker fish. Photo Credit: FLW Outdoors / Brett Carlson
CHATTANOOGA, Tenn. (April 17, 2011) – Clifford Pirch of Payson, Ariz., caught a five-bass limit weighing 16 pounds, 10 ounces Sunday to win $125,000 at the Walmart FLW Tour on Lake Chickamauga presented by National Guard with a four-day catch of 20 bass weighing 77-3.
"This is awesome," said Pirch, who now has won more than $645,000 in FLW Outdoors competition. "It's exciting. When you're sitting up there waiting to see what guys have it's a little nerve wracking.
"The last two fish came late in the day and I knew they were really going to have to catch them," Pirch added. "You never know what everybody else has got … if they found a pocket that warmed up just a couple of hours earlier than I did and put a hurt on them."
"I'm pretty spent," Pirch said. "You fish one of these things and have burned it at both ends … it's one of those deals where you leave it all out on the lake. I'm worn, but I'm excited. It's been a fun time."
Pirch said he employed a Roboworm creature bait as well as a jig-head worm for sight fish and blind bed fishing. As the water levels rose during the week, Pirch said he had to adapt and become mobile and target specific pieces of cover slowly with a jig.
"I caught five fish today," Pirch said. "I got five bites and I caught five of them. Any time that happens that's just a blessing. I don't know how else to explain it. I got exactly what I needed, and man, I'm thankful.
"It was an absolute grind," Pirch added. "It was one of the most excruciatingly grinding days I've ever had. I never got spun out and stressed real bad, but the pressure of knowing you've got to get them in order to win and hold onto that lead … it was a lot of pressure."
The catch gave Pirch the win by a 6-pound, 11-ounce margin over Cheez-It pro Shinichi Fukae of Palestine, Texas, who caught a total of 20 bass weighing 70-8 and earned $35,000.
"I was fishing for bedding fish in shallow water the first two days," said Fukae, who has won angler of the year titles in both the United States (2004) and Japan (2003). "That was before the water was high. So I went back there this afternoon and I couldn't get any bites there, so I wanted to go back to the boat docks. But I couldn't throw the bait under the docks because of the high water. Even (Chevy pro) Bryan Thrift cannot do that."
Fukae said he also fished close to banks and targeted brush piles and "junk stuff." Fukae's baits for the week were the shallow-running Lucky Craft RC 2, a Gary Yamamoto Flappin' Hog and a couple of different soft-plastic creature baits.
The remaining top 10 pros finished the tournament in:
3rd: Tom Monsoor, La Crosse, Wis., 20 bass, 69-5, $31,250
4th: Straight Talk pro Scott Canterbury, Springville, Ala., 20 bass, 67-8, $25,000
5th: National Guard pro Brett Hite, Phoenix, Ariz., 20 bass, 62-9, $20,000
6th: Robbie Dodson, Harrison, Ark., 17 bass, 58-15, $17,000
7th: National Guard pro Scott Martin, Clewiston, Fla., 18 bass, 57-11, $16,000
8th: Jay Keith, Camden, S.C., 18 bass, 57-0, $15,000
9th: Randy McAbee Jr., Bakersfield, Calif., 16 bass, 54-4, $14,000
10th: Straight Talk pro J.T. Kenney, Palm Bay, Fla., 16 bass, 51-13, $13,000
A complete list of results can be found at FLWOutdoors.com.
Overall there were 37 bass weighing 109 pounds, 10 ounces caught by 10 pros Sunday. The catch included five five-bass limits.
Keeton Blaylock of Benton, Ark., won the Co-angler Division and $20,000 Saturday with a three-day total of 15 bass weighing 41 pounds, 8 ounces followed by Alton Lackie of Germantown, Tenn., in second place with 13 bass weighing 37-6 worth $7,500.
In FLW Tour competition, pros and co-anglers are vying for valuable points that could help them qualify for the 2011 Forrest Wood Cup presented by Walmart, where they could win up to $600,000 – the sport's biggest award – and $60,000 respectively. This year's Cup will be in Hot Springs, Ark., Aug. 11-14 on Lake Ouachita.
Pros and co-anglers are also competing for the prestigious Walmart FLW Tour Angler of the Year presented by Kellogg's in 2011 that will be determined by the most points accumulated over the six Tour Majors. The pro winner will receive $100,000, while the co-angler title holder will win a new Ranger 198VX with a 200-horsepower Evinrude or Mercury outboard.
The Walmart FLW Tour on Lake Chickamauga presented by National Guard was hosted by the Greater Chattanooga Sports Committee and was the fourth of 10 Walmart FLW Tour tournaments of the 2011 season. The Walmart FLW Tour on Table Rock Lake presented by AMP Energy will be the next tournament and will be held May 5-8 in Branson, Mo. The event will be hosted by the Branson/Lakes Area Convention & Visitors Bureau and the Table Rock State Park Marina and boats will launch from Table Rock State Park Marina in Branson. For a complete schedule, visit FLWOutdoors.com/TableRockLake.
Coverage of the Lake Chickamauga tournament will be broadcast in high-definition (HD) on VERSUS. "FLW Outdoors" will air May 29 from 1 to 2 p.m. ET. "FLW Outdoors," hosted by Jason Harper, is broadcast to more than 500 million households worldwide.
For regular updates, photos, tournament news and more, follow FLW Outdoors on Facebook at Facebook.com/FLWFishing and on Twitter at Twitter.com/FLWOutdoors.
ABOUT FLW OUTDOORS
FLW Outdoors is the largest fishing tournament organization in the world offering anglers worldwide the opportunity to compete for millions over the course of 191 tournaments in 2011. FLW Outdoors has taken fishing mainstream with the world's richest fantasy sports game, FLW Fantasy Fishing presented by Straight Talk, where competitors can play for free as well as sign up for Player's Advantage to gain an edge. For more information about FLW Outdoors and FLW Fantasy Fishing, visit FLWOutdoors.com or FantasyFishing.com.