Rojas Rules on The Bend — Again
By editor on Apr 16, 2011 | In Bass Tournaments, BASS Elites, BASS

B.A.S.S. News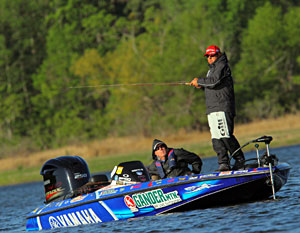 Dean Rojas leads the Bassmaster Elite TroKar Battle on the Bayou fishing on Toledo Bend for the third consecutive day. Photo Credit: B.A.S.S. / Seigo Saito
MANY, La. — He has led for three days running, amassing 57 pounds and 7 ounces of Toledo Bend bass, so there's no reason Dean Rojas shouldn't believe he can close the deal Sunday in the TroKar Battle on the Bayou.
And believe, he does.
"I need one more big bite to finish this thing off tomorrow, and I know I can do it," he said Saturday after weighing 14 pounds and 9 ounces for a lead of more than 4 pounds over runner-up David Walker, who had 53-6.
Rojas won a Bassmaster tournament on Toledo Bend in 2001, but it wasn't a Bassmaster Elite Series victory, and that's what Rojas wants now. It would be his fourth win, and second since 2008. He claims not to be thinking about the instant qualification for the 2012 Bassmaster Classic, and not even about the $100,000 he'd get for a win.
"Right now, I'm just fishing for the win," he said.
"I'm in position, I'm just going to go for it. I've been fishing relaxed the last three days — it's been really weird," he said. "Whatever happens, happens. I know I'm doing the best I can do, and I know I'm fishing for the right fish to win with."
Rojas said his third day of competition didn't go quite as planned — he wanted one more bass to widen the margin — but it was close. Like Friday, Saturday started slowly for him, with the bite picking up about 11 a.m. He continued to target spawning fish, moving to new areas each day. He has plenty more fish to go to and wrap it up, he said.
"I saw 20 pounds of bass today, just swimming around," he said.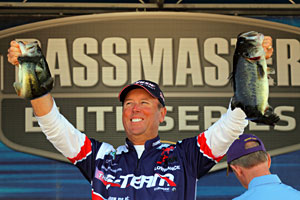 Elite angler David Walker holds down second place 4 pounds behind the leader Dean Rojas after day three on Toledo Bend Reservoir. Photo Credit: B.A.S.S. / Seigo Saito
Four pounds back, Walker is still in range to catch Rojas. On Toledo Bend, 4 pounds is one decent fish. Besides, Walker has already discovered where one break can get you: On Day Two, thanks to a 24-pound bag, he moved from a dismal 53rd place into fourth.
"It was a grind today," he said. "I tried to not let the demons tell me, 'You need to go do this, you need to go do that.' I knew I was doing the right thing to catch the bigger fish, and I stuck with it."
The "right thing" was flipping, his strength.
"With the wind laid down, I could do it, make better casts. All it takes is one cast — Ish Monroe proved that yesterday (with his 10-15)."
Gerald Swindle improved two places Saturday, from fifth to third with 52-0. He said he stuck with what he did the first two days — throwing a square-lipped crankbait, jerkbait, ChatterBait, and covering a lot of water.
Wind is his friend. He's been picking out windblown points. More specifically, he's hitting the section of the point that has the most wind on it.
"A couple of my primary spots, guys are finally figuring out where they are, but there's nothing I can do about that so I'm having to dig for new water."
He picked up the pattern and transferred it to new water. "You get the right pattern, you can catch them," he said.
If the wind quits Sunday, he'll try bedding fish, he said.
"The water temperature dropped about 4 degrees today, the moon's full, and that makes for a prime time for a few more fish to move back up," Swindle added. "It's a guessing game, but if you got the kahunas to roll the dice, you could land on glory."
Aaron Martens wrapped up Saturday with the flu, sore muscles and fourth place with 51-10. In fifth was Chris Lane with 51-6.
Only the top 12 will compete Sunday for the trophy. Ish Monroe was last man in at No. 12, thanks to his Friday catch of the event's largest bass so far, a 10-15.
Monroe's fish is still in contention to claim the Berkley Big Bass of the Tournament bonus of $500. Saturday's largest fish was a 6-14 by Steve Kennedy, which helped him into the cut at No. 7.
Full day 3 standings on the B.A.S.S. Forum
2011 Bassmaster Elite Series Official Sponsors: Toyota, Bass Pro Shops, Berkley, Evan Williams Bourbon, Humminbird, Mercury, Minn Kota, Skeeter Boats, Triton Boats, Yamaha
2011 Bassmaster Elite Series Supporting Sponsors: Lowrance, Luck "E" Strike, Nitro Boats, Power-Pole, Ramada
About B.A.S.S.
For more than 40 years, B.A.S.S. has served as the authority on bass fishing. The organization advances the sport through advocacy, outreach and an expansive tournament structure while connecting directly with the passionate community of bass anglers through its Bassmaster media vehicles.
The Bassmaster brand and its multimedia platforms are guided by a mission to serve all fishing fans. Through its industry-leading publications — Bassmaster Magazine and B.A.S.S. Times — comprehensive website Bassmaster.com, ESPN2 and Outdoor Channel television programming, Bassmaster provides rich, leading-edge content true to the lifestyle.
The Bassmaster Tournament Trail includes the Bassmaster Elite Series, Bass Pro Shops Bassmaster Open Series, B.A.S.S. Federation Nation events presented by Yamaha and Skeeter Boats and the ultimate celebration of competitive fishing, the Bassmaster Classic.
B.A.S.S. offers an array of services to its more than 500,000 members and remains focused on issues related to conservation and water access. The organization is headquartered in Celebration, Fla.