Round 2 to Rojas
By editor on Apr 15, 2011 | In Bass Tournaments, BASS Elites, BASS
B.A.S.S. News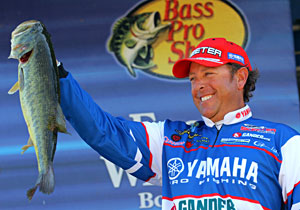 Dean Rojas continues to lead the TroKar Battle on the Bayou at the Toledo Bend Reservoir Elite Series event. Photo Credit: B.A.S.S. / Seigo Saito
MANY, La. — Dean Rojas outsmarted the wind Friday to hold the lead for the second day in the TroKar Battle on the Bayou.
"Where I was fishing was pretty well protected," said Rojas, who had 19-13 Friday for 42-14 over two days on Toledo Bend Reservoir. "In some of the areas I was fishing, the prevailing west wind was OK, and my area wasn't getting beat up. I was even able to sight-fish a few and catch that big one."
That "big one" went 7 pounds, 15 ounces. He caught it about 1 p.m., when he already had a limit, allowing him to cull up and keep his lead in the fourth event of the Bassmaster Elite Series season.
Rojas put away Day One's hottest challengers and staved off Aaron Martens by 2 pounds, 10 ounces. Martens charged from 13th to second place on the strength of a 21-13 sack, one of the day's best weights. Randy Howell moved into third place with a bag that almost duplicated what he did on Day One, for 37-11 over two days. Fourth was the day's biggest mover, David Walker. He shot from 53rd place with 24-0, the day's biggest bag. Rounding out the top five was Gerald Swindle with 36-5.
They led the top-50 field for Saturday's third round. On Sunday, only the best 12 will compete for the top prize of $100,000 and an automatic entry in the 2012 Bassmaster Classic.
Rojas kept his lead even though he had to abandon his water from the first day. He moved to an area that got him away from the brunt of Friday's sustained afternoon winds of up to 25 mph punctuated by gusts of 40 mph.
He said he was casting and sight-fishing in the new area.
"Once I get around them, I set up and caught them," he said.
After that, he said he went scouting.
"I burned up a couple of hours just looking, and I figured out that I need to move even more tomorrow. I left a couple on beds today for tomorrow. I figured it wouldn't help me much today, only give me a couple pounds, and they'll be worth a lot more to me tomorrow."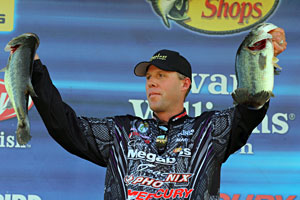 Aaron Martens moved into 2nd place in the TroKar Battle on the Bayou at the Toledo Bend Reservoir Elite Series event. Photo Credit: B.A.S.S. / Seigo Saito
Like most others, Martens bucked the wind. He also fought off the flu, feeling feverish through most of the day.
"It was a lot of work, I'll be cramping up tonight," he said of his day perched on his boat deck, keeping his balance as he cast into the high winds. "I fought the wind all day long, and this cold has me feeling weak."
Martens said his best spot was crossed by a trotline, and he kept tangling his jig in it. He had five or six spots, main lake and in a creek, from which he pulled about 20 keepers.
Randy Howell produced 19-0 Friday on an offshore pattern, almost repeating his 18-11 on Day One.
"Yesterday I had one 7-pounder, and that gave me a lot of my weight. I had two 5-pounders today and a good, solid bag."
He had 16 to 17 pounds on one spot, but the wind blew too hard and he had to abandon it. He returned to a place he'd hit the first day, where he got one of the 5-pounders.
"I think the sunlight helped, kind of scrapped it out," he said. "I'm hoping for less wind, tomorrow, though."
The day's big bass was a 10-15 by Ish Monroe. The fish put him not only in contention for the Berkley Big Bass of the Tournament bonus of $500, but into the cut at place No. 21 for Saturday's fishing.
Day two standings on the B.A.S.S. Forum
2011 Bassmaster Elite Series Official Sponsors: Toyota, Bass Pro Shops, Berkley, Evan Williams Bourbon, Humminbird, Mercury, Minn Kota, Skeeter Boats, Triton Boats, Yamaha
2011 Bassmaster Elite Series Supporting Sponsors: Lowrance, Luck "E" Strike, Nitro Boats, Power-Pole, Ramada
About B.A.S.S.
For more than 40 years, B.A.S.S. has served as the authority on bass fishing. The organization advances the sport through advocacy, outreach and an expansive tournament structure while connecting directly with the passionate community of bass anglers through its Bassmaster media vehicles.
The Bassmaster brand and its multimedia platforms are guided by a mission to serve all fishing fans. Through its industry-leading publications — Bassmaster Magazine and B.A.S.S. Times — comprehensive website Bassmaster.com, ESPN2 and Outdoor Channel television programming, Bassmaster provides rich, leading-edge content true to the lifestyle.
The Bassmaster Tournament Trail includes the Bassmaster Elite Series, Bass Pro Shops Bassmaster Open Series, B.A.S.S. Federation Nation events presented by Yamaha and Skeeter Boats and the ultimate celebration of competitive fishing, the Bassmaster Classic.
B.A.S.S. offers an array of services to its more than 500,000 members and remains focused on issues related to conservation and water access. The organization is headquartered in Celebration, Fla.