Rojas starts out big on Toledo Bend
By editor on Apr 15, 2011 | In Bass Tournaments, BASS Elites, BASS

B.A.S.S. News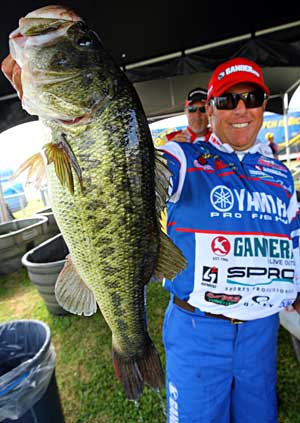 Dean Rojas leads day one of the B.A.S.S. Elite Toledo Bend event with the help of this 7 pound bass. Photo Credit: B.A.S.S. / Seigo Saito
MANY, La. — Dean Rojas caught 16 pounds of Toledo Bend bass by 10 a.m. Thursday.
Then he got serious. He went looking for the big spawning bass, and found them. A 7-pound, 1-ounce largemouth, followed by one over 5, went into the box. He ended up with 23 pounds, 1 ounce, and the lead in the TroKar Battle on the Bayou.
Fred Roumbanis, with 21-3 for second place, ended the day behind Rojas by 1 pound and 14 ounces. It was a decent cushion for the leader, especially on a day when place No. 10 was only 4-3 behind him.
Finishing third after one day was rookie Brandon Palaniuk, who had 20-6. Fourth was Todd Faircloth, with 20-4, and fifth was Steve Kennedy with 20-0.
As good as his day was, Rojas had hoped for better — a total of 25 pounds, he said.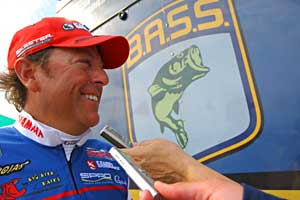 TroKar Battle leader Dean Rojas talks about his day one success on Toledo Bend Reservoir. Photo Credit: B.A.S.S. / Seigo Saito
"The wind really hurt me today because it took out an area that had some really big ones in it," he said.
For the second day, he's hoping for flat water and no wind — ideal sight-fishing conditions. He's got more spawners in reserve, he said, enough to carry him all four days.
"The bites came quickly this morning, and I don't foresee it being any different tomorrow," he said. "I milked the area pretty good, but there are still a lot of fish in there."
Rojas said he's taking his bedding fish with the WarMouth, the same signature lure he used on the St. Johns River in Florida last month.
"It's just a great sight-fishing bait," he said.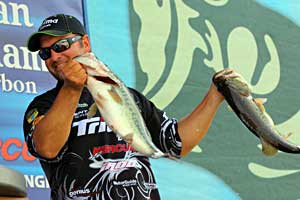 Fred Roumbanis sits in 2nd place behind Rojas with 5 bass for 21 pounds 3 ounces from Toledo Bend. Photo Credit: B.A.S.S. / Seigo Saito
Roumbanis produced his 21-3 for second place by starting out "in the dirt and ending up deep."
"I'm fishing off the bottom — not on the bottom," he said. "I can see them on the graph, about 5, 6 feet off the bottom. The weather's bringing them — they're cruisers. The wind is definitely helping me," he said.
Roumbanis said he's got a solitary spot and a technique no one else has.
"It's a trick I taught myself," he said, but was tight-lipped after that.
Rookie Palaniuk said that unlike Roumbanis, but like Rojas, he went sight fishing Thursday, catching his two largest fish of the day off beds.
He caught his biggest one, a 7-4, about 15 minutes before he came in.
"I had another big one today blow up on a topwater," Palaniuk said. "I missed it, but I'm going back to it tomorrow."
Topping Palaniuk's big one was the day's largest bass, a 7-14 by Chris Lane. The bass is in contention for the tournament's Berkley Big Bass of Tournament.
Visit the B.A.S.S. forum for Day 1 standings
2011 Bassmaster Elite Series Official Sponsors: Toyota, Bass Pro Shops, Berkley, Evan Williams Bourbon, Humminbird, Mercury, Minn Kota, Skeeter Boats, Triton Boats, Yamaha
2011 Bassmaster Elite Series Supporting Sponsors: Lowrance, Luck "E" Strike, Nitro Boats, Power-Pole, Ramada
About B.A.S.S.
For more than 40 years, B.A.S.S. has served as the authority on bass fishing. The organization advances the sport through advocacy, outreach and an expansive tournament structure while connecting directly with the passionate community of bass anglers through its Bassmaster media vehicles.
The Bassmaster brand and its multimedia platforms are guided by a mission to serve all fishing fans. Through its industry-leading publications — Bassmaster Magazine and B.A.S.S. Times — comprehensive website Bassmaster.com, ESPN2 and Outdoor Channel television programming, Bassmaster provides rich, leading-edge content true to the lifestyle.
The Bassmaster Tournament Trail includes the Bassmaster Elite Series, Bass Pro Shops Bassmaster Open Series, B.A.S.S. Federation Nation events presented by Yamaha and Skeeter Boats and the ultimate celebration of competitive fishing, the Bassmaster Classic.
B.A.S.S. offers an array of services to its more than 500,000 members and remains focused on issues related to conservation and water access. The organization is headquartered in Celebration, Fla.