Bassmaster Elite Series TroKar Battle on the Bayou Daily Notes & Quotes Day 2
By editor on Apr 15, 2011 | In Bass Tournaments, BASS Elites, BASS

B.A.S.S. News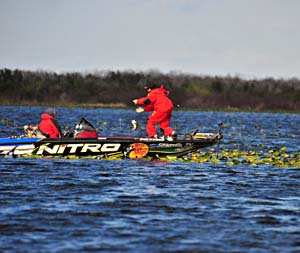 Bassmaster Rookie of the Year race leader Ott DeFoe lands a quality bass. Photo Credit: B.A.S.S.
MANY, La. — Watching rookie DeFoe: Is Ott DeFoe really only 25 years old?
He's not just leading the Bassmaster Rookie of the Year race, he's 120 points ahead, leaving the other 14 rookies in the dust.
Better yet, DeFoe is eighth in the overall points standings. That means he's positioning himself to be in contention for the season's top prizes: the Toyota Tundra Bassmaster Angler of the Year title, a coveted postseason berth (the top 8 earn one) and 2012 Bassmaster Classic qualifier.
Those accomplishments alone are enough to declare his season's start a success.
Before turning Elite, he has earned a tournament title, plus the tidy sum of $406,000 in winnings on another top bass circuit since 2002. He says he's been competing since age 9.
The Elite Series is a step up for him, but he made it look like a short hop. He spent only one season at the lower competition level, qualifying for the Elite level in one try.
So DeFoe must be one of those fast-track fish bums with nothing else on his mind? Hardly: He's also a family man, with a wife, a 4-year-old daughter and twins on the way at home in Knoxville, Tenn. The twins' mid-June due date happens to fall smack dab on top of the season's final tournament.
Talk about pressure. Many people twice his age would cave.
He's not showing any signs of that. He said he's able to go to work and not worry about his family as long as he gets word each day that all is well.
He had a scare during the April 6-9 Alabama Charge in northern Alabama. On one of the practice days, he got a call that his wife was having contractions. Fortunately, it was a false alarm.
"I talked to her, and I was OK after I found out she was OK," he said.
He went on to secure 20th place at the Alabama Charge, a finish that popped him up on top of the rookie points standings.
"There's a lot of prestige that goes with being Rookie of the Year," he said. "I'm shooting for it — although a Classic berth is my No. 1 goal."
It would be his first Classic qualification, a high mark of success for any Elite pro, rookie or not.
And now, at the April 14-17 TroKar Battle on the Bayou on Toledo Bend, he's building a big head of steam. After the first day, he was in sixth place. That, on a lake he's never fished before, let alone competed on.
It's the best he's done after Day One in the four Elite events he's been in.
"The first time I go somewhere, I usually do pretty good," he said. "I like to get on new water."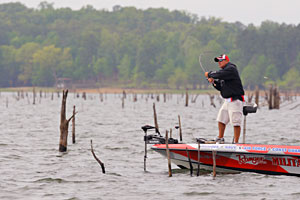 Little Rock Arkansas Elite angler Scott Rook fishes the wood on the Toledo Bend Reservoir. Photo Credit: B.A.S.S. / Seigo Saito
Blow me down: The Bend is being roughed up by stiff winds, giving Elite pros a workout.
"Some clouds and wind would make for a good day fishing," one pro observed before the tournament began.
"Some" wind was delivered Thursday, but by Friday, westerly winds of 15 to 25 mph kicked up in the morning, gusting to 30-35 mph. Whitecaps showed by mid-morning. Such a blow has multiple effects: It slows anglers down as they run up and down the lake in the boat lane, squashes a sight bite, makes boat positioning difficult, whips fishing line every which way, and challenges the balancing skills of anglers as they try to stay on deck at the bow.
Wind was not on Day One leader Dean Rojas' wish list. Before he set out for Friday's second round, he said he wanted to repeat his productive sight-fishing pattern that got him into the top slot, but he also had a Plan B in case the wind killed the bed bite.
"I've got a couple options," he said, playing it close to the vest.
Faircloth's big bass: It missed being the best fish of the day by 2 ounces, but Todd Faircloth didn't care. She weighed 7 pounds, 12 ounces, and helped him into fourth place with a first-day total of 20 pounds, 4 ounces.
Faircloth — who hails from Jasper, Texas, so has a solid history on Toledo Bend — said he found the big bass on a bed during practice. That spot was his first stop on the first day of competition.
"I caught her in 10 minutes, looking at her," he said.
He got two more from the same area before he left to try another pattern.
Faircloth said he didn't expect to be able to repeat his sight bite Friday.
"I didn't find a whole lot of fish on beds. The few that I did find, I've caught, or others caught," he said. "It's a big body of water, and there's a lot of main-lake fish here, so now I'm going to be 'just fishing.' "
Sardine leaderboard: A leaderboard is a measure of bass catches, but Thursday's TroKar Battle on the Bayou leaderboard brought to mind sardines in a can.
The standings were that close. For example, place No. 10 was a three-way tie at 18 pounds, 8 ounces. The top 10 were just 4 pounds and 3 ounces in back of leader Dean Rojas' 23-1. Down lower on the board was what Bassmaster emcee Dave Mercer once dubbed "Club 14": 17 of the 99 pros hit 14-plus pounds.
Davy Hite is red-hot: Winner April 9 of the Alabama Charge on Pickwick Lake, Davy Hite is proving the saying that success breeds success. He weighed in 18 1/2 pounds on Day One at Toledo Bend, just days after he claimed his eighth Bassmaster title. He started Day Two in a three-way tie for 10th place.
"I feel good this week," Hite said after he walked off the Bassmaster stage Thursday. "When you get momentum, things start rolling, start happening for you. I've been waiting on some momentum for a year or two."
Pages: 1· 2