2011 Federation National Championship Is Underway
By editor on Apr 15, 2011 | In Bass Tournaments, TBF, TBF National Championship

TBF News
94 TBF elite hit 'em, and hit 'em hard on Lake Nickajack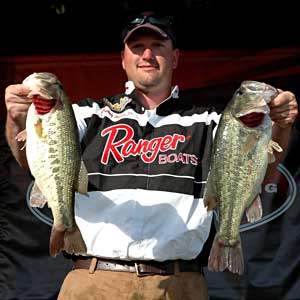 Danville Virginia federation angler Kenny Beale Jr leads on day one of the TBF national championship on Lake Nickajack. Photo Credit: TBF
KIMBALL, Tenn. (April 14, 2011) - The bite is on and the anglers are hungry fighting for a dream they can almost taste - the 2011 TBF National Champion title and all the glory will be decided this week on Lake Nickajack in Kimball, Tenn. The TBF national champion boater will earn the esteemed $100,000 "Living the Dream" prize package including cash and prizes, fully paid entry fees into the Walmart FLW Tour, travel funds and use of a wrapped Ranger Boat and Chevrolet truck for the year. The national champion boater and non-boater will also receive berths in the 2011 Forrest Wood Cup presented by Walmart and Walmart BFL All-American presented by Chevy.
There's a lot on the line for these state champions, and the competition is tight. Tomorrow it's all or nothing, as the final cut will decide the top 14 division champions - seven each on the boater and non-boater sides. Those champions will vie for the 2011 Federation National Champion titles.
On top of the leaderboard is Kenny Beale Jr. from Danville, Va., with a five-bass limit weighing 20 pounds, 7 ounces. Beale honored the family tradition of successful federation anglers by making quite a statement today at his first national contest. "Fishing comes natural to me, so I felt pretty good. I wasn't really nervous until I got to the weigh-in," Beale said.
Today was only Beale's second day to fish Lake Nickajack and it appears he's found his knack. "I shook a lot of fish off and I'm glad I did. I had a limit by about a quarter after eight. We probably caught about 20 keepers," Beale continued. "I just got lucky, got some nice ones and I hope for the same tomorrow. I have probably two to four spots with lots of fish coming to them, so I'll definitely stick with my plan." Tomorrow's weigh-in will decide if he can make the final round to fish for the title. "I sure do hope so. That's what we came for."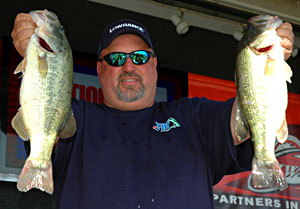 Non-boater Dennis Hastings of Flower Mound Texas leads all non-boaters on day one of the TBF national championship on Lake Nickajack. Photo Credit: TBF
Holding down the top spot on the non-boater side is Dennis Hastings from Flower Mound, Texas, with a limit of bass weighing 15 pounds, 4 ounces. Hastings' partner today was Jesse Woodring from Jupiter, Florida. "Jesse is a great guy. I wouldn't be where I'm at today without him," Hastings said.
Hastings had some trouble with a broken rod early and it almost put a damper on the day.
"It was an interesting day. I had a couple of fish early and the broken rod kind of messed with me. It was about four hours before I found another fish."
Four hours without a fish didn't stop Hastings. He retied a lure and pushed on.
"I looked over at Jesse and it was 1:07 p.m. and I said, 'I'm gonna have a limit by 1:20,' and I fired it in. A couple of casts later I was set and it just went on from there."
The top seven non-boaters from each division will also advance after tomorrow's weigh-in to fight for the national title and all that comes with it.
"Obviously, to be leading something like this any time is a great accomplishment. It hasn't even set in yet. Hopefully, tomorrow I will be able to find some good ones and get the chance to make it to the next round."
GreatLakesBass.com member and boater Don Watts sits in 40th place with 2 bass for 7-5 while non-boater Kendall Ulsh had a great day with a 5 bass limit weighing 13-4, good for 8th place though he is 1 pounds 9 ounces behind another Northern Division angler, Jason Myers of Ohio.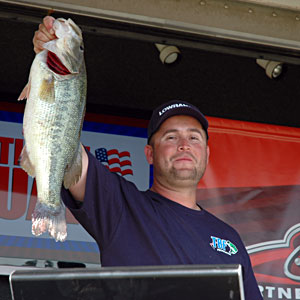 Federation angler Jason Biggs lands big bass on day one of the TBF national championship on Lake Nickajack. Photo Credit: TBF
The tournament field consists of the top two anglers from 45 states, the top two anglers representing the Canadian Bass Anglers Federation and the two BoatUS Collegiate National Champions, all of whom competed at local, state and regional qualifiers to advance to the national contest. For most, the road to the nationals has been a two year process, and for many it's been several years of federation fishing to finally make it this far. Now, they compete to make it all worthwhile. The final cut will be made following day two action, and the top 14 anglers will advance to compete for the dream of a lifetime at the 2011 Federation National Championship presented by the National Guard on Lake Nickajack in Kimball, Tenn.
Take-off is at 6 a.m. at Shellmound with the weigh-in beginning at 3 p.m. Take-offs and weigh-ins are free to the public.
ABOUT FLW OUTDOORS
For more information about FLW Outdoors and its tournaments, visit FLWOutdoors.com or call (270) 252-1000. For more information about FLW Fantasy Fishing, visit FantasyFishing.com.
ABOUT THE BASS FEDERATION (TBF)
The Bass Federation Inc., (TBF) is owned by those we serve and dedicated to the sport of fishing. TBF is the largest and oldest, organized grassroots fishing organization. TBF affiliated state federations and their member clubs conduct more than 20,000 fishing, youth and conservation events at the local level each year and have provided a foundation for the entire bass fishing industry for more than 40 years. Visit bassfederation.com.