The Turn of the Rookie
By editor on Apr 13, 2011 | In Bass Tournaments, BASS Elites, BASS, Pro Anglers

B.A.S.S. News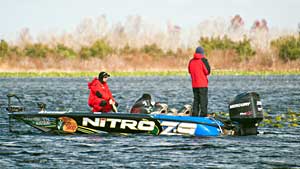 Elite angler Ott DeFoe, shown landing a Florida bass, leads the 2011 B.A.S.S. Rookie of the Year race after three Elite Series events. Photo Credit: B.A.S.S./Sam Root
MANY, La. — So far this season, Bassmaster Elite Series wins have been the realm of the seasoned pro: Shaw Grigsby, Edwin Evers and Davy Hite.
Against that caliber of competition, what hopes has an Elite Series rookie? On the eve of the fourth event of the 2011 Elite season, the April 14-17 TroKar Battle on the Bayou on Toledo Bend Reservoir, two rookies and a former rookie talked about how landing an Elite title is just plain difficult, and doubly difficult if you're still finding your footing at the top-tier of bass fishing.
Case in point: Ott DeFoe, competing this week on Toledo Bend for the first time. He is currently the circuit's top rookie by virtue of leading the Bassmaster Rookie of the Year race, and he ranks eighth overall in Toyota Tundra Bassmaster Angler of the Year points.
DeFoe is a hybrid rookie. 2011 may be his first year as an Elite angler, but he's been competing since he was a young kid, and he put in five years on another circuit before he moved up into the Elites. But the 25-year-old has never made it to The Bend before.
That could be a strike against him — or a factor in his favor, he said.
"Not having any past history here, it is what it is for me," he said.
He has enough fishing experience to know what Toledo Bend might look like when it's full pool. It's not — the water level is 5 to 7 feet down — and that has the Elite field talking.
"I can see where there were a lot of trees and shoreline cover. If all that was there now, the fishing would be different, just because the fish would have so much cover to be around. I see some grass, some stumps, but not much other than that," he said.
Some of the fish are spawners, some are postspawners. The weather conditions have been shifting from windy to cooler to calm, he said.
DeFoe said a rookie has one advantage in going for a win.
"You don't outsmart yourself," he said. "You fish the moment, go with what's happening."
That's his take. One of his fellow rookies, Andy Montgomery, pointed out that a first-year pro is as likely to pinpoint a pattern and make it work as is a veteran.
"Once you get to this level, we all know how to do that, so it's a possibility for a rookie to win," he said.
He pointed to Casey Ashley's and Derik Remitz's wins as rookies in 2007. And Chad Griffith pulled it off in 2009.
Consistency over a full season is one thing rookies lack, Montgomery said.
"I don't think a rookie has ever won Angler of the Year," he said. "That's what's really hard to do."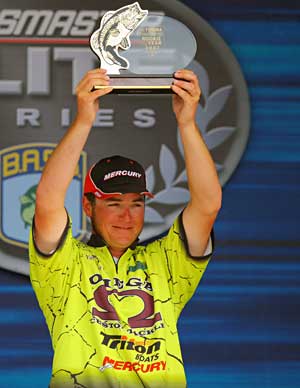 Elite angler Derik Remitz is one of the few bass pro's to win an Elite Series event as a rookie having taken his only victory in 2007 at Lake Amistad. Photo Credit: BASS Communications
Remitz said an Elite win is a high goal, and much of success hinges on mental attitude.
"You have to go out and think you can win," said Remitz, whose 2007 victory on Texas' Lake Amistad remains his only Elite No. 1 finish.
"It's hard for anybody to come into one of these and win it," he added. "I think you just have to take each tournament as it comes — go out hoping to win, but you can't go out and try to win. It's a fine line to walk."
2011 Bassmaster Elite Series Official Sponsors: Toyota, Bass Pro Shops, Berkley, Evan Williams Bourbon, Humminbird, Mercury, Minn Kota, Skeeter Boats, Triton Boats, Yamaha
2011 Bassmaster Elite Series Supporting Sponsors: Lowrance, Luck "E" Strike, Nitro Boats, Power-Pole, Ramada
About B.A.S.S.
For more than 40 years, B.A.S.S. has served as the authority on bass fishing. The organization advances the sport through advocacy, outreach and an expansive tournament structure while connecting directly with the passionate community of bass anglers through its Bassmaster media vehicles.
The Bassmaster brand and its multimedia platforms are guided by a mission to serve all fishing fans. Through its industry-leading publications — Bassmaster Magazine and B.A.S.S. Times — comprehensive website Bassmaster.com, ESPN2 and Outdoor Channel television programming, Bassmaster provides rich, leading-edge content true to the lifestyle.
The Bassmaster Tournament Trail includes the Bassmaster Elite Series, Bass Pro Shops Bassmaster Open Series, B.A.S.S. Federation Nation events presented by Yamaha and Skeeter Boats and the ultimate celebration of competitive fishing, the Bassmaster Classic.
B.A.S.S. offers an array of services to its more than 500,000 members and remains focused on issues related to conservation and water access. The organization is headquartered in Celebration, Fla.