Fifty Top Bass Pros Set For Lake Ray Hubbard In Inaugural Bass Pro Shops PAA All Star Series
By editor on Apr 12, 2011 | In Bass Tournaments, PAA

PAA News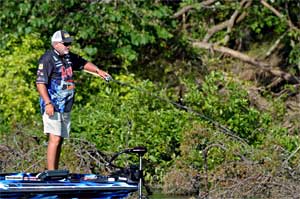 Gene Larew Baits pro Tommy Biffle of Oklahoma leads the field in the inaugural Bass Pro Shops PAA All Star Series tournament on Lake Ray Hubbard as the 2010 PAA Tournament Series Angler of the Year. Photo Credit: PAA / Chris Dutton
GARLAND, Texas (April 11, 2011) - Fifty PAA Tournament Series pros will find Lake Ray Hubbard setting up perfectly for a slugfest in the inaugural Bass Pro Shops PAA All Star Series tournament next week.
The no-entry fee event features the top qualifiers from the 2010 PAA Tournament Series point standings who accepted their invitations for the April 21-21 tournament. Daily launches and weigh-ins will be based at Bass Pro Shops in Garland, just off I-30 east of Dallas.
Headlining the field is Gene Larew Baits pro Tommy Biffle of Oklahoma, the 2010 PAA Tournament Series Angler of the Year; Sworming Hornet Lures pro Kevin Hawk of Alabama, the 2010 Forrest Wood Cup champion; five Bassmaster Classic, Forrest Wood Cup or Toyota Texas Bass Classic champions; and four PAA, B.A.S.S. and FLW Anglers of the Year.
"It's exciting for a couple of reasons, one being that it will be held in a great state known for its fisheries and passion for fishing, and also because we have a great partner with Bass Pro Shops," said PAA President Chad Morgenthaler. "But the All Star Series will set a standard for the sport with a move toward no-entry fee events. Packed with a star-studded field, it will be an exciting and highly competitive tournament for the anglers and fans."
The full field will compete for two days on Lake Ray Hubbard, with the top 12 advancing to the final day. Lake Ray Hubbard, formerly known as Forney Lake, has approximately 22,745 acres and a maximum depth of 40 feet. The lake has numerous shallow bays, some timber and stump fields, and various types of vegetation.
Bass Pro Shops in Garland is conveniently located on the lake for great fan participation. Docks on the lake behind the store will offer fans great viewing opportunities. Fans are invited to meet the pros at the official Registration Day on April 20 from 3:30-5:30 p.m. and then stay for free seminars from the pros, along with events scheduled Saturday prior to the final weigh-in.
"We're thrilled to host the inaugural Bass Pro Shops PAA All Star Series tournament featuring some of fishing's top pros," said Lucia Arrant, director of the Garland Convention and Visitor's Bureau. "Last year's PAA tournament at Garland's Bass Pro Shops had a great turnout. We look forward to hosting more tournaments in the future and continuing our strong partnership with Bass Pro Shops and the PAA."
"We're excited to be bringing the inaugural All Star Series tournament to Garland, which was a wonderful host last season," said PAA Program Director Danny Blandford. "Not only is the Bass Pro Shops perfectly situated on the lake and near great attractions for the fans and anglers, but the pros will be competing on a super lake at one of the best times of the year.
"This is a big step for the PAA and one of the things the anglers have wanted, a true no-entry fee tournament featuring the best anglers. We look forward to visiting the great state of Texas once again and should have a fantastic week in Garland."
Lake Ray Hubbard shines in spring and should be primed for a great week of fishing. Recent reports indicate water temperatures in the mid-60s and clear to stained conditions. Winners of a Lone Star Series North Division team tournament held April 9 had 31.87 pounds including an 8.44-pound largemouth. The top 10 teams had at least 19 pounds and the top 20 at least 15.75 pounds.
"I made some time to go out to scout around and liked what I saw," said Hawk, who competed in the season-opening Bass Pro Shops PAA Tournament Series event on Lake Lanier two weeks ago. "It has some timber and other good stuff, and will be big enough for everyone to spread out. I'm looking forward to it and think it'll be a cool tournament."
PAA All Star Series info: http://fishpaa.com/2011-lake-ray-hubbard-event/
PAA All Star Series field: http://fishpaa.com/all-star-qualifiers-2011/
Event specifics
What: Bass Pro Shops PAA All Star Series tournament
When: April 18-23, 2011
Practice: April 18-20, Monday through Wednesday
Competition: April 21-23, Thursday through Saturday
Format: Full field will compete the first two days before being cut to the
Top 12 for the final day
Launch, Weigh-in: Bass Pro Shops in Garland, Texas; Times TBA
2011 PAA Tournament Series Premier Sponsors: Bass Pro Shops, E21 Carrot Stix, Optima Batteries, Nitro Performance Bass Boats
2011 PAA Tournament Series Associate Sponsors: Lazer TroKar, Jasper Engines & Transmissions, Mercury Marine, Humminbird/Minn Kota, BoatUS Angler, Fishouflage, U.S. Reel, Sign Designs, Toyota Texas Bass Classic
About the PAA – The Professional Anglers Association is a non-profit organization that gives professional anglers a unified voice in order to aid in the growth of the sport of professional bass fishing. The PAA also aims to administer educational programs to the average angler, to increase enjoyment of the sport, and to embrace sound conservation practices to further the future of the sport. Web: www.FishPAA.com