Davy Hite hits new high with 8th Bassmaster win
By editor on Apr 9, 2011 | In Bass Tournaments, BASS Elites, BASS
B.A.S.S. News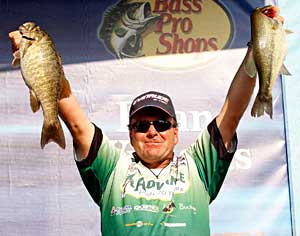 Davy Hite wins his 8th Bassmaster title by more than 8 pounds on Pickwick Lake at the Elite Series Alabama Charge with big bass like this smallmouth and largemouth. Photo Credit: B.A.S.S./Gary Tramontina
FLORENCE, Ala. — Davy Hite earned the toughest and sweetest victory of his career Saturday.
Someone else who already owned seven Bassmaster titles maybe wouldn't have shown such emotion. Hite did as he took the Alabama Charge trophy.
"I don't take for granted winning No. 8, I promise you," he said. "This is as meaningful to me as the first one I ever won. It's like a drug; I can't describe the way it feels to win one of these things.
"I wanted it really bad. I'm just going to be honest here, although I hate to admit it: Probably at No. 4, 5 or 6 — somewhere in there — I kind of took it (winning) for granted. I wanted this one as bad as the first one I ever won."
In Bassmaster terms, that was in 1994 on another Alabama fishery, Lake Eufaula. He went on for six more over the years, including a Bassmaster Elite Series win and the 1999 Bassmaster Classic title, plus two Toyota Tundra Bassmaster Angler of the Year crowns, 1997 and 2002.
Hite's latest victory was worth $100,000 and an instant entry into the 2012 Bassmaster Classic, his 14th qualification and first since 2009.
He said the Classic qualification, his 13th, makes him rest easy on that score for the rest of the season.
"It's huge for me," he said. "I've missed one or two, barely missed them, and I don't feel like I've done my sponsors justice if I don't qualify each and every year. It starts to wear on me mentally, so it means a lot for me to be there for them, that's their showcase."
After leading for two days, Hite won the Pickwick Lake event with a four-day total of 84 pounds, 9 ounces. He ended with 8 pounds more than Bobby Lane, who totaled 76-9 for second place, and 9-4 ahead of Day One leader Denny Brauer, who finished third with 75-5.
Fourth place went to Keith Poche, who gave Hite a scare Friday by getting within 12 ounces of him on Day Three. Alton Jones secured fifth place with 73-6, a finish that helped him keep his lead in the 2011 Angler of the Year race.
Hite's wide margin of victory was deceptive. He had to fight all week, staving off hard-chargers that included Poche in the No. 2 spot for two days running.
Falling water levels changed the game at Hite's primary area, the tailwaters of the Wilson Dam. He said he knew the water had dropped even before he arrived at the dam Saturday morning. He had marked an object at the water's edge Friday, and checked it Saturday morning before takeoff. That's how he knew the bite was not going to be quite the same for the final round.
The tip-off helped him quickly adjust and decide to stick with the dam.
"I went there and knew there'd still be fish there, that I'd just have to learn how to catch them with slower water. I knew it would be harder and I wouldn't get as many bites. It had worked for three days, I couldn't go looking for flipping fish the last day.
"It was a grind. I knew God shined on me bright when I heard that horn go off at 11 o'clock. I knew then I had a real chance."
Hite's first fish of the day came to him at 9:30 a.m., a short distance downstream from the dam. It was a 14-incher. When the horn blew at 11 o'clock, Hite positioned himself close to the dam and got ready to key in on bass after the shad that the dam water was producing.
"When the water started moving, I grinned from ear-to-ear. I knew I had a great chance to make it happen. They (bass) sit in the slack water, and those shad come by, just thousands and thousands of big shad. (Bass) sit at the buffet, and when the filet comes by, they eat it."
But it took him almost four hours, until 3 p.m., to fill his livewell, an average of one bass an hour. Just before he had to call it a day and head back to the docks, he was able to cull the first squeaker with a 4-pounder.
Every fish he weighed in was on a 5-inch Berkley Hollow Belly, he said. He rigged it with either a 1/2- or 3/4-ounce Gary Yamamoto swimbait head with a 5/0 hook, using glue to secure the bait to the lead.
The rotating action of the out-of-bait weight was a key to his bites, Hite said. Lure size was important, too; he matched his lure to the average size of the shad he was seeing.
The big fish of the day was a triplet deal: three 5-11's by Greg Hackney, Alton Jones and Bobby Lane. But a 5-11 didn't come close to Jared Lintner's 8-10 of Day One, and Lintner claimed the Berkley Big Bass of the Tournament award of a $500 bonus.
Next up for the Bassmaster Elite Series is the TroKar Battle on the Bayou, April 14-17 on Toledo Bend Reservoir out of Many, La. Details are available at Bassmaster.com.
Final day results available on the B.A.S.S. Forum.
2011 Bassmaster Elite Series Official Sponsors: Toyota, Bass Pro Shops, Berkley, Evan Williams Bourbon, Humminbird, Mercury, Minn Kota, Skeeter Boats, Triton Boats, Yamaha
2011 Bassmaster Elite Series Supporting Sponsors: Lowrance, Luck "E" Strike, Nitro Boats, Power-Pole, Ramada
About B.A.S.S.
For more than 40 years, B.A.S.S. has served as the authority on bass fishing. The organization advances the sport through advocacy, outreach and an expansive tournament structure while connecting directly with the passionate community of bass anglers through its Bassmaster media vehicles.
The Bassmaster brand and its multimedia platforms are guided by a mission to serve all fishing fans. Through its industry-leading publications — Bassmaster Magazine and B.A.S.S. Times — comprehensive website Bassmaster.com, ESPN2 and Outdoor Channel television programming, Bassmaster provides rich, leading-edge content true to the lifestyle.
The Bassmaster Tournament Trail includes the Bassmaster Elite Series, Bass Pro Shops Bassmaster Open Series, B.A.S.S. Federation Nation events presented by Yamaha and Skeeter Boats and the ultimate celebration of competitive fishing, the Bassmaster Classic.
B.A.S.S. offers an array of services to its more than 500,000 members and remains focused on issues related to conservation and water access. The organization is headquartered in Celebration, Fla.