Hite hangs on, while last-hour bite saves the day for Poche
By editor on Apr 8, 2011 | In Bass Tournaments, BASS Elites, BASS
B.A.S.S. News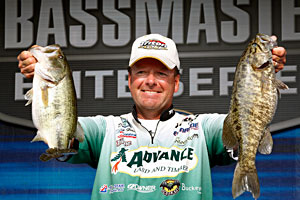 Veteran bass pro Davy Hite holds onto his day three lead at the Pickwick Lake Alabama Charge Elite Series event. Photo Credit: B.A.S.S./Gary Tramontina
FLORENCE, Ala. — Experience, get ready to meet raw ambition.
Keith Poche, a Bassmaster Elite Series sophomore seeking his first Bassmaster win, plans to give Alabama Charge leader and veteran pro Davy Hite something to sweat about in Saturday's Pickwick Lake finale.
Hite, the two-time Toyota Tundra Bassmaster Angler of the Year and 1999 Bassmaster Classic champ from South Carolina, is just as determined to claim his eighth Bassmaster win, which would be his first since a 2006 Elite victory in Georgia.
Adding another layer to the contest, the leaders plan to continue sharing water below Wilson Dam. They have been fishing within sight of each other and often within a cast of each other.
"It'll be a shootout," said Hite. Asked if he believed Poche might feel intimidated by his experience in the sport, Hite answered, "I hope so."
"When I was in his shoes, before I won a tournament, if I was fishing around somebody who'd won quite a few, yea, I'd be a little intimidated," Hite said. "I'm not going to do anything wrong, but you do what you've got to do to win. I might yell a little bit or something like that when I catch a big one."
Leading with a three-day total of 63 pounds, 8 ounces, Hite brought 20 pounds and 9 ounces to the scales Friday. It was enough to keep his Thursday lead and stave off not only Poche, who had a total of 62-12, but also Bobby Lane, who repeated his Thursday finish by securing third place with 59-7.
In fourth was Day One leader Denny Brauer with 57-2. Terry Scroggins was fifth with 54-15 after a 20-15 day that boosted him from 17th place.
Only the top 12 qualified for the final round Saturday, when one angler will claim the $100,000 first-place prize and a 2012 Bassmaster Classic berth.
Friday's catch almost didn't happen for Poche, a Louisiana native who lives now in Troy, Ala. The day, which Poche later said was a lesson in the power of believing in yourself, began at the dam with lost fish and missed bites.
"It started out real sloppy, real slow," he said. "I could not get a bass in the boat."
He finally managed two small largemouth by 10:30 a.m., then another one of about 2 pounds. But then the action stalled for him.
"I fished and fished and fished and couldn't get another bite. It got to be about 2:30, and I was disgusted. I'm thinking that I had an hour and a half left and I had not caught a decent fish off this spot. I pretty much gave up on it, I left."
He ran about 10 minutes south of the dam, produced nothing and rethought his decision.
"I said, 'Hey, I caught 20 pounds a day off that spot up there (at the dam). I've got 45 minutes, and I'm going to see what happens. I went back up a little after 3 o'clock and my first fish was a 3-pounder."
And a 6-1. He ended up culling one time, ending up with 20-15.
"I don't know if it was a timing deal, or I missed them before, I'm just thankful that they finally came at 3:15," he said.
Poche had to check in at 4 p.m., and so did Hite, who also struggled all day, but produced his 20-plus-pound sack by bundling a downlake pattern with repeated hits at the dam waters.
"It was like yesterday, it was a grind," Hite said. "I had no fish at like 9:30, 10 o'clock. I left and caught three, then went back up to the dam and ended up catching a couple nice largemouth."
His bag consisted of two largemouth and three smallmouth. Poche's was five largemouth.
"There's been a flurry there all three days, and hopefully there will be another one tomorrow," Hite said.
Lane has stayed away from the dam. He had a boat breakdown, and fellow Elite pro Cliff Crochet, who dropped out of the cut yesterday, loaned his boat to Lane.
"It wasn't an easy day, by no means," Lane said. He figured he needed to stay close to the ramp and was able to upgrade at the last minute for a 19-2 sack, enough to keep himself in third place, right where he started the day.
Friday's largest bass was an 8-8 by Matt Reed, who also had the heaviest weight of the day, 22-12. He rode his stellar day into the top-12 cut. But his big fish did not beat Jared Lintner's 8-10 from Day One, which still stands as the Berkley Big Bass of Tournament.
For more information on the Bassmaster Elite Series Alabama Charge, go to Bassmaster.com.
2011 Bassmaster Elite Series Official Sponsors: Toyota, Bass Pro Shops, Berkley, Evan Williams Bourbon, Humminbird, Mercury, Minn Kota, Skeeter Boats, Triton Boats, Yamaha
2011 Bassmaster Elite Series Supporting Sponsors: Lowrance, Luck "E" Strike, Nitro Boats, Power-Pole, Ramada
Full Day 3 standings listed on the B.A.S.S. Forum