Davy Hite takes over at Alabama Charge
By editor on Apr 8, 2011 | In Bass Tournaments, BASS Elites, BASS
B.A.S.S. News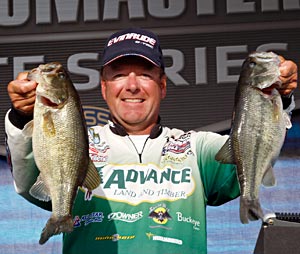 Davy Hite takes over the lead on day two of the Elite Series Alabama Charge on Pickwick Lake with bass like these. Photo Credit: B.A.S.S./Gary Tramontina
FLORENCE, Ala. — Share and share alike. Tough to do when the honey hole is small, producing fish of winning caliber, and within sight of other anglers, but Davy Hite and Keith Poche have learned how to work side-by-side over the first two days of the Alabama Charge on Pickwick Lake.
Hite pulled 42 pounds, 15 ounces, out of the two-man spot, enough for first place on Thursday and up from second place in the Bassmaster Elite Series' third stop of the season. Poche was 1 pound, 2 ounces behind the leader, with 41-13. Poche improved his position from seventh place.
In contrast to the top two, Bobby Lane landed third place by going solo in shallow water about 20 miles downstream from where Hite and Poche are working a rocks-and-current area just below Wilson Dam. Lane had 40-5 over two days, up from 10th and now in range of the winner's circle.
Paul Elias and Jared Lintner stayed in the top 5 again Thursday. Elias had 39-10, again for fourth place, and Lintner fell from third to fifth with 39-8. Day One leader, Denny Brauer, fell to sixth place with 37-12.
Hite said he had to discipline himself to stick with his section of the hot spot, a 20- to 30-yard stretch he worked all day Thursday for six bites.
"I promise you, at 10 o'clock I had one in the livewell. I'm thinking, 'I won't even cash a check at this pace,'" he said.
Not panicking and abandoning the hole to go to his second spot, 30 miles away, was the best thing he could have done. He felt he had to stay to protect what he had.
"I started there today because I felt I had to claim my little area. I kept thinking about going down (to his secondary spot), but people kept leaving, and that's when I made my hay, so to speak."
He boated four largemouth and one smallmouth. A sixth fish broke off in the rocks, and Hite lamented the loss as a potential winning fish.
"It's a grind. There are guys who are catching 14, 15 pounds, and they're catching 30 keepers a day. I'm catching heavier weights, but not nearly as many fish," Hite said.
Poche had all largemouth bass the first day, but he started hooking into smallmouth on Thursday and ended up with only one largemouth in his five-fish limit. The end product was 21-10, the day's heaviest bag.
"Even the ones I culled yesterday were largemouths," he said. "I'm not sure what's going on with that, but maybe I've caught all the smallmouth residents and the largemouth moved in."
Every fish came out of one 3-by-3 area — just 9 square feet total, he said.
"It's an eddy, a little turn in the water. They come out into it all through the day. It's a matter of catching them at just the right time. You have to throw and throw and throw."
Both Poche and Hite noted that the spots appear to be replenishing each day, and they'll be back there again on Friday to defend their spots and try to outdo each other. Only the top 50 will compete Friday, a fact that might ease the pressure on the fish of the Wilson Dam tailrace.
Lane said he'd go back to his area about 20 miles from the launch site.
"It's been my water for the first two days. I haven't seen a lot of boats," Lane said.
He said he's narrowed his spots from six to three, and will milk them for largemouth.
"I'm catching them in about 4 feet of water," he said. "I believe they're prespawn fish. Water's up there, and that's helped me as the fish move into the pockets."
The largest bass of the day, an 8-pound largemouth, wasn't brought in by any of the leaders, but by J. Todd Tucker, out of the running in 65th place. Tucker's bass, however, didn't beat the Day One big bass, Lintner's 8-10, which is still in the running for the Berkley Big Bass of the Tournament.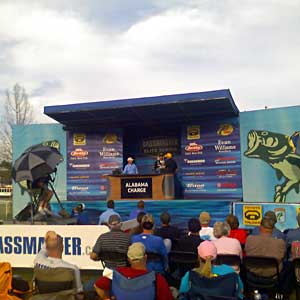 Michigan bass pro Kevin VanDam weighing in at the 2011 Alabama Charge Elite Series event on Pickwick Lake. Photo Credit: Dan Shine
The top 50 will be cut to the top 12 for Saturday's finale. The anglers are competing for a first-place prize of $100,000 and a 2012 Bassmaster Classic berth.
For more information on the Bassmaster Elite Series Alabama Charge, go to Bassmaster.com.
2011 Bassmaster Elite Series Official Sponsors: Toyota, Bass Pro Shops, Berkley, Evan Williams Bourbon, Humminbird, Mercury, Minn Kota, Skeeter Boats, Triton Boats, Yamaha
2011 Bassmaster Elite Series Supporting Sponsors: Lowrance, Luck "E" Strike, Nitro Boats, Power-Pole, Ramada
Day two results are on the B.A.S.S. Forum