Bass fishing legend Denny Brauer takes lead on Pickwick Lake
By editor on Apr 7, 2011 | In Bass Tournaments, BASS Elites, BASS
B.A.S.S. News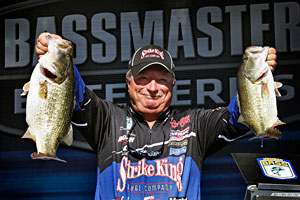 2011 Alabama Charge Elite Series day one leader Denny Brauer with two big largemouth bass caught from Pickwick Lake. Photo Credit: B.A.S.S./Gary Tramontina
FLORENCE, Ala. — Denny Brauer's five largemouth were not unusual on Wednesday. Trick was, his five included a 7-12 and four look-alikes, enough bass to be boss for the day at the Alabama Charge on Pickwick Lake.
Brauer, with 23 pounds, 10 ounces, was just 2 ounces in front of Davy Hite, who had a mixed smallmouth-largemouth bag that went 23-8. Brauer was also 8 ounces ahead of Jared Lintner's 23-2 worth of largemouth. Those three put a little distance between themselves and Paul Elias, fourth with 20-11, and Matt Herren, fifth with 20-10.
The leaders in the Bassmaster Elite Series' third stop of the season successfully targeted largemouth bass on a lake known for its smallmouth. A rough estimate by observers was that 90 percent of Wednesday's bass were largemouth, a flip from the 2010 event, when many more smallmouth bass — about 75 percent of the total — were brought to the scales.
Brauer, the 1997 Toyota Tundra Bassmaster Angler of the Year and champ of the 1998 Bassmaster Classic — just one of his 16 Bassmaster career wins — said he didn't expect the weights to be as high as they were.
"I attribute that to the prespawn, rather than to the postspawn when we were here last year," Brauer said. "Some of the fish are as fat as any I've seen. It's a very, very healthy fishery, and the timing could not be better."
Brauer targeted largemouth by flipping and pitching, using stout equipment to pull them out of heavy cover.
"Nothing special," he said. "Just covering a lot of water, trying to get one or two of the right bites, which I did. That's the key in a tournament like this. I had one in practice over 8 (pounds) so I knew the possibility existed there for a big bite."
Brauer said he would have locked up into Wilson Lake to get away from fluctuating water levels of Pickwick, but with the lock closed for repairs, he had to figure out how to work around the swelling, then falling, levels. A drop in water might help him Thursday when he tries to repeat his pattern and go for at least one big bite of the day. Despite the fact he's sharing water with many other anglers, he'll go back to the same area Thursday and try to repeat his first day.
"I don't know another way to catch a big bag right now than what I'm doing," said Brauer, who lives in Camdenton, Mo.
Hite, two-time AOY and 1999 Classic winner from Ninety Six, S.C., said he ran up and down the lake several times, hitting spots up near the Wilson Dam for smallmouth, down the lake for largemouth.
"I had two groups of fish, and unfortunately they were a long way from one another," he said.
On the lower end of Pickwick, he fished what amounted to private water, but it was the reverse up near Wilson Dam, the smallmouth community hole.
"There's a lot of people fishing on the upper end," he said. "It's just a matter of sticking with a bait and having confidence in it, and being patient."
He said his bait was critical to his success, including his 6-1, and would keep that information to himself for the time being.
Lintner had the big bass of the day, an 8-pound, 10-ounce largemouth that leads the contest for a $500 Berkley Big Bass of the Tournament bonus.
He caught it right after he had backtracked to give Kevin Wirth a lift back to the dock. Wirth had a small motor glitch minutes after he left the dock, and Lintner stopped to help.
Perhaps, Lintner speculated, that big largemouth might not have been in the one spot if he had not given Wirth a ride.
"I went on my way, and the second fish I caught after that was the big one," he said. "Any one of these guys would do the same for a fellow competitor. But I did think that maybe 10 minutes earlier, she might not have been there."
Lintner said he targeted largemouth, shallow, covering a lot of water, looking for the big prespawners.
"This is only the second time I've been here, so I'm learning as I go," said Lintner, of Arroyo Grande, Calif.
For more information on the Bassmaster Elite Series Alabama Charge, go to Bassmaster.com.
2011 Bassmaster Elite Series Official Sponsors: Toyota, Bass Pro Shops, Berkley, Evan Williams Bourbon, Humminbird, Mercury, Minn Kota, Skeeter Boats, Triton Boats, Yamaha
2011 Bassmaster Elite Series Supporting Sponsors: Lowrance, Luck "E" Strike, Nitro Boats, Power-Pole, Ramada
See day one standings on the B.A.S.S. Forum