Bassmaster Elite Series Alabama Charge Daily Notes & Quotes Day 2
By editor on Apr 7, 2011 | In Bass Tournaments, BASS Elites, BASS

B.A.S.S. News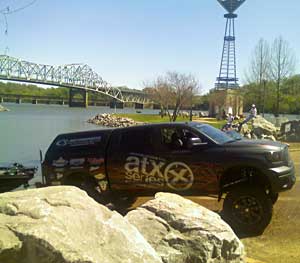 An Elite Series pro angler launches his boat into Pickwick Lake in preparation for the 2011 Alabama Charge. Photo Credit: Dan Shine
FLORENCE, Ala. — Dam largemouth: Keith Poche nailed seventh place on Day One with 20 pounds, 3 ounces of largemouth bass — all taken, he said, within 20 feet of the Wilson Dam.
Poche is bucking the trend of smallmouth catches in the tailrace. He said at least one other leader, Davy Hite, is fishing within 50 feet of him, catching smallmouth from the same spot.
"I caught them up there last year," Poche said. "I lost a lot of them last year, but I hope I have it figured out now."
He said the largemouth are feeding on the shad below the dam, and appear to be side-by-side with smallies.
After top-50 finishes in the first two events of the season, Poche is doing even better in the Alabama Charge.
"I had a lot of confidence for this tournament after coming from way behind to make those two cuts," he said. "I started in 88th in the first tournament, and 82nd in the second tournament." Those finishes were a 40th and a 42nd, respectively.
Magic 12: By luck of the draw, Billy McCaghren was 12th in line to take off Thursday morning. By coincidence, he held down 12th place after the first day, which was exactly where he finished at the previous Elite event.
There's a sort of magic to 12th place in the Bassmaster Elite Series: It's the last-in slot for the final day of competition for the $100,000 first-place prize. And going into that fourth day, the pressure is less: With 11 anglers in front of you, no one's nipping at your heels, and the only place to go is up.
McCaghren of Mayflower, Ark., is naturally hoping he can do even better than 12th at the Alabama Charge on Pickwick Lake. With 19 pounds, 3 ounces, he was 4 pounds, 7 ounces behind first-day leader Denny Brauer.
"I covered a lot of water yesterday, fished shallow, kind of how I grew up fishing," McCaghren said on Thursday morning, referring to his Arkansas River background. "The flooded conditions are making it a little tougher — there's a lot of water I can't reach. Hopefully I have it figured out how to get the bigger bite.
"I'm heading south, fishing for largemouth."
All or nothing: Matt Herren said he either "bombs" or does extremely well on Tennessee River impoundments.
"Seems I'll either make a top-12 cut or I'll bomb. It's just the way I fish here. The quality of fish is so good here, I have to fish to win. Right now, it's fishing how I like to fish," he said.
He's on the up side of his seesaw this week on Pickwick Lake. He held down fifth place with 20 pounds, 10 ounces, after the first day.
At the 2010 Alabama Charge, he ended in 62nd place. Further proof of his bad-or-good claim are his third and 83rd finishes in Bassmaster events on Lake Guntersville, another Tennessee River lake.
Herren is from Alabama. He lives in a town named Trussville near Birmingham, but he's quick to set anyone straight who presumes he's an expert on Pickwick, or has a home-state advantage on any of the Tennessee River impoundments in Alabama (Wheeler and Wilson as well as Pickwick and Guntersville).
"I'm a Coosa River guy," he said. Besides living near Coosa impoundments, he spent many of his summers as a kid fishing the Coosa's Lake Jordan with his grandfather.
Fans are everywhere: Mark Menendez told a story on stage Thursday that proves once again that an Elite pro never knows when one might encounter a fan.
While accompanying his wife to an appointment with her new neurologist — she has been fighting multiple sclerosis for the past four years — Menendez discovered that the doctor is one of his fans.
"He was looking at Donna's CT scans, then he looked up at me, then looked again at the last name, and got all giddy because he's a bass fishing fan. He's watching right now on Bassmaster.com," Menendez said.
Palaniuk on Palaniuk: Thursday's B.A.S.S.Cam reports at Bassmaster.com included a new personality: Elite pro Brandon Palaniuk's sister Brianna.
The dark-haired beauty interviewed anglers at the docks. She was taxied from angler to angler by boat by her brother.
She interviewed Skeet Reese, Keith Poche and Casey Ashley. Finally, she gave her driver some camera time for a Palaniuk on Palaniuk piece.
Not Edwin Evers: Morizo Shimizu of Matsugaoka, Japan, has a rig wrapped with the names of his many sponsors. One is "EDWIN," which appears in big block letters.
Lest anyone from afar think the boat belongs to Elite pro Edwin Evers of Talala, Okla., or to anyone named Edwin, here's the truth of the matter: Shimizu's EDWIN is a Japanese jeans brand. The name, according to the company's website, is a sort of acronym for "denim," with the "m" flipped upside down into a "w."
Penalty box: Paul Elias (4th place) and Yusuke Miyazaki (40th place) were sent to the back of the takeoff line Thursday morning. B.A.S.S. tournament officials imposed the penalty on both anglers for a Wednesday infringement: not wearing a life jacket while within 800 feet of the Wilson Dam as required by law.
Both anglers reported their lapse themselves to B.A.S.S. Tournament officials, who timed the release of each angler so they both lost equal amounts of fishing time, about 20 minutes.
Elias, almost 3 pounds out of first place and originally scheduled to be the 36th angler out, was upbeat about the situation.
"I hope it's not going to affect me at all," he said while waiting out his 20 minutes. "I'm just going to go out there and catch a big bag of fish."
Pages: 1· 2