Paul Marks Remains Consistent, Wins on Lake Lanier in Season-Opener of PAA Tournament Series
By editor on Apr 2, 2011 | In Bass Tournaments, PAA
PAA News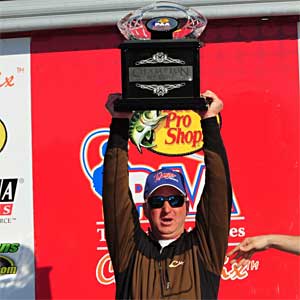 Paul Marks of Georgia captured the PAA Tournament Series title on Lake Lanier with a three-day total of 44.44 pounds. Photo Credit: PAA / Chris Dutton
BUFORD, Ga. – Ranger pro Paul Marks of Cumming , Ga., thought the bass he lost late in the day Friday would come back to haunt him in the season-opening PAA Tournament Series presented by Carrot Stix on Lake Lanier.
But the four he weighed were pretty stout, and Marks brought in a limit Saturday weighing 13.92 pounds to win the tournament with a three-day total of 44.44 pounds. He won $5,000 and a new Nitro Z-8 with a Mercury 225 and T-H Marine Atlas jackplate, along with valuable points toward the 2012 PAA All Star Series and 2011 Toyota Texas Bass Classic.
"I don't think there's a happier person in the world," Marks said. "To do this at home with all my family and friends here is just great."
Marks doesn't live far from the lake but doesn't fish as much as he used to due to a passel of youngsters playing sports and other activities. He said during the tournament he hit old familiar spots that had yielded fish over the years, but on the final day kind of ran by instinct.
"I caught three off of old places where I put out brush years ago and haven't fished in a long time," he said. "Then, I had two others on back-to-back casts on one point. I caught one, got it in and the wind pushed me off. When I got back on the point, I fired the jerkbait in there and it went umph-umph-umph … two straight."
Marks threw an albino Fishhead Spin with a white fluke and Lucky Craft Staysee in Ghost Minnow. He worked both to bass suspending about 10-15 feet deep over brush that was about 20 feet deep.
Omega pro Derek Remitz of Alabama was second with 42.30 pounds, followed by Ranger pro Todd Auten of South Carolina with 41.89. Megabass pro Aaron Martens of Alabama was fourth (38.59) and Ranger pro Tom Mann Jr. of Georgia (38.34) rounded out the top five.
The rest of the top 20:
6. John Murray, Arizona, 37.82
7. David Hendrick, North Carolina, 33.97
8. Nick Larson, Georgia, 32.71
9. Takahiro Omori, Texas, 30.79
10. Larry "Doc" Seger, Missouri, 29.43
11. Shin Fukae, Texas, 29.35
12. Chris Brasher, Texas, 29.35
13. Tommy Biffle, Oklahoma, 28.20
14. Troy Morrow, Georgia, 28.18
15. Brett Hite, Arizona, 28.09
16. Doug Jones, Oklahoma, 27.31
17. Lance Vick, Texas, 26.79
18. Mike McClelland, Arkansas, 24.90
19. Cody Bird, Texas, 24.45
20. Kevin Hawk, Alabama, 20.93
Remitz was close
After two tough tournaments during a season-opening swing through Florida, Derek Remitz arrived with a head full of clouds to match the gray skies at Lanier.
He easily chased them away with his strong finish and final-day catch of 18.70 pounds, the biggest of the final round and second-biggest of the event.
Remitz threw SPRO McRip and Megabass Vision jerkbaits on points with angled banks and rock, clay and shells. Wind helped throughout the day.
"I fished all new water," he said. "This was about the best it could be for throwing a jerkbait. The sun was good and the wind distorted the water. I was glad to see it blowing like this."
Auten's three were big
Todd Auten has been Mr. Consistency in PAA Tournament Series events, winning at Neely Henry in 2009 and making four of the last five cuts.
He only caught three fish Saturday but they weighed 14.59 pounds, good enough to push him to third. He caught one sight-fishing and the other two on a Chatterbait around docks.
"I figured I'd look around a little and found some, and then the others came off the docks," Auten said. "It was a tough day but those were pretty good ones to catch."
Full standings, photos and other tournament information can be found at FishPAA.com
About the PAA
The Professional Anglers Association is a non-profit organization that gives professional anglers a unified voice in order to aid in the growth of the sport of professional bass fishing. The PAA also aims to administer educational programs to the average angler, to increase enjoyment of the sport, and to embrace sound conservation practices to further the future of the sport. Web: www.FishPAA.com
2011 PAA Tournament Series Premier Sponsors: Bass Pro Shops, E21 Carrot Stix, Optima Batteries, Nitro Performance Bass Boats
2011 PAA Tournament Series Associate Sponsors: Lazer TroKar, Jasper Engines & Transmissions, Mercury Marine, Humminbird/Minn Kota, BoatUS Foundation, Fishouflage, U.S. Reel, Sign Designs, Toyota Texas Bass Classic
2011 Lake Lanier Local Sponsors: Stainless Town, Bass Pro Shops-Lawrenceville, Booyah Bait Co., Operation One Voice