Marks Jumps Into Lead After Day 2 of PAA Tournament Series on Lake Lanier
By editor on Apr 2, 2011 | In Bass Tournaments, PAA
PAA News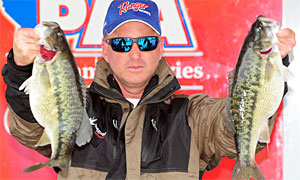 Paul Marks of Cumming, Ga., leads the PAA Tournament Series on Lake Lanier with 30.52 pounds going into the final day. Photo Credit: PAA / Chris Dutton
BUFORD, Ga. – Paul Marks of Cumming , Ga., brought in four bass weighing 15.91 pounds to push his two-day total to 30.52 for the lead on Lake Lanier in the season-opening PAA Tournament Series presented by Carrot Stix.
Marks weighed in early Thursday at Lake Lanier Islands Resort and his surge to the top held up. He leads the Top 20 pros into Saturday's final day with $5,000 and a new Nitro Z-8 with a Mercury 225 and T-H Marine Atlas jackplate at stake for the winner in the $185,000 tournament.
"I was just hitting a few places and fishing for big fish," Marks said. "Most of it is brush where I think the fish are suspending, but I believe the bigger fish are moving in first."
David Hendrick of North Carolina is second with 28.38 pounds, followed by John Murray of Arizona with 28.22 pounds. Lanier regulars Troy Morrow of Toccoa, Ga., (28.18) and Tom Mann Jr. of Buford (28.03) round out the top five.
The rest of the top 20 fishing Saturday:
6.  Todd Auten, South Carolina, 26.30
7.  Aaron Martens, Alabama, 26.27
8.  Doc Seger, Missouri, 26.11
9.  Lance Vick, Texas, 25.45
10. Tommy Biffle, Oklahoma, 25.08
11. Derek Remitz, Alabama, 23.60
12. Shin Fukae, Texas, 23.35
13. Cody Bird, Texas, 22.94
14. Doug Jones, Oklahoma, 22.28
15. Nick Larson, Georgia, 21.10
16. Chris Brasher, Texas, 20.48
17. Takahiro Omori, Texas, 20.40
18. Brett Hite, Arizona, 20.21
19. Kevin Hawk, Alabama, 19.46
20. Mike McClelland, Arkansas, 19.42
Conditions changed Friday with bright sunshine but persistent, cold wind blowing much of the day. First-day leader Cody Bird of Texas struggled with three keepers, only one coming early in his best area before he had to scramble. Hendrick had issues with short-striking bass again, and said he lost a 4-pounder at the boat that would have helped his weight.
Morrow surged into the top five with a 20-pound catch anchored by an 8.14-largemouth. He had just four fish and couldn't get the fifth keeper in the boat.
"I pretty much was just junk fishing and in one of those in-the-moment kind of things," he said. "I was doing several different things in four or five places. Thursday I ran around and probably hit 100 places to catch eight pounds, so I settled down a little and just fished."
Saturday's weigh-in will begin at 4:30 p.m. at Bass Pro Shops in Lawrenceville. Fans are invited to attend for it and the Phil Niekro Fins & Skins Celebrity Pro-Am weigh-in that begins at 3 p.m. featuring PAA pros and sports stars including Niekro, St. Louis Cardinals infielder Ozzie Smith, Pittsburgh Pirates slugger Bill Mazeroski, Atlanta Falcons quarterback Steve Bartkowski and others.
Full standings, photos and other tournament information can be found at FishPAA.com
2011 PAA Tournament Series
What: 2011 Bass Pro Shops Tournament Series presented by Carrot Stix
Where: Lake Lanier, at Lake Lanier Islands Resort
When: Tournament days are Thursday, March 31, through Saturday, April 2
Saturday's launch/weigh-in: Launch at 7 a.m. at Sunset Cove and weigh-in at 4:30 p.m. at Bass Pro Shops, 5900 Sugarloaf Parkway, Lawrenceville, Ga.
At stake: Cash and a 2011 Nitro Z8 with Mercury 225 and T-H Marine Atlas Jackplate, along with points toward PAA Angler of the Year title and qualification for the 2012 PAA All Star Series and 2011 Toyota Texas Bass Classic
Online: FishPAA.com / Facebook.com/fishpaa
About the PAA
The Professional Anglers Association is a non-profit organization that gives professional anglers a unified voice in order to aid in the growth of the sport of professional bass fishing. The PAA also aims to administer educational programs to the average angler, to increase enjoyment of the sport, and to embrace sound conservation practices to further the future of the sport. Web: www.FishPAA.com
2011 PAA Tournament Series Premier Sponsors: Bass Pro Shops, E21 Carrot Stix, Optima Batteries, Nitro Performance Bass Boats
2011 PAA Tournament Series Associate Sponsors: Lazer TroKar, Jasper Engines & Transmissions, Mercury Marine, Humminbird/Minn Kota, BoatUS Foundation, Fishouflage, U.S. Reel, Sign Designs, Toyota Texas Bass Classic
2011 Lake Lanier Local Sponsors: Stainless Town, Bass Pro Shops-Lawrenceville, Booyah Bait Co., Operation One Voice