Shryock Triumphs in Bass Pro Shops Bassmaster Southern Open on Lake Norman
By editor on Mar 26, 2011 | In Bass Tournaments, BASS Opens, BASS, Southern
B.A.S.S. News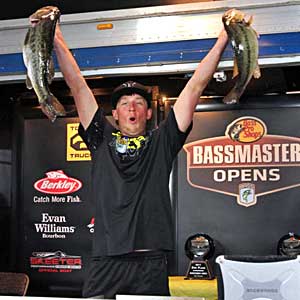 Newcomersville Ohio pro Fletcher Shryock triumphs on Lake Norman in the B.A.S.S. Southern Open with quality bass. Photo Credit: B.A.S.S./Doug Cox
CORNELIUS, N.C. — Fletcher Shryock got off a dirt bike and into a bass boat four years ago, and couldn't be happier. The Newcomersville, Ohio, pro has only recently become serious about bass fishing, but is on his way to the 2012 Bassmaster Classic with his win at the second Bass Pro Shops Bassmaster Southern Open on North Carolina's Lake Norman.
"This is incredible. I don't know what to say. What do you say?" he asked while holding his trophy. "I don't think I'll sleep for a year. I zigged when I needed to zig, and I zagged when I needed to zag."
Yesterday, Shryock said the area that he was fishing could produce 20 pounds. He came close to proving it by bringing in 17 pounds, 5 ounces to the Day Three scales. He left his fish biting on the first two days, setting a relaxing tone to his tournament. But, the weather turned ugly on Day Three, and his easygoing pace turned frantic early.
"They weren't there today like they were the first two days," he said. There were also two other tournaments on the lake today, putting more heat on the already pressured fishery. "First thing this morning, I didn't go to my best area. That way, no one else would know exactly where it was."
Shryock's main spot was roughly 25 miles north of Blythe Landing. It was in front of a rocky bar along the main river that blocked access to a backwater that he intended to fish but couldn't because of the supershallow depth. He relied on four baits to catch his three-day total of 49-9: a Strike King Red Eye Shad (both rattling and not), a 1/4-ounce Strike King shaky head with a Berkley finesse worm, and a 1-ounce Strike King Tungsten weight anchoring either a Berkley Chigger Craw or a Strike King Rodent that he flipped into thick grass. He keyed on wood in the main river.
"It was just like fishing at home," he said.
Shryock also credits a "guardian angel" named Tony who shadowed him all day.
"He was the reason that I kept my cool today because he told me that he'd be around all day so if I broke down or something, he'd be there to take me back to the ramp," Shryock said. "I knew in the back of my mind that I could catch 'em up to the last minute. He really helped me fish up there longer. Thanks to him."
Though he realizes the gravity of his win, Shryock isn't worried about planning for his Classic debut.
"This win hasn't even come close to sinking in," he said. "I'll worry about it next week — maybe next month! I just want to go home this summer and work on every fundamental technique that I can work on and do more of everything that I've been doing."
In second place is Elite Series pro Gerald Swindle who has a firm lead on the Southern Open points. Swindle fought food poisoning during all three days of the contest.
"I don't know what's in Domino's Kickers, but there's something that just doesn't agree with me," he said.
Swindle caught 14-15 today for a total of 43-15. Like Shryock, he's already sewn up a 2012 Classic berth through his win — his first B.A.S.S. win — on Florida's Lake Toho.
In third place is Tracy Adams of Wilkesboro, N.C., with a total of 40-4; in fourth place is Brandon Card of Caryville, Ky., also with 40-4; and in fifth is Bradley Roy of Lancaster, Ky., with 39-8.
On the co-angler side, Kevin Clark of Leesburg. Fla., earned a brand new Triton/Mercury rig for his winning catch of 18-9. Clark showed his versatility from the back of the boat for all three days.
"I caught 'em on a spinnerbait, crankbait and a shaky head; I did just about everything," he said. "But, the big ones ate the crankbait."
Clark wanted to fish the Southern Opens as a pro this year, but didn't have a boat to do so. However, his new Triton will put him in the pro division for the 2012 Opens.
In second place is George Hirapetian of Charlotte, N.C., who was a mere 2 ounces away from a home-lake win. He caught 6-5 today, giving him a three-day total of 18-7. In third is Brandon Williams with 16-11; in fourth is Dan Jolly of Houston, Texas, with 16-7; and in fifth is Robert Jeffrey with 15-14.
The next and final Bass Pro Shops Bassmaster Southern Open for 2011 is set to be held June 2-4 on Douglas Lake in Jefferson County, Tenn. There the final 2012 Bassmaster Classic berth through the Bass Pro Shops Bassmaster Southern Opens will be awarded, and the top five pros in the points will be offered a spot in the 2012 Bassmaster Elite Series.
See B.A.S.S. Lake Norman final day standings on the B.A.S.S. Forum
2011 Bass Pro Shops Bassmaster Opens Official Sponsors: Toyota, Bass Pro Shops, Berkley, Evan Williams Bourbon, Mercury, Skeeter Boats, Triton Boats, Yamaha
2011 Bass Pro Shops Bassmaster Opens Supporting Sponsors: Humminbird, Luck "E" Strike, Minn Kota, Nitro Boats
About B.A.S.S.
For more than 40 years, B.A.S.S. has served as the authority on bass fishing. The organization advances the sport through advocacy, outreach and an expansive tournament structure while connecting directly with the passionate community of bass anglers through its Bassmaster media vehicles.
The Bassmaster brand and its multimedia platforms are guided by a mission to serve all fishing fans. Through its industry-leading publications — Bassmaster Magazine and B.A.S.S. Times — comprehensive website Bassmaster.com, ESPN2 and Outdoor Channel television programming, Bassmaster provides rich, leading-edge content true to the lifestyle.
The Bassmaster Tournament Trail includes the Bassmaster Elite Series, Bass Pro Shops Bassmaster Open Series, B.A.S.S. Federation Nation events presented by Yamaha and Skeeter Boats and the ultimate celebration of competitive fishing, the Bassmaster Classic.
B.A.S.S. offers an array of services to its more than 500,000 members and remains focused on issues related to conservation and water access. The organization is headquartered in Celebration, Fla.