Christie Retains Lead At Walmart FLW Tour On Lake Hartwell Presented By Chevy
By editor on Mar 26, 2011 | In Bass Tournaments, FLW Tour, FLW Outdoors
FLW Outdoors News
California's Wright wins co-angler title, $25,000, in third event of season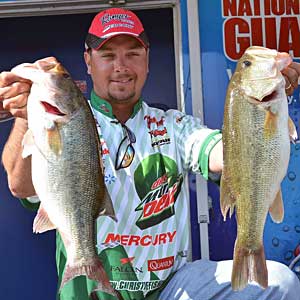 Diet Mountain Dew pro Jason Christie leads the FLW Tour Lake Hartwell event with quality fish like these two big largemouth bass. Photo Credit: FLW Outdoors News
GREENVILLE, S.C. (March 26, 2011) – Diet Mountain Dew pro Jason Christie of Park Hill, Okla., caught a five-bass limit weighing 13 pounds, 6 ounces Saturday to capture the lead at the Walmart FLW Tour on Lake Hartwell presented by Chevy and advanced to the top 10 as the crucial No. 1 seed. With a three-day catch of 15 bass weighing 55-14, he now holds a 6-pound, 1-ounce lead in the tournament going into the final day of competition.
"They're there … I just have to make them bite," Christie said. "I think I've figured it out. Hopefully this dirty water will make it where I can catch them.
"The water has gotten really clear," Christie added. "I thought the lake had come down a lot, but it's actually just clearing up to where I can see the bottom, and I don't like that. They can see my bait too good. I can't tell you how many I had wake my bait … just running out of the bed after my bait."
Christie said he employed the same technique to catch his limit on the third day of competition that he used the first two days - a ½-ounce white BOOYAH spinnerbait with a single gold Colorado blade. Christie said he doesn't plan on changing tactics.
"I'm going to go down swinging doing the same thing tomorrow," Christie said.
Christie said the creeks are flowing muddy water into the lake after Saturday's rain, and he thinks that could play right into his hands for his first FLW Tour win.
"Hopefully it's going to wash dirty water into my area," Christie said. "And if it does, it's going to be fun."
Tom Monsoor of La Crosse, Wis., advanced to the final round of 10 pros in the No. 2 spot with a three-day total of 15 bass weighing 49-13.
"It was a long, slow day, but I ground it out and ended up with a decent sack," Monsoor said. "I'm going to go out and grind it out again tomorrow. I'm happy with what I'm doing."
Monsoor said he targeted bass with a jerkbait on "specific" types of grass on the lake during the first three days of competition and believes his method will continue to be productive on the last day.
"Fish are slowly moving up as the water goes up, and there's a few more fish every day," Monsoor said. "It's been beat up pretty bad. But today I had a little more than yesterday. Each day I try to find another little spot here or there."
Despite his 6-pound deficit, Monsoor remained optimistic about his chance for his first FLW Tour victory.
"It all depends on if I do good and if (Christie) does bad," Monsoor said. "I guess we'll just have to see tomorrow."
Rounding out the top 10 pros and advancing to the final day of competition are:
3rd: Stacey King, Reeds Spring, Mo., 15 bass, 45-9
4th: Chevy pro Bryan Thrift, Shelby, N.C., 15 bass, 45-6
5th: National Guard pro Brent Ehrler, Redlands, Calif., 15 bass, 45-3
6th: Ramie Colson Jr., Cadiz, Ky., 15 bass, 45-0
7th: AMP Energy pro Stetson Blaylock, Benton, Ark., 14 bass, 43-5
8th: Kellogg's Frosted Flakes pro Dave Lefebre, Union City, Pa., 15 bass, 42-6
9th: Chevy pro Larry Nixon, Bee Branch, Ark., 15 bass, 42-5
10th: Joe Thomas, Milford, Ohio, 15 bass, 42-3
Finishing in 11th through 20th are:
11th: Mike Reynolds, Modesto, Calif., 15 bass, 42-0, $12,500
12th: Prevacid 24HR pro Dan Morehead, Paducah, Ky., 15 bass, 41-9, $12,500
13th: Straight Talk pro J.T. Kenney, Palm Bay, Fla., 15 bass, 41-8, $12,500
14th: Todd Auten, Lake Wylie, S.C., 15 bass, 41-3, $12,500
15th: Andy Morgan, Dayton, Tenn., 15 bass, 40-14, $12,500
16th: Walmart pro Wesley Strader, Spring City, Tenn., 15 bass, 40-4, $12,000
17th: Ishama Monroe, Hughson, Calif., 14 bass, 38-10, $12,000
18th: National Guard pro Justin Lucas, Guntersville, Ala., 15 bass, 37-0, $12,000
19th: Troy Morrow, Toccoa, Ga., 15 bass, 36-8, $12,000
20th: Chevy pro Jimmy Houston, Cookson, Okla., 10 bass, 29-7, $12,000
Houston was late to check in and as a result, his day's weight was negated.
Final results for the remaining field can be found at FLWOutdoors.com.
Overall there were 93 bass weighing 215 pounds, 1 ounce caught by pros Saturday. The catch included 17 five-bass limits.
Pros are competing for a top award of up to $125,000 this week plus valuable points in the hope of qualifying for the Forrest Wood Cup presented by Walmart, the world championship of bass fishing. This year's Cup will be in Hot Springs, Ark., Aug. 11-14 on Lake Ouachita where pros will compete for a top prize of $600,000 – the sport's biggest award. Pro anglers are also vying for the prestigious 2011 Walmart FLW Tour Angler of the Year presented by Kellogg's that will be determined by the most points accumulated over the six Tour Majors with the winner receiving $100,000 for their accomplishment.
Pages: 1· 2