Norman surprises
By editor on Mar 25, 2011 | In Bass Tournaments, BASS Opens, BASS, Southern
B.A.S.S. News
Bobby Lane surpasses own expectations, leads Bass Pro Shops Bassmaster Southern Open with surprising 18-13; Garneau Baits pro Luke Gritter in 25th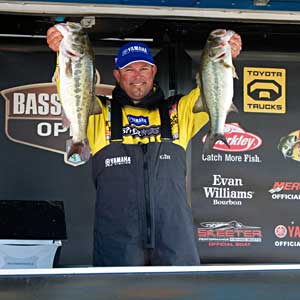 Florida Elite angler Bobby Lane leads day one at the B.A.S.S. Southern Open event on Lake Norman with 18 pounds, 13 ounces. Photo Credit: B.A.S.S./Doug Cox
CORNELIUS, N.C. – The top weights shocked most of the field on Day One of the second 2011 Bass Pro Shops Bassmaster Southern Open on North Carolina's Lake Norman.
Those atop the leaderboard, who brought in more than most had thought possible, were sight fishing all day for spawning fish; and they're cautiously optimistic that the bedding bite will be on Friday as well, despite an anticipated drop in temperature.
Bobby Lane of Lakeland, Fla., took the top spot with 18 pounds, 13 ounces. He was flipping a Berkley Havoc Craw Fatty into beds, avoiding the smaller, male bass until the larger female would bite. He dipped the tip of the bait into chartreuse J.J.'s Magic Dippin' Dye, a garlic-smelling coloring dye.
"I've gotten a lot of practice bed fishing these last few weeks," Lane said. "We sight fished at the first Elite event on the Harris Chain, then again on the St. Johns River, so I just picked it up here again."
However, Lane hasn't found any more big fish that he feels are worth pursuing for Day Two. He plans on rounding up a limit of five bass early, then hunting for another big female or two. Lane's stringer was anchored by a 5-5 largemouth.
Hot on Lane's heels is Tracy Adams of Wilkesboro, N.C., who managed 17-8. He relied on a Zoom Speed Craw to catch most of his bag. He says that the high winds early played havoc on his sight fishing bite, but he was still able to see and catch several of his fish.
"I couldn't see all of 'em, but I knew about where they were so I could throw in there to the general area," he said. "I covered a lot of water today and fished bunches of places I know from my history here. I had a few bites today that I didn't set on, so hopefully I can go back tomorrow and catch 'em."
In third place is Gerald Swindle of Warrior, Ala. Swindle won the first Bass Pro Shops Southern Open on Florida's Lake Toho. With that win, he claimed the first 2012 Bassmaster Classic berth along with $10,000 cash and a fully rigged boat-and-motor package; the pro prize for this event is a Triton/Mercury package, a Classic berth and $10,000.
Swindle caught 16-7 on Thursday. Right behind him is Brandon Card of Caryville, Ky., with 15-9, and in fifth place is Jason Quinn of York, S.C., with 15-4.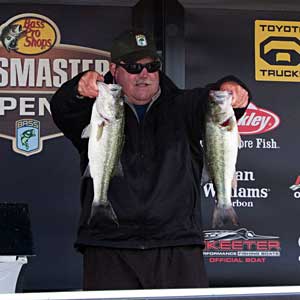 Co-angler Dan Jolly is tied for the lead day one at the B.A.S.S. Southern Open event on Lake Norman with 8 pounds, 9 ounces. Photo Credit: B.A.S.S./Doug Cox
On the co-angler side, Dan Jolly of Houston, Texas, and Glynn Goodwin of Marietta, Ohio, are tied for the lead with 8-9.
Jolly said that fishing slow was the key to his day; otherwise he played his hand close to his vest.
"This was a heck of a day," he said. "I was lucky to get a few good bites then get them in the boat!"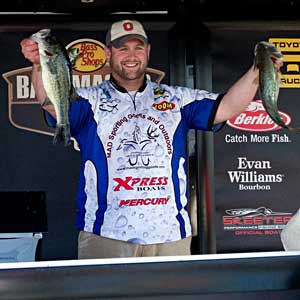 Co-angler Glynn Goodwin is tied for the lead day one at the B.A.S.S. Southern Open event on Lake Norman with 8 pounds, 9 ounces. Photo Credit: B.A.S.S./Doug Cox
Goodwin's pro was sight fishing, which usually makes for a long, boring day in the back of the boat, but he managed to make good on his less-than-ideal situation.
"It seemed like every time that he put his Power-Poles down to fish for a spawner, I got hooked up!" he said, remaining secretive about the technique he used and only adding that he's going to do it again tomorrow. "This day was a real blessing."
In third is Robert Jeffrey, who caught 7-14; in fourth is Marc Mode of Mooresville, N.C., with 7-11; and in fifth is Tom McDermott of Madison, N.C., with 7-8.
Co-anglers are vying for the same boat-and-motor package as the pros.
More information:
The daily limit for pro competitors is five fish, 14 inches minimum. The co-angler limit is three fish no shorter than 14 inches each.
The full fields of both the pro and co-angler divisions will compete the first two days, then cut to the top 12 for Day Three. Highest cumulative weight over three days determines the winner.
Bassmaster.com will offer extended coverage, including live streaming video and real-time leaderboards of the weigh-ins beginning at 3 p.m. ET March 25, and at 4 p.m. ET on March 26. Fans also can expect daily analysis and standings, BASSCam video reports and extensive online photo galleries. Access to all online content at Bassmaster.com is free.
Pages: 1· 2