Evers slams the door on Jones, Scroggins for Bassmaster Elite Series win in Florida
By editor on Mar 20, 2011 | In Bass Tournaments, BASS Elites, BASS
B.A.S.S. News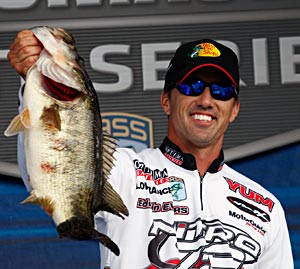 Edwin Evers wins 6th B.A.S.S. title on St. Johns River with help of this 8 pounds 3 ounce Florida largemouth bass. Photo Credit: B.A.S.S./Gary Tramontina
PALATKA, Fla. — Targeting the backwaters of the St. Johns River system, and finding an 8-3 "mule" on the last day led Edwin Evers of Talala, Okla., to the win Sunday in the Power-Pole Citrus Slam with 77 pounds, 1 ounce, shutting out three-day leader Alton Jones and hard-charging Terry Scroggins.
Trailing Jones by about 2 1/2 pounds before Sunday's finale, Evers sealed his sixth Bassmaster win by overtaking Jones and besting him by more than 3 pounds. Jones ended in third place with 73-12, leaving second place to Scroggins, who had 74-3.
Evers had one word to describe how he felt about the Bassmaster Elite Series win, worth $100,000, and a 2012 Bassmaster Classic qualification. It was his second Elite title, the first taken on Lake Erie in 2007.
"Awesome, awesome, awesome," he said. "I thought I'd lost this tournament numerous times every day. Getting the Classic berth is huge, an important step that takes a lot of pressure off."
Sight-fishing the flats of a St. Johns lake he shared with many other Elite pros the first day, Evers started out in 20th place. He made a crucial decision to leave the community hole and find more private water. He climbed into fourth on the second day, improving once again on the third day when he took the runner-up spot behind Jones. His catches were fairly consistent — 16-8, 22-5 and 19-4 the first three days — but it was his haul of 19 pounds on Sunday that helped him to the win.
Not to mention an 8-13, his big fish of the day and the fish that helped him climb into the winner's seat.
"It was a fish that I'd found the second day, really shallow," Evers said. "I went there the third day, and Scroggins was there. I turned around and left. I went there second thing this morning, and the northeast wind held the water up, and I ended up catching the male. It was actually the second time I'd caught him — I lost it and he bit again. She bit five or 10 minutes later.
"She was a mule," he said.
Evers said he hit many spots over the four days, including one area where he had to saw off overhanging willow branches to be able to put his lures in front of spawning bass.
Sunday afternoon's 15- to 17-mph winds hurt some of the final 12, but helped Evers. His water was stained, hard to reach and in areas that had not been pounded by the field.
"I had areas that were protected," he said. "I just had to get them to bite and get them in the boat. When the tide was low, the fish got freaky. I lost some big ones today, at least a 10-pounder and another at the end of the day — but it doesn't matter now."
He credited a new formula Yum bait, the F2. He used several styles, including Wooly Bug, Money Craw and a Craw Papi.
Runner-up Scroggins, who gave Evers a little advice as the tournament began, also got a tip from another Elite pro in the top 12. Knowing he could not win, Casey Ashley stepped back from going to a big bass he'd seen in a canal, and gave the location to Scroggins. But when he got there, the fish was gone; but he found another nearby. It weighed 7-12, and was a key to his finish.
"Without that, I wouldn't even have come close," Scroggins said.
Competing in his hometown, Scroggins said he was happy to do well, even if he ended as No. 2.
"I'll take second place every day," he said.
Jones said the wind on Sunday killed his Lake George sight bite. "You're not going to catch the big ones unless you're looking at them, so I was fishing for buck bass most of the day."
With his back-to-back Top 12 finishes, Jones took the lead in the Toyota Tundra Bassmaster Angler of the Year points race from last week's event winner, Shaw Grigsby. Scroggins moved into second, Kevin VanDam is third, and Evers is in fourth place.
Berkley Big Bass honors of the tournament went to Jason Williamson of Aiken, S.C., whose 10-3 lunker from the first day withstood all challengers — and several of those were in the high 9's. Williamson won a $500 bonus.
Final standings on the B.A.S.S. forum.
2011 Bassmaster Elite Series Official Sponsors: Toyota, Bass Pro Shops, Berkley, Evan Williams Bourbon, Humminbird, Mercury, Minn Kota, Skeeter Boats, Triton Boats, Yamaha
2011 Bassmaster Elite Series Supporting Sponsors: Lowrance, Luck "E" Strike, Nitro Boats, Power-Pole, Ramada
About B.A.S.S.
For more than 40 years, B.A.S.S. has served as the authority on bass fishing. The organization advances the sport through advocacy, outreach and an expansive tournament structure while connecting directly with the passionate community of bass anglers through its Bassmaster media vehicles.
The Bassmaster brand and its multimedia platforms are guided by a mission to serve all fishing fans. Through its industry-leading publications — Bassmaster Magazine and B.A.S.S. Times — comprehensive website Bassmaster.com, ESPN2 and Outdoor Channel television programming, Bassmaster provides rich, leading-edge content true to the lifestyle.
The Bassmaster Tournament Trail includes the Bassmaster Elite Series, Bass Pro Shops Bassmaster Open Series, B.A.S.S. Federation Nation events presented by Yamaha and Skeeter Boats and the ultimate celebration of competitive fishing, the Bassmaster Classic.
B.A.S.S. offers an array of services to its more than 500,000 members and remains focused on issues related to conservation and water access. The organization is headquartered in Celebration, Fla.
This post is supported by boater safety course boating license.