Alton Jones does it again Saturday on a tough-bite day
By editor on Mar 19, 2011 | In Bass Tournaments, BASS Elites, BASS

B.A.S.S. News
PALATKA, Fla. — If only it were lonelier at the top. Leading by 7 pounds, 9 ounces on Friday, Alton Jones hung on Saturday at the Power-Pole Citrus Slam with a 60-10 total, but his lead shrunk to 2 pounds, 9 ounces, and he has 11 anglers to watch out for Sunday.
"I did the same thing today as on the other days," Jones said. "I blind-fished early, then went sight-fishing the rest of the day."
Jones, the 2008 Bassmaster Classic champ, hunted hard for the larger spawning bass, the holy grail of every Bassmaster Elite Series angler this week on the St. Johns River.
"I did come up on one of about 7 pounds, and I fished for her for about an hour. She always looked like she was going to bite on the next cast — and then she swam off and never came back. I was kind of puzzled by that, but sometimes the fish will fool you," Jones said.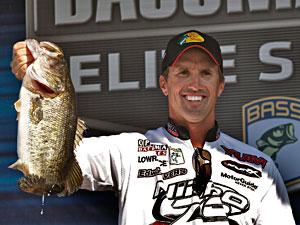 Edwin Evers 6 pounds 5 ounce kicker bass moved him into 2nd place after day 3 of the B.A.S.S. Elite Series Power-Pole Citrus Slam on the St. Johns River.
Photo Credit: B.A.S.S./Gary Tramontina
Edwin Evers replaced J. Todd Tucker as the pro closest to overtaking Jones, who has led for three days. Evers inched up from fourth place to second on the strength of his 19-4 bag of bass, for a three-day total of 58-1.
Todd Faircloth, one of only three to break the 20-pound mark, claimed third place, jumping up from eighth with 20-2 on Saturday for 54-1 over three days. St. Johns area native Terry Scroggins dropped from third to fourth after bringing in 13-15, for 53-15 overall.
Tucker fell to fifth place, pulled down by a lackluster 12-0 on the third day.
The Elite field was cut from 50 to 12 for the final round Sunday. The anglers are fishing for a first-prize package that includes $100,000 and an instant qualification for the 2012 Bassmaster Classic under a new rule that awards berths to event winners, bypassing the points system.
Runner-up Evers said he didn't veer from his sight-fishing pattern.
"I'm covering a tremendous amount of water," Evers said. "I'm standing on the trolling motor and looking, looking, trying to find the big ones."
His biggest bass was a 6-5, a hefty contribution to his 19-4 of Saturday.
"I've seen bigger ones," he added. "I'm pretty excited to go back tomorrow."
The wind is supposed to kick up Sunday, a potential wrecker of a true sight bite, the pattern to which almost the entire field turned.
"We may get a couple of hours tomorrow before the wind gets up," Jones said.
Faircloth, in third, said he had some areas to go to that would not be heavily hurt by high winds.
"The areas are protected, and I think I can get back in there and catch them," he said.
Local favorite Scroggins said his day was tough, and he was finesse fishing to make them bite. The rub to that tactic, he explained was that the lily pads were rough on his lighter gear and 8-pound line.
"When you hook a 4- or 5-pounder, it's all you can do to get him out, but that's the only way I can make them bite," he said.
For more information about the Power-Pole Citrus Slam, go to www.bassmaster.com.
2011 Bassmaster Elite Series Official Sponsors: Toyota, Bass Pro Shops, Berkley, Evan Williams Bourbon, Humminbird, Mercury, Minn Kota, Skeeter Boats, Triton Boats, Yamaha
2011 Bassmaster Elite Series Supporting Sponsors: Lowrance, Luck "E" Strike, Nitro Boats, Power-Pole, Ramada
Day 3 standings on the B.A.S.S. Forum