Alton Jones continues to lead Elite field at St. Johns River
By editor on Mar 18, 2011 | In Bass Tournaments, BASS Elites, BASS

B.A.S.S. News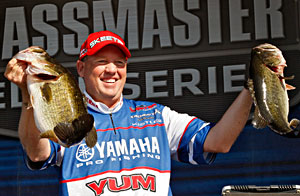 Alton Jones contines to lead the Power-Pole Citrus Slam on the St. Johns River after day two. Photo Credit: B.A.S.S./Gary Tramontina
PALATKA, Fla. — Alton Jones has a plan, and he's sticking to it. After all, it's taken the pro from Waco, Texas, into the lead for two days running at the March 17-20 Power-Pole Citrus Slam on the St. Johns River.
Friday Jones brought in 22 pounds, 13 ounces, more than enough to repeat his Day One lead. His 49-6 total over two days put a distance of 7 pounds, 9 ounces, between him and J. Todd Tucker of Moultrie, Ga., who had 41-13 for second place. In third place with 40-0 was Terry Scroggins of Palatka, Fla., the hometown pro who has a rich history to tap into, and a seemingly infinite number of spots to go to up and down the river.
Rounding out the top five were Edwin Evers of Oklahoma and Billy McCaghren of Arkansas. Evers moved up from 20th and McCaghren from seventh place.
Daily big bass honors went to the angler who claimed sixth place, 2010 and 2011 Bassmaster Classic champ Kevin VanDam. His 9-5 beat McCaghren's 9-4. Jason Williamson's 10-3 of Thursday, however, remained as the Berkley Big Bass of the tournament so far.
The field was cut to the top 50 for Saturday's competition. Only the top 12 will fish Sunday for a $100,000 first prize. The winner's take also includes a 2012 Bassmaster Classic qualification. Elite anglers are also after points that count toward qualifying for the coveted 2011 Toyota Tundra Bassmaster Angler of the Year title and 2011 postseason, a winner-take-all, $100,000 contest.
Like most of the field, Jones is fishing for bedding bass, hitting a milk run of areas both days. He said he'll go right back Saturday to the area that's produced for him two days running.
"I left my first spot with a limit of only about 8 pounds, I went to my secondary area where I caught a 5-pounder yesterday, and got another 5-pounder today," Jones said. "Then I went to a place I tried to go yesterday, but the way wind was blowing, you couldn't see anything. It was basically empty today, but I did get my 8-7 there."
He said he plans to go back to the spawning grounds he's been working, a lake off the main St. Johns River, and he expects that the bounty of spawners will dwindle.
"It has been a sort of mass exodus, but they don't all leave," he said. "All it takes is one good female to pull up to give you a good day."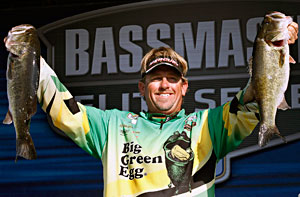 J. Todd Tucker holds down 2nd place at the Power-Pole Citrus Slam on the St. Johns River after day two. Photo Credit: B.A.S.S./Gary Tramontina
Second-place holder Tucker pulled up from 11th place by remaining consistent; he had 21-5 Friday to build on his 20-8 of Thursday.
"I spent half of my day — until 12:30 with only three fish," he said. "I stayed in my area, and let the fish show up and come to me. It's more about having confidence in what you're doing, and being patient. I'm banking on one or two big bites a day."
His strategy is to quit trying for a fish that is showing signs she won't bite. "I just leave her alone until she's more comfortable," he said.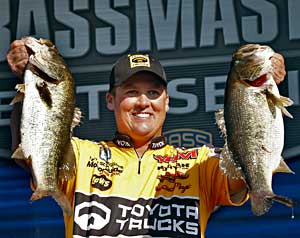 Terry Scroggins holds down 3rd place at the Power-Pole Citrus Slam on the St. Johns River after day two. Photo Credit: B.A.S.S./Gary Tramontina
Scroggins, who grew up fishing the St. Johns River, said he headed north Friday morning, hit a fog bank and turned around and went south. He simply tapped into another area he knew from past competitions would likely be productive.
His first stop was slow going — until he hooked and landed a 6-pounder.
"That kind of turned me on to something," he said. "I really found something special."
He said he lost a 7-pounder and a 4, and found a 10-pounder and 6-pounder that he could not get to hit his lure.
"They're still sitting there, I know where they are," he said. "I could have a really big bag tomorrow."
For more information about the Power-Pole Citrus Slam, go to www.bassmaster.com.
Day 2 standings on the B.A.S.S. Forum