The Great Grigsby
By editor on Mar 14, 2011 | In Bass Tournaments, BASS Elites, BASS, JVD, KVD
B.A.S.S. News
At 54, Shaw Grigsby closes on his 9th Bassmaster win
GreatLakesBass.com member Jonathon VanDam finishes 5th in first Elite Series event!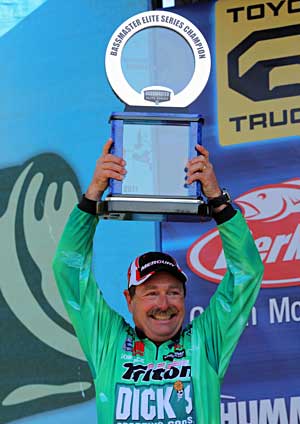 Gainesville Florida bass pro Shaw Grigsby holds on the final 3 days to win the Sunshine Showdown B.A.S.S. Elite Series event on Harris Chain with 75-4. Photo Credit: B.A.S.S. Communicaitons / Seigo Saito
TAVARES, Fla. — Shaw Grigsby, you still have it.
The veteran pro from Gainesville, Fla., outfished the 99-man Bassmaster Elite Series field in a nerve-jangling contest over four days that hinged on an on-again, off-again sight bite on the Harris Chain of Lakes.
Sunshine Showdown, it was called. For Grigsby, it was a personal test as well as a competition.
"I've been close quite a few times since my last win in 2000. I'm turning 55 in May, and at this age, you wonder, you question, do I still have it? — and I guess I do," Grigsby said.
He flashed his trademark grin and waved the $101,000 check he'd just been handed as reporters interviewed him. "This is awesome," he said. "Yeah, baby! That's a lot of zeros."
Grigsby led for two days in the Harris event before he wrapped it up with 75 pounds, 4 ounces on Sunday. He won by 7-6 over Grant Goldbeck, who finished second with 67-14 after starting out in 97th place. Stephen Browning was third with 66-9. Kevin VanDam finished fourth with 65-13, followed by his nephew, Jonathon VanDam, fifth with 56-13.
Day 1 leader Pat Golden ended in sixth place with 55-5.
Grigsby's Sunday win was his first in a Bassmaster event in over 10 years. He also won a 2012 Bassmaster Classic berth. It was the first one awarded under new rules that give each of the eight regular-season Elite winners an instant entry, bypassing the points system under which non-winners can still earn their way into the world championship.
"That to me is as big a thing as you can have," he said. "Winning is great, but making the Classic is like a load off. In the past, I've had some good years, but still I struggled to make the Classic, sweating it until the last second — a lot like this tournament, sweating it until the last second — so to make the Classic and know it's in the bag is like heaven, it's so nice."
Even though he led by more than 11 pounds going into Sunday's final round, Grigsby said he questioned all day whether he would pull off the win. His fears were not ungrounded. Any one big bedder could have altered the outcome on the final day.
"When Grant (Goldbeck) weighed in only 16 and he had the lead, I knew I had it, and I went 'ahhh.' It was a relaxing moment," Grigsby said.
He competed under one of the sport's most unusual circumstances. For four days, Grigsby and Goldbeck fished almost side by side in a small canal in a residential area between lakes Eustis and Griffin. They respected each other's water, and didn't jump a prior claim on a spawning bed the other had been working.
It was a new twist on bass competition, Grigsby noted.
"That was really fun. I guess in another sense, he was my main competition, so you could keep your eye on him, and as long as he doesn't bust 20 pounds, I'm doing OK — and I did OK."
Like Goldbeck and a few others, Grigsby said, he found the canal off the Haines Creek during practice. It looked promising, he said, because of the hard bottom, quiet water thanks to low boat traffic, and deeper water adjacent to shallows.
The first day's wind and rain created conditions that wrecked his chances to actually look at the spawners. Grigsby managed 14-7 out of the canal for 11th place.
"It was really brutal conditions with overcast skies and a lot of wind, so you couldn't see," Grigsby said. "I went back the second day and, oh my goodness, all the ones I'd see were still there, and it was just a slugfest from there."
He slammed them Friday, that second day. His catch weighed in at 29 pounds, 8 ounces, for a lead of more than 8 pounds over Kevin VanDam. Day 3 Grigsby held on handily, stretching his lead against Goldbeck to more than 11 pounds.
Grigsby didn't credit any one lure or setup for his fish. He tried anything he could think of to entice bites from the big females settling on the beds, from 8- to 25-pound Stren to casting and spinning reels. He pitched different baits to the spawners. His choices were mainly Strike King's Rage Craw, Rodent and Ringworm lures.
"I just mixed it up, and it didn't matter what color. I did a lot of black-blue, Okeechobee craw, white — white Rage Craw was really big for me. I just kept pitching and going, and stopping, locking down on one and working it, hopefully catching it and going on.
"It was rare that I could just pull up, cast and catch one. I did that a couple times, but it was more like fish one bait, and he wouldn't pay attention, change to another one and he wouldn't pay attention, change again and maybe he'd tee off on it."
It was not a numbers game. He made repeated trips to the same beds for his five bass Sunday, five or six the first day, and seven each of two middle days.
"I didn't catch very many, I caught the right ones," he quipped.
For Goldbeck, Sunday's second-place finish was a victory. Second place is the highest he's ever finished in a Bassmaster tournament, but it was his zero-to-hero performance that thrilled him more. He had ended Day 1 in 97th place with 1-1, but went back to the canal's spawners for another try, and sacked 27-1. That moved him up to 16th. Day 3 he did it again, 22-15 for the runner-up spot and direct threat to Grigsby.
"You don't have to win them to get that feeling," he said. "It's an awesome feeling."
Final standing on the GreatLakesBass.com B.A.S.S. Forum