Shaw Grigsby slaps 29 pounds of bass onto the scale to lead Bassmaster Elite Harris Chain
By editor on Mar 11, 2011 | In Bass Tournaments, BASS Elites, BASS
B.A.S.S. News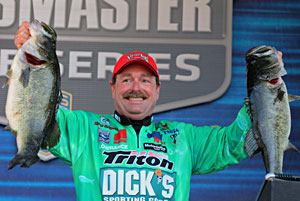 Day 2 leader Shaw Grigsby of Gainesville, Florida weighed 29-8 at the Elite Series Sunshine Showdown on the Harris Chain. Photo Credit: B.A.S.S. Communications / Seigo Saito
TAVARES, Fla. — The bag required to hold Shaw Grigsby's Friday catch at the Sunshine Showdown was so heavy, he had to have help toting it from the docks to the official check-in station. Few who witnessed the lugging of the shoulder-popping bag had any doubts that Grigsby had done very well for himself.
Minus the water drained from the bag, the bass weighed 29 pounds, 8 ounces, and Grigsby was leading with a two-day total of 43-15. He was more than 8 pounds in front of Kevin VanDam, who remained consistent with a Friday catch of 18-3 for 35-12 over two days.
The field was cut to 50 for Saturday's round of the Bassmaster Elite Series season opener on the Harris Chain, with the final on Sunday, when the winner will claim $100,000 and instant qualification for the 2012 Bassmaster Classic.
It was a great showing near home for the Gainesville, Fla., pro, who lifted his 10-pound anchor fish for the crowd. Grigsby, whose eight Bassmaster wins include two in his home state, later related how he landed the lunker while he was sight-fishing in an area shared with two other Elite pros.
"I just spotted her and she was a real tough female. I didn't mess with the male, and just kept working on her," Grigsby said. "Finally she got flustered and smacked it, and I set the hook and fought her around. I'd barely hooked her. She was just hanging by a thread."
It was his 7-pounder that snapped his rod. Both were fish he first saw Friday, thanks to a weather change that brought sunny skies, enabling him to see the fish.
"It was catch one here, one there, another hour and catch another," Grigsby said. "All in the same area."
It was an area Grigsby shared with first-day leader Pat Golden, who slipped to fourth with 31-10 for the two days.
For Golden, his day was all about the big one that bit his bait in half, but would not take the hook.
"I worked that fish for about 45 minutes," he said. "For some reason or another, she tasted the bait, and she just started cutting big circles and spooked off. It was weird; I guess she didn't like my tube bait."
Golden likes his chances for tomorrow in the same canal.
"It's apparent we're in a good area," he said. "Both me and Shaw are catching them, and we should tomorrow, too."
VanDam, more than 8 pounds behind, said he changed his entire approach on Friday, but he ended much the same, with 18-3 compared to 17-9 on Thursday.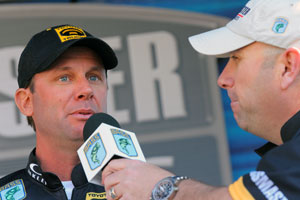 Kevin Vandam is in 2nd place 8 pounds behind leader Shaw Grigsby at the Elite Series Sunshine Showdown on the Harris Chain, here talking to emcee Dave Mercer. Photo Credit: B.A.S.S. Communications / Seigo Saito
"But it worked out," said VanDam, who last month won the Bassmaster Classic, his fourth Classic title and 20th Bassmaster tournament win. "I had a much better day as far as getting bit. I was pretty excited about that; I wanted to have something no matter what the conditions were. My area of yesterday had 4-foot waves today. I had to totally change areas and my approach.
"I can't compete with that right there," he said, pointing to Grigsby's 29-8, "but I'm going to do the best I can."
Browning, slipping one place to third, was satisfied with his day.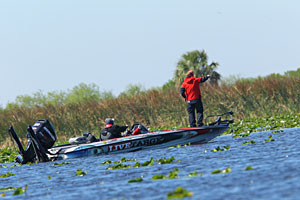 Hot Springs Arkansas bass pro Stephen Browning holds down 3rd place after day 2 of the Harris Chain Elite Series Sunshine Showdown. Photo Credit: B.A.S.S. Communications / Seigo Saito
"I'm hoping some of these sight fishermen are going to run out," said the pro from Hot Springs, Ark. "That's going to be the big thing for me to win this thing."
Rounding out the top five was Chris Lane of Alabama, who grew up fishing Florida waters. He tapped into that knowledge to lift himself from 13th place.
"Do I need to go sight-fishing? That is my big question," he said. "I'm saying no. [I will] see if I can't just keep grinding it out and get another 15 to 17 pounds on Saturday."
Pages: 1· 2