Coming Home
By editor on Mar 10, 2011 | In Bass Tournaments, BASS Elites, BASS, Pro Anglers

B.A.S.S. News
Bassmaster Elite Series season opener is a return to roots for Chris Lane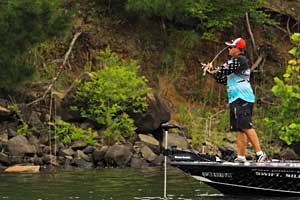 Elite angler Chris Lane grew up close to the Harris Chain, site of the upcoming 2011 Bassmaster Elite Series event. Photo Credit: B.A.S.S. / Seigo Saito
TAVARES, Fla. — Chris Lane moved from Lakeland, Fla., to Guntersville, Ala., more than a year ago. Back in Florida this week for the Bassmaster Elite Series 2011 opener on the Harris Chain of Lakes, Lane couldn't feel more at home.
"I grew up about an hour and a half south of here, so it is like coming home to fish these lakes. The lakes haven't changed a bit, they fish exactly the same — tough," he said.
He said he's seen some good-size fish during the three days of official practice before the Thursday-Sunday event, but not, perhaps, the numbers he'd hoped for, and not as many spawners as he could have expected, considering that the Florida spawn stretches through April in Florida.
Are spawning fish going to play a big role in the tournament?
"The spawn is not done, but we're probably going to miss it by a week for the new wave (of spawners) that are coming in," he said. "With the cold front that's pushing in, this tournament will not be won sight-fishing. A four-day tournament has never been won here by anyone sight-fishing every day."
The successful angler will be the one who can adjust to changing conditions, according to Lane, because every day will dish out something different. The weather forecast for the first day of the event is for thunderstorms, a low temperature in the mid-40s, and a high in the low 70s. After the front moves through, bluebird skies are expected, although the highs are for the upper 60s and low 70s. And the windy conditions under which the 99 anglers in the field practiced could continue to blow several more days.
"The wind's been howling for three days, and that has a big effect on Florida fish," said Lane, who finished 4th in the 2008 Elite event on the Harris Chain, and whose brother, Elite pro Bobby Lane of Lakeland, finished 3rd. "It's been changing direction every day, it keeps the water churned up and moves the baitfish around. You have to read that and adapt."
Lane said everyone in the field will probably have to work hard to bring in consistent weights every day. "You can get hurt here, real bad, by staying in one area where you got bites before," he said. "You can fish a lot of water without any bites."
He said he and his wife and children will be in Florida this week, and they all will find time to get together with his parents, his wife's family, brothers, sisters and other extended family.
If he does well, Lane could be too busy to socialize. "I hope both me and Bobby are fishing Saturday and Sunday. We will if we can stay consistent."
2011 Bassmaster Elite Series Official Sponsors: Toyota, Bass Pro Shops, Berkley, Evan Williams Bourbon, Humminbird, Mercury, Minn Kota, Skeeter Boats, Triton Boats, Yamaha
2011 Bassmaster Elite Series Supporting Sponsors: Lowrance, Luck "E" Strike, Nitro Boats, Power-Pole, Ramada
About B.A.S.S.
For more than 40 years, B.A.S.S. has served as the authority on bass fishing. The organization advances the sport through advocacy, outreach and an expansive tournament structure while connecting directly with the passionate community of bass anglers through its Bassmaster media vehicles.
The Bassmaster brand and its multimedia platforms are guided by a mission to serve all fishing fans. Through its industry-leading publications — Bassmaster Magazine and B.A.S.S. Times — comprehensive website Bassmaster.com, and ESPN2 television programming, Bassmaster provides rich, leading-edge content true to the lifestyle.
The Bassmaster Tournament Trail includes the Bassmaster Elite Series, Bass Pro Shops Bassmaster Open Series, B.A.S.S. Federation Nation events presented by Yamaha and Skeeter Boats and the ultimate celebration of competitive fishing, the Bassmaster Classic.
B.A.S.S. offers an array of services to its more than 500,000 members and remains focused on issues related to conservation and water access. The organization is headquartered in Celebration, Fla.