Women are making their mark in the Opens
By editor on Mar 8, 2011 | In Bass Tournaments, BASS Opens, BASS, Pro Anglers, Central
B.A.S.S. News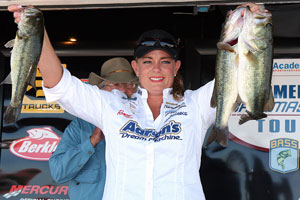 Day 1 leader Janet Parker of Little Elm, Texas, at the Academy Sports and Outdoors Women's Bassmaster Tour tournament on the Ouachita River. Photo Credit: B.A.S.S.
Janet Parker, Lisa Sternard, Jan Heavener, Sabrina Thompson and Debra Hengst are among the former Women's Bassmaster Tour anglers who now compete in the Bass Pro Shops Bassmaster Central Open tour.
At last week's Open on Lewisville Lake in Texas, Parker of Little Elm, Texas, posted a sixth-place finish in a field of 159 pros. She made it into the exclusive Top 12 cut for the final day.
It was two successful cuts in a row for Parker. She had finished inside the cut at the final event of 2010, her first Open season, at 26th place (at the time, the cut was the Top 30).
On the final day, she hooked into what felt like dead weight.
"She wasn't moving; I thought I had a limb. I started reeling in (and realized) it was a huge fish. She came up and threw it," said Parker, who was fishing with a jig.
Parker won a 2009 Women's Bassmaster Tour event on Lake Ouachita out of West Monroe, La. Other than the win, last Saturday's finish was the third Top 10 of her Bassmaster career. She's aiming to be the first woman to qualify for the Bassmaster Elite Series.
For Hengst, competing in the tournament was a victory in itself. Being treated for breast cancer, she was stiff and sore from two surgeries, the first phase of her battle. Hengst's determination to fish in the tournament was the topic of a story by David Hunter Jones, senior writer for Bassmaster Magazine. Click here to read it on Bassmaster.com.