Of Uncle Kevin and starting anew at 63
By editor on Mar 8, 2011 | In BASS Elites, BASS, Pro Anglers, JVD

B.A.S.S. News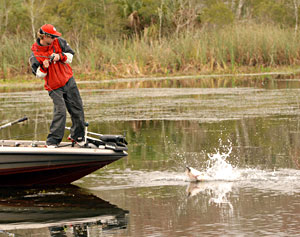 Elite series rookie Jonathon VanDam already has a win and a 3rd place finish shown here at the 2008 St. Johns River event. Photo Credit: B.A.S.S.
For the 2011 crop of 15 Bassmaster Elite Series rookies, Monday was the first day on the job. For some, arriving at that benchmark happened sooner rather than later in their lives.
The youngest rookie is 22-year-old Jonathon VanDam of Kalamazoo, Mich. On the other end of the rookie age spread is Lee Sisson of Winter Haven, Fla.
"How many guys at 63 get to start a professional career?" said Sisson, who will turn 63 on March 29. "I think it's pretty cool. I'll try to catch as many fish as I can, but I'm fishing against guys who are really good and have been doing it for a while."
Sisson, a lure designer who sold his company in 2008 to compete full time, has the luck of starting out as an Elite Series angler in his own state on a lake he has fished many times over the years.
"I know Harris enough to be afraid of it," Sisson said. "It's a real fickle lake. You can come out here and kill 'em one day, and they'll be gone the next."
He is not nervous, and VanDam isn't either.
"I've grown up around all the guys I'm fishing with, and they've all helped me out a lot. It feels like going out and fishing against a bunch of your friends," VanDam said.
One of those friends is his famous uncle, Kevin VanDam, a four-time Bassmaster Classic champ and six-time Toyota Tundra Bassmaster Angler of the Year.
"Kevin and I and everyone in our family have always been very, very competitive," the rookie said. "I've fished local tournaments against him. We have little bragging-rights competitions whenever we fish together — the most fish, the first fish, stuff like that.
"He's one of the greatest fishermen ever — but he's just Uncle Kevin to me."