Luck "E" Strike USA steps on board as B.A.S.S. Supporting Sponsor
By editor on Mar 8, 2011 | In BASS Elites, BASS Opens, BASS, Sponsorship

B.A.S.S. News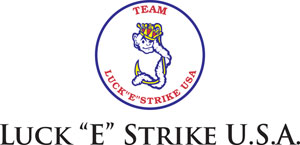 Owner of several of the tackle industry's most venerable lure names and creator of some of its newest designs, Luck "E" Strike USA has become a supporting sponsor of B.A.S.S. LLC's premier tournament trails.
The Cassville, Mo.-based lure maker is now an official supporting sponsor of the 2011 Bassmaster Elite Series and of the 2011 Bass Pro Shops Bassmaster Open, a circuit with Northern, Southern and Central divisions.
"We're excited to have Luck "E" Strike on board with B.A.S.S.," said Jerry McKinnis, one of the owners of the Florida-based membership, publishing and tournament organization.
Luck "E" Strike owner John Hendricks said he and McKinnis see eye to eye on the future of bass fishing.
"We want to be a part of the growth and excitement that's happening with B.A.S.S.," Hendricks said. "I know of the love Jerry has for the sport, and the commitment he has made to it all his life. His vision is our vision. We want to bring value and excitement back to the industry."
The announcement of Luck "E" Strike's first-time sponsorship of B.A.S.S. was made just prior to the season opener of the Bassmaster Elite Series, the Sunshine Showdown on the Harris Chain of Lakes. The event will take place March 10-13 out of Tavares, Fla.
Within the 2011 Elite field is legendary angler Rick Clunn of Ava, Mo. A four-time Bassmaster Classic champion who first competed in a B.A.S.S. tournament in 1974, Clunn also has had a long-standing relationship with Luck "E" Strike.
"We are Rick's oldest sponsor; we've been together for 25 years," Hendricks said. "We just now released our first set of Rick Clunn baits. The best way to let people know about the RC Square crankbaits is through B.A.S.S."
McKinnis noted that the square-bill crankbait played a role in the top three finishes during the recent Bassmaster Classic in New Orleans.
"They have a great lure designer in Bobby Dennis, and the Rick Clunn square-bill crankbaits are going to be top of the line," McKinnis said.
Besides the RC Square, Luck "E" Strike is the creator of The New American Originals, which are premium quality lures made in the United States, and of the Scrounger Jig, the swimming jig. The company also makes a wide variety of jigheads and soft plastic baits. The products are widely available through major U.S. retailers.
B.A.S.S. Official Sponsors: Toyota, Bass Pro Shops, Berkley, Evan Williams, Humminbird, Mercury, Minn Kota, Skeeter, Triton & Yamaha
B.A.S.S. Supporting Sponsors: Lowrance, Luck "E" Strike, Nitro Boats, Power-Pole & Ramada
About B.A.S.S.
For more than 40 years, B.A.S.S. has served as the authority on bass fishing. The organization advances the sport through advocacy, outreach and an expansive tournament structure while connecting directly with the passionate community of bass anglers through its Bassmaster media vehicles.
The Bassmaster brand and its multimedia platforms are guided by a mission to serve all fishing fans. Through its industry-leading publications — Bassmaster Magazine and B.A.S.S. Times — comprehensive website Bassmaster.com, and ESPN2 television programming, Bassmaster provides rich, leading-edge content true to the lifestyle.
The Bassmaster Tournament Trail includes the Bassmaster Elite Series, Bass Pro Shops Bassmaster Open Series, B.A.S.S. Federation Nation events presented by Yamaha and Skeeter Boats and the ultimate celebration of competitive fishing, the Bassmaster Classic.
B.A.S.S. offers an array of services to its more than 500,000 members and remains focused on issues related to conservation and water access. The organization is headquartered in Celebration, Fla.