North Carolina's Thrift Wins Walmart FLW Tour On Beaver Lake Presented By Straight Talk
By editor on Mar 6, 2011 | In Bass Tournaments, FLW Tour, FLW Outdoors
FLW Outdoors News
Arkansas' Blaylock wins co-angler title, $20,000 in season's second event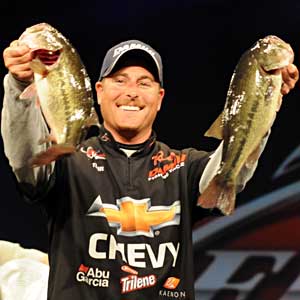 Chevy pro Bryan Thrift caught 5 bass weighing 13 pounds, 15 ounces to win $125,000 at the Walmart FLW Tour on Beaver Lake with a four-day catch of 54-8.
Photo Credit: FLW Outdoors
ROGERS, Ark. (March 6, 2011) – Chevy pro Bryan Thrift of Shelby, N.C., caught a five-bass limit weighing 13 pounds, 15 ounces Sunday to win $125,000 at the Walmart FLW Tour presented by Straight Talk on Beaver Lake with a four-day catch of 18 bass weighing 54-8.
"I don't want to slow down," said Thrift, who is the reigning Walmart FLW Tour Angler of the Year and has posted seven top-10 finishes and two wins in the last eight events dating back to the 2009 Forrest Wood Cup. "I want to catch them everywhere I go. That's my goal.
"After yesterday when I caught a big bag I thought I might have a chance (to win)," Thrift added. "As slow as it started today I thought it was over. I didn't think there was any way I was going to catch a big bag. And lo and behold I pulled into Prairie Creek landing 10 minutes before weigh-in and threw my jerkbait beside a cedar tree. It's sinking down through there and my line jumps and I catch a 3 ½- or 4-pounder five minutes before weigh-in. So that's definitely what did it for me. I culled a 12-inch (spotted bass) with it."
That 12-inch fish was the only cull of the day for Thrift on Sunday, as he caught only six keepers on the last day of competition.
Thrift said he began the tournament catching fish on a translucent jerkbait with a blue back around timber on points and was having some success, but was tipped off by fellow North Carolina competitor Matt Arey that the fish seemed to prefer a fast retrieve, which bucks the notion that jerkbaits should be slowed down in colder water temperatures.
"I took it down the lake the third day to where I'd been catching them," Thrift said. "I was in 4 feet of water jerking the jerkbait just as hard as I could jerk it and they were knocking the paint off of it. It was ridiculous.
"But today with the sun and no wind I had to slow down a lot," Thrift said. "I caught one big one shallow first thing on that jerkbait jerking it real fast and all the rest of them I caught on cedar trees."
Thrift said he changed the stock jerkbait hooks to larger hooks that would make the bait sink slowly. He said he would twitch the bait up to a tree and then dead-stick it and let the bait fall by the tree for 20 to 30 seconds (15 to 20 feet) before the strike would come. Thrift said this method produced eight bass from one cedar tree.
Thrift's winning setup consisted of a 6-foot, 6-inch Damiki Dark Angel medium-heavy rod, a rod Thrift called "hands-down the best jerkbait rod" he's ever thrown. Thrift relied on an Abu Garcia Revo reel and 10-pound Berkley Trilene 100% Fluorocarbon to finish out his rig.
"I've had fished wrapped up in trees all week and bumping rocks and docks," Thrift said. "That line is ridiculous strong to be 10-pound line."
Thrift said he also caught two of his weigh fish during the tournament on a bluegill-colored Damiki DC-200 crankbait.
Thrift opened the tournament in 36th place Thursday with three bass weighing 8-11. On Friday he added another five bass weighing 11-6 to move to 16th place. He then caught five bass weighing 20-8 Saturday to make the crucial top-10 cut in second place.
The catch gave Thrift the win by a 2-pound, 2-ounce margin over Stacey King of Reeds Spring, Mo., who caught a total of 19 bass weighing 52-6 and earned $35,000.
"I fished three patterns primarily," said King, who posted his highest finish in an FLW Tour event. "I had been catching a few fish on a jerkbait just like some of the other guys, then on a cloudy, windy day I caught them on a (Storm) Wiggle Wart a lot. Now, when it was sunny and bright I was fishing a little Cordell Super Shad that's not even made any more. I fished them for 35 or 40 years and that's what I caught most of them today on."
King said his baits were shad colored with the exception of a green craw Wiggle Wart. King said his Wiggle Wart fish were scattered on steep banks and in creeks and his other fish were found on steep secondary points in coves that featured cedar trees.
"I've fished Beaver for many years on and off," King said. "I don't fish over here very much, but I have fished here a lot over the years. It fit my program pretty well."
The remaining top 10 pros finished the tournament in:
3rd:  EverStart pro Ron Shuffield, Bismarck, Ark., 16 bass,
        49-4, $30,000
4th:  Pickens Plan pro Randy Blaukat, Joplin, Mo., 20 bass,
        48-8, $25,000
5th:  Matt Arey, Shelby, N.C., 20 bass, 48-4, $20,000
6th:  AMP Energy pro Stetson Blaylock, Benton, Ark., 15
        bass, 43-10, $17,000
7th:  Kellogg's Frosted Flakes pro Dave Lefebre, Union
        City, Pa., 19 bass, 42-12, $16,000
8th:  Walmart pro Wesley Strader, Spring City, Tenn., 20
        bass, 42-11, $15,000
9th:  Castrol pro David Dudley, Lynchburg, Va., 18 bass,
        37-4, $14,000
10th: National Guard pro Justin Lucas, Guntersville, Ala.,
        16 bass, 35-9, $13,000
A complete list of results can be found at FLWOutdoors.com.
Overall there were 44 bass weighing 105 pounds, 15 ounces caught by pros Sunday. The catch included seven five-bass limits.
Pages: 1· 2