Shuffield Leads Walmart FLW Tour On Beaver Lake Presented By Straight Talk
By editor on Mar 6, 2011 | In Bass Tournaments, FLW Tour, FLW Outdoors

FLW Outdoors News
Arkansas' Blaylock wins co-angler title, $20,000, in second event of season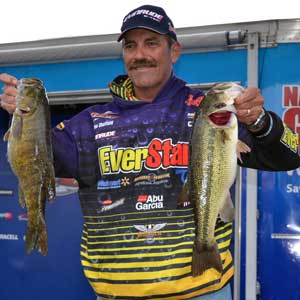 EverStart pro bass angler Ron Shuffield caught 5 bass weighing 18 pounds 10 ounces to take the day 3 lead in the 2011 FLW Tour event on Beaver Lake.
Photo Credit: FLW Outdoors
ROGERS, Ark. (March 5, 2011) – EverStart pro Ron Shuffield of Bismarck, Ark., caught a five-bass limit weighing 18 pounds, 10 ounces Saturday to capture the lead at the Walmart FLW Tour on Beaver Lake presented by Straight Talk and advanced to the top 10 as the crucial No. 1 seed. With a three-day catch of 13 bass weighing 41-6,he now holds a 13-ounce lead in the tournament going into the final day of competition.
"It was frigid, it was windy, it was cloudy and it was the kind of day going in that I thought was an opportunity to catch a pretty good sack of fish," said Shuffield, who is looking for his first FLW Tour win. "These fish in the northern lakes, especially in the clear water where I'm fishing, tend to bite a little bit better in these conditions than they do on a bright, clear bluebird day. So I was optimistic.
"I had a new area that I practiced in but had not fished during the event," Shuffield added. "It had all the ingredients of what I was looking for. And I could tell it hadn't been touched."
Shuffield said he had most of his weigh fish caught by 9:18 a.m. He said he culled "once or twice" during the course of the day and spent the majority of the day looking for particular structure and types of pockets for Sunday's competition.
"I'm trying to fish new water every day," Shuffield said. "I'm not trying to do much repeat stuff at all. These fish are trying to move into their spawn areas, so they're staging halfway to the backs of the coves. But they're on really weird stuff. Some of them are suspended under boat docks in 30 feet of water. One will be on a laydown tree and one will be on a rock formation that's isolated all by itself. That's the kind of stuff these fish are keying on."
Shuffield said he's keeping three rods ready on the deck of his boat. One has a Storm Wiggle Wart tied on and the other two feature jerkbaits. He said he finds the random objects he wants to target then approaches the structure with both types of baits to trigger strikes. Despite the water temperatures, Shuffield said he's using a moderate retrieve for the baits.
"The fish are pretty quick to react," Shuffield said. "They've seen so many jerkbaits this week in competition that I think they're really kind of shying away from it. Each day I've caught a few more fish on the Wiggle Wart – especially some better quality largemouth."
Chevy pro Bryan Thrift of Shelby, N.C., advanced to the final round of 10 pros in the No. 2 spot with a three-day total of 13 bass weighing 40-9.
"I'd been catching some fish off of some shallow places and I knew with it being cloudy and windy that the fish should still be up shallow where I was catching them," said Thrift, who is the reigning Walmart FLW Tour Angler of the Year. "And that's what I'm doing. I'm running a shallow pattern and catching them in 10 feet of water or less and throwing a jerkbait and having a good time."
Thrift said he caught a total of 20 fish during the course of the day, including seven keepers, and most of them came during the early part of the day. Thrift said he's staying in one area and running "just a couple of hundred yards here and there."
"The wind helped me a lot," Thrift said. "I definitely need the wind blowing in on the banks. I think that helps them get up shallow a lot better.
"Me and Ron are both catching big fish, so I'm just ready to get out there tomorrow and see how it goes," Thrift added.
Rounding out the top 10 pros and advancing to the final day of competition are:
3rd:  Stacey King, Reeds Spring, Mo., 14 bass, 35-10
4th:  Matt Arey, Shelby, N.C., 15 bass, 35-10
5th:  Kellogg's Frosted Flakes pro Dave Lefebre, Union
        City, Pa., 14 bass, 33-12
6th:  Pickens Plan pro Randy Blaukat, Joplin, Mo., 15 bass,
        33-11
7th:  National Guard pro Justin Lucas, Guntersville, Ala.,
        14 bass, 33-6
8th:  AMP Energy pro Stetson Blaylock, Benton, Ark., 10
        bass, 31-13
9th:  Walmart pro Wesley Strader, Spring City, Tenn., 15
        bass, 31-12
10th: Castrol pro David Dudley, Lynchburg, Va., 14 bass,
        31-4
Finishing in 11th through 20th are:
11th: Shad Schenck, Waynetown, Ind., 12 bass, 31-0,
        $12,500
12th: Brad Roberts, Nancy, Ky., 15 bass, 30-11, $12,500
13th: Nick Larson, Ball Ground, Ga., 12 bass, 30-9,
        $12,666.67
14th: Shane Long, Sarcoxie, Mo., 15 bass, 30-4, $12,500
15th: Roy Hawk, Salt Lake City, Utah, 11 bass, 29-9,
        $12,500
16th: Sean Hoernke, The Woodlands, Texas, 14 bass, 29-1,
        $12,000
17th: Todd Auten, Lake Wylie, S.C., eight bass, 26-5,
        $12,000
18th: Bo Cross, Knoxville, Tenn., 11 bass, 24-12, $12,000
19th: Walmart pro George Cochran, Hot Springs, Ark., 9
        bass, 22-10, $12,000
20th: National Guard pro Mark Rose, Marion, Ark., 10 bass,
        22-7, $12,000
Final results for the remaining field can be found at FLWOutdoors.com.
Pages: 1· 2