Tucker Punch: Former Elite angler forges big bag for Central Open lead on Lewisville
By editor on Feb 25, 2011 | In Bass Tournaments, BASS Opens, BASS, Central

B.A.S.S. News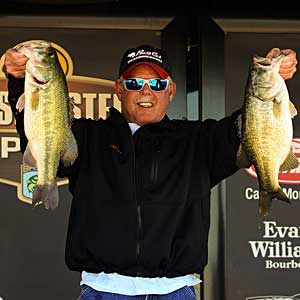 St. Louis bass pro Mark Tucker weighed in 16 pounds 10 ounces on day 1 to lead the BASS Central Open on Lewisville Lake. Photo Credit: B.A.S.S./James Overstreet
LEWISVILLE, Texas — Mark Tucker, who spent the last 10 years on the Bassmaster Elite Series, found a cozy, out-of-way place Friday on Lake Lewisville.
The angler from St. Louis snuck 16 pounds, 10 ounces to the scales for the Day 1 lead at the first 2011 Bass Pro Shops Bassmaster Central Open. With 159 boats, the 29,000-acre lake is fishing small, so Tucker had plenty of company on a day that saw rain showers and clearing with afternoon winds steady at 25 mph.
"I had plenty of boats around me, and it was hard to keep what I was doing a secret," he said. "I caught 10 or 11 keepers all day, and it's a grind. The fish are changing every hour. You have to stay open-minded and you can't get lazy."
He played his hand close to his vest and only allowed that patience is key.
Not far behind is Billy Cline of nearby Keller, Texas, with 16-5. Cline's fish fell for either a spinnerbait or a crankbait, a 180-degree shift from Tucker's pattern. Cline is also enjoying some privacy.
"I've got my area all to myself, so if I get that again tomorrow, I think my fish will still be there," he said.
In third place is Jared Miller of Cookson, Okla., with 14-4. Janet Parker of Little Elm, Texas, is fourth with 13-11, and rounding out the top 5 is Ken Iyobe of Tokoname, Japan, with 13-0.
New to the Opens format this season, along with Skeeter/Yamaha rig valued at $35,000 and $10,000 cash, is a berth into the 2012 Bassmaster Classic.
The Classic incentive has drawn Elite pros hoping that a win will take pressure off of their Elite season. The highest Elite after the first day was Jami Fralick in 16th with 8-15.
Tommy Martin, the 1974 Classic winner, was 17th with two bass for 8-13, including the big bass at 5-plus until ninth place Frank Jordan Jr., of Bainbridge, Ga., rolled an 8-7 across the stage.
The lake can produce large fish. Last week's Classic winner Kevin VanDam caught a 12-pounder here during a June 2005 Bassmaster Elite 50 event, when he bagged 58-12 over four days.
On the co-angler side, Michael Curbow of Frisco, Texas, managed a three-fish limit that weighed 9-11. Curbow's bag was anchored by a 5-3 largemouth he caught on his first cast with a crankbait.
Behind him is Clayton Coppin of Muskogee, Okla., with 8-5. Shawn Temple stands third with 7-11, Matt Jackson holds fourth with 6-15 and in fifth is Darryl Hanks of Pineville, Mo., whose two bass went 6-10.
Co-anglers are vying for a top prize of a fully-rigger Skeeter/Yamaha package also valued at $35,000.
Daily launches are set for 6:45 a.m. CST at Lewisville Lake Park, 100 E. Lake Park Road, Lewisville, Texas, 75057.
Day 1 and Day 2 weigh-ins will be at Lewisville Lake Park. Start time is 3 p.m. CST.
Bass Pro Shops in Grapevine will host the final weigh-in at 3:45 p.m. CST. The Bass Pro address is 2501 Bass Pro Drive, Grapevine, Texas, 76051; 972-724-2018.
All launches and weigh-ins are open to the public, and there's no charge to attend.
Bassmaster.com will provide full tournament coverage, including streaming video and real-time leaderboards from the weigh-in each day. Also planned are live video reports, daily analysis and photo galleries.
2011 Bass Pro Shops Bassmaster Opens Title Sponsor: Bass Pro Shops
2011 Bass Pro Shops Bassmaster Opens Official Sponsors: Toyota Trucks, Berkley, Evan Williams Bourbon, Mercury, Skeeter, Triton, Yamaha
2011 Bass Pro Shops Bassmaster Opens Supporting Sponsors: Humminbird, Minn Kota, Nitro Boats
Pages: 1· 2