Bassmaster College Classic: Tigers Trump Tide
By editor on Feb 25, 2011 | In Bass Tournaments, BASS, Bassmaster Classic, College Fishing
B.A.S.S. News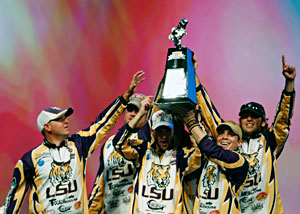 The LSU Fishing Tigers win the inaugural College Classic over Alabama at the 2011 Bassmaster Classic. Photo Credit: B.A.S.S. / Gary Tramontina
The Fishing Tigers of Louisiana State University met the Alabama Crimson tide this morning on Lake Verret, which lies roughly 90 miles west of New Orleans. The Tide came into the event as reigning champs thanks to their win at the inaugural Bassmaster College Classic last year. However, the Tide proved to be a bit low this year as the Tigers won by more than 8 pounds.
"This was so much fun; winning here in front of the hometown crowd. You want to win at home because your home water is everything, and beating 'Bama was the icing on the cake," LSU angler Travis Laurent said. "Hearing the fight song got me jacked up; I got a little crazy."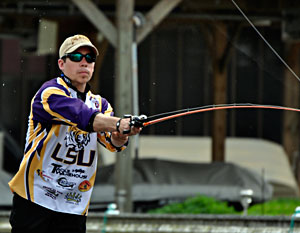 A member of the 2011 College Classic champion LSU Fishing Tigers fights a bass on Lake Verret. Photo Credit: B.A.S.S. / David Hunter Jones
Each school fielded three two-man teams that combined the weight of their total catches. Out of a possible 15 fish (if each team managed a five-fish limit), Alabama only registered nine bass for 20 pounds, 2 ounces. The Tigers brought 13 fish to the scales for a total heavier than 28 pounds.
New for this year was the weigh-in on the Toyota stage in the New Orleans Arena. Rather than weighing in at the Bassmaster Classic Outdoors Expo presented by Dick's Sporting Goods, the collegiate anglers got a warm welcome to the big stage.
"I can tell you right now that everybody was shaking when we walked across that stage," Laurent said.
2011 Bassmaster Classic local hosts: Louisiana Office of Tourism, Greater New Orleans Sports Foundation
2011 Bassmaster Classic Official Sponsors: Toyota Trucks, Berkley, Bass Pro Shops, Evan Williams Bourbon, Humminbird, Mercury, Minn Kota, Skeeter, Triton, Yamaha
About B.A.S.S.
For more than 40 years, B.A.S.S. has served as the authority on bass fishing. The organization advances the sport through advocacy, outreach and an expansive tournament structure while connecting directly with the passionate community of bass anglers through its Bassmaster media vehicles.
The Bassmaster brand and its multimedia platforms are guided by a mission to serve all fishing fans. Through its industry-leading publications — Bassmaster Magazine and B.A.S.S. Times — comprehensive website Bassmaster.com, and ESPN2 television programming, Bassmaster provides rich, leading-edge content true to the lifestyle.
The Bassmaster Tournament Trail includes the Bassmaster Elite Series, Bass Pro Shops Bassmaster Open Series, B.A.S.S. Federation Nation events presented by Yamaha and Skeeter Boats and the ultimate celebration of competitive fishing, the Bassmaster Classic.
B.A.S.S. offers an array of services to its more than 500,000 members and remains focused on issues related to conservation and water access. The organization is headquartered in Celebration, Fla.