Salute to Kerchal
By editor on Feb 21, 2011 | In Bass Tournaments, BASS, BASS Federation Nation, Bassmaster Classic, Pro Anglers

B.A.S.S. News
The young B.A.S.S. Federation Nation qualifier blew a whistle on the Bassmaster Classic stage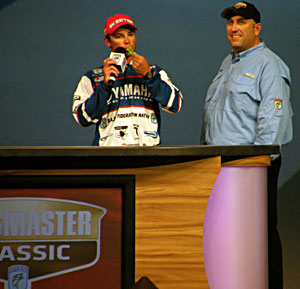 Federation Nation national champion Brandon Palaniuk pays tribute to Bryan Kerchal by blowing his bass whistle at the 2011 Bassmaster Classic. Photo Credit: GreatLakesBass.com
Déjà vu.
The young man with the whistle was 23-year-old Brandon Palaniuk, and he was at the 2011 Classic in New Orleans. But those who remember the 1994 Classic could have closed their eyes and imagined that the angler was Bryan Kerchal.
Kerchal was the 1994 Classic champ who blew a toy whistle shaped like a fish each time he caught a fish. He was the first Federation Nation qualifier to win the Classic, and he did it when he was 23 years old.
Kerchal was killed in a plane crash a few months after his victory, but his whistle lived on. Kerchal's father had similar whistles made and he brought them to several Classics after his son's death.
Palaniuk, the 2010 B.A.S.S. Federation Nation Champion, contacted Kerchal's family and asked permission to blow a whistle on stage in memory of the Federation angler who paved his way.
"Bryan's father sent me a whistle to use," Palaniuk said at the beginning of Classic week. "I'll do it if I make the cut. I want to honor him by doing well."
Not only in the top 25 cut, Palaniuk was in fourth place going into the final round, and that's where he finished. After he weighed his final-day catch of a whopping 22 pounds, 15 ounces, for a 55-7 total over three days, he pulled out the chartreuse whistle and blew it for Kerchal.