'Lucky' Kevin VanDam stacks up a more than 3-pound lead at Bassmaster Classic in Louisiana
By editor on Feb 20, 2011 | In Bass Tournaments, BASS, Bassmaster Classic
B.A.S.S. News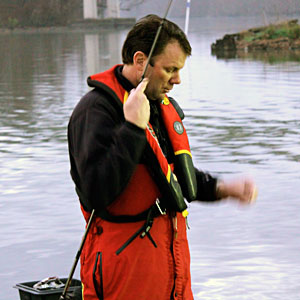 Kevin VanDam leads the 2011 Bassmaster Classic going into the final day after weighing in a huge 22-8, here checking his tackle before take off. Photo Credit: Mark 'cameraguy' Gomez
Kevin VanDam, often described as the best angler in the world, said he simply got lucky Saturday when he hauled 22 1/2 pounds out of the Louisiana Delta on a day when other Bassmaster Classic anglers fishing beside him fell behind.
"I don't think that I'm doing anything different than anybody else there," said VanDam, the defending Classic champ and reigning Toyota Tundra Bassmaster Angler of the Year from Kalamazoo, Mich. "I got lucky and made a couple of right casts and had my bait go by a bass that was in the right mood."
By good fortune or by talent, he pulled in front with a two-day total of 41-11. VanDam was 3 pounds, 11 ounces ahead of Brent Chapman, in second after two days with 38-1.
VanDam said he had to work hard, "grind out" his limit.
Like the first day, Saturday was a short fishing day. Fog kept anglers on the bank for almost three hours before the fog lifted and tournament officials sent them on their way.
First-day leader Aaron Martens of Leeds, Ala., fell behind Saturday with a 12-11 catch from the same area. He ended the day in third with 33-2. Other anglers working alongside VanDam were Brandon Palaniuk of Rathdrum, Idaho, who was fourth with 32-8, and Scott Rook, fifth with 31-11.
The field was cut to the top 25 for Sunday's finale. The winner's prize is $500,000 and bass fishing's top trophy.
Chapman, the only angler in the top five not fishing the area of the Delta's Lake Cataouatche, said he'd repeat his long run to Venice for his spot, which he hasn't had time to properly work over because of fog-shortened fishing time.
Chapman knew exactly how much fishing time that strategy left him Saturday.
"One hour and 10 minutes," Chapman said. "Not very long."
Speed-fishing, he secured a five-fish limit in the first 45 minutes flipping a Tightline UV Beaver into the canes. In the last 20 minutes of his short fishing time, he upgraded with three that he estimated went 4 pounds each.
"My alarm on my phone went off not two minutes after I caught that last one, and I had to go," Chapman said.
He had a rough trip home, too. His route crossed the Mississippi River, in the fog.
"Luckily I was able to still keep pace, but there were boats, and I was pushing it."
First-day leader Martens came off the Delta a frustrated man.
"I missed a bunch, I got probably 20 percent of the fish that bit. They'd hit my bait, but I couldn't get them. When you get bit on something, you keep throwing it, but it never happened for me," he said.
Fourth-place holder Palaniuk, the B.A.S.S. Federation Nation champ of 2010, is a 23-year-old rookie in his first pro tournament. He pulled up from 11th place. He's also fishing Cataouatche.
"Some struggled there today," he said. "It got better there for me today. I'm not saying what I'm doing, but it's working for me.
"I'm excited to be here. I came here to win. I know I'm going against the best, but somebody's going to win, and it might as well be me."
1 comment