Kevin VanDam busts records as he claims 4th Bassmaster Classic victory
By editor on Feb 20, 2011 | In Bass Tournaments, BASS, Bassmaster Classic, Pro Anglers
B.A.S.S. News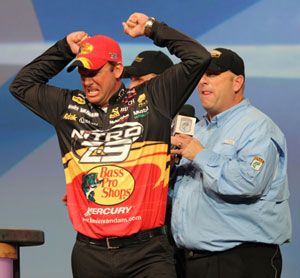 Kevin VanDam wins his record-tying 4th Bassmaster Classic in dominant style. Photo Credit: Mark 'cameraguy' Gomez
NEW ORLEANS — The number four, how sweet it is — for Kevin VanDam, that is. Arguably the world's best bass angler, the Kalamazoo, Mich., pro claimed his fourth Bassmaster Classic win on Sunday.
But for Aaron Martens, the number four isn't so tasty. While VanDam's win tied him with Rick Clunn's 11-year-old record of four Classic trophies, Martens was left with the runner-up spot for the fourth time. The sting for Martens was the repeat of his second-place finish to VanDam in the 2005 Classic.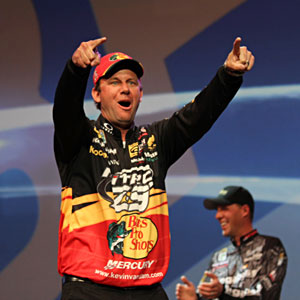 Kevin VanDam celebrates his record-tying 4th Bassmaster Classic victory pointing to his family. Photo Credit: Mark 'cameraguy' Gomez
VanDam shook up a stack of Classic records on Sunday. Besides tying Clunn at four, he shattered a five-year-old Classic weight record when he brought 69 pounds, 11 ounces of Louisiana Delta bass to the scales over three days. The previous three-day, five-bass-limit mark was 56-2 by Luke Clausen in the 2006 Classic on a Florida bass factory, Lake Tohopekaliga.
Other new milestones for VanDam are a record 20 Bassmaster event wins, and crossing the $5 million line in B.A.S.S. winnings, thanks to the big bump provided by his $500,000 win Sunday in New Orleans. He remains the circuit's top all-time money winner.
He also now shares Clunn's claim as the only angler to take back-to-back Classic wins; Clunn did it in 1976-1977, VanDam in 2010-2011. To top off the superlatives list, VanDam now has twice held the sport's top two titles concurrently: Classic champ while being the reigning Toyota Tundra Bassmaster Angler of the Year.
"The last few years have been really magical for me. It's been incredible," VanDam said on stage as he hugged the trophy.
Martens, who led on the first day but fell to third on the second day, pulled back up to post a 59-0 total for the second-place finish. But after it was all over, he said he was OK with the bridesmaid role once again.
"This is the easiest second place I've ever had," said the pro from Leeds, Ala. "If it had been closer, it would have been different. But it was obvious after yesterday (Day 2) he was probably going to do it. No stress, no remorse. I'm very happy I got second."
VanDam and Martens have a friendly relationship. They even posed together with the trophy during a press conference.
Claiming third place was Derek Remitz of Grant, Ala., who finished with 56-8 on the strength of his final-day catch of 26-5. His big bass of 8 pounds, 4 ounces, was a sample of the prolific spot he shared on the Delta's Lake Cataouatche with VanDam and Martens, among others.
"It felt like I hit a big ball of grass," Remitz said. "I leaned into it a little bit and felt it start moving. I thought, 'Oh, boy, I think this is a big one.' Then he came up — and from thereon, I can't say what I said."
Remitz said the fish fell to a Lucky Craft RC 1.5 in a bream finish.
Martens described the area they shared as a "bass factory" that he worked mainly with a square-billed crankbait and 3/8-ounce Vibe spinnerbait made by Davis Bait Co.
VanDam was using a Strike King KVD 1.5 crankbait, Quantum KVD Tour crankbait rod and 20-pound Bass Pro Shops brand fluorocarbon line.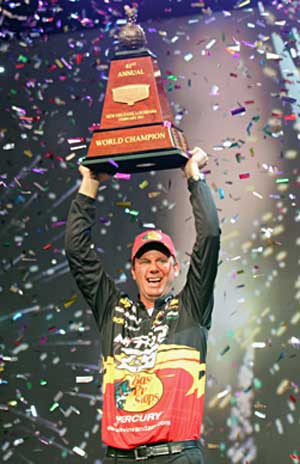 Fireworks, confetti and explosions greet 2011 Bassmaster Classic champion Kevin VanDam. Photo Credit: Mark 'cameraguy' Gomez
A key to his win, he said, was being "dialed-in" on what was going on in the spot the leaders shared over the three days. He also made a crucial adjustment from a spinnerbait to his crankbait.
"The thing that probably helped me more than anything, what won this tournament for me, was the experiences I've had in the past in knowing how the fish react to these types of extreme weather changes, the time of the year with the full moon."
Two days of long fog delays did not give most anglers time to demonstrate what they could do on the Louisiana Delta. The longer third day was a truer indication of their abilities and of the fishery's health. Boyd Duckett, who finished sixth with 53-2, hauled in 28 pounds, 13 ounces the final day. VanDam had 28-0 on Day 3, Remitz 26-05, and Martens 25-14.
"Boy, what a day, what a week," VanDam said.
Pages: 1· 2
1 comment
Top 25 final standings and payout listed here: