Alabama's Aaron Martens Leads the Bassmaster Classic
By editor on Feb 18, 2011 | In Bass Tournaments, BASS, Bassmaster Classic
BASS News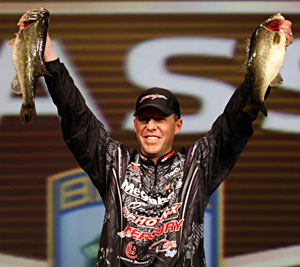 Aaron Marten's 20 pounds 7 ounces five bass limit takes the first day lead at the 2011 Louisiana Delta Bassmaster Classic. Photo Credit: B.A.S.S. / Gary Tramontina
NEW ORLEANS — Aaron Martens took about a 1-pound lead Friday on the first day of the Bassmaster Classic, the world championship of bass fishing being played through Sunday on the Louisiana Delta.
Martens' 20 pounds, 7 ounces, kept him in front of Scott Rook of Little Rock, Ark., with 19-6. Rook snuck ahead of defending Classic champ Kevin VanDam, who had 19-3 for third place. Ending the day in fourth with 18-0 was Brent Chapman of Lake Quivira, Kan. Bobby Lane of Lakeland, Fla., with 16-12, was fifth.
Dense fog delayed the start of Friday's competition by 70 minutes. The shorter day upped the ante on the gamble of using competition time to travel to far-flung hot spots.
Martens said he wasn't making a long run, but he still would have preferred not to have lost the hour of highly productive morning fishing.
"The fog hurt a little bit," said the Bassmaster Elite Series pro from Leeds, Ala. "I got three fish the first 10 minutes, and they shut off for a while."
He hinted that he used reaction baits, "but I won't say what yet." He said he didn't boat as many bass as he did during his practice time in the same area. His biggest bass was 5-9, also the tournament's best catch of the day.
"I got nice fish, just not nearly as many bites as I thought I would," Martens said. "It's probably the weather, and the stage the fish are in."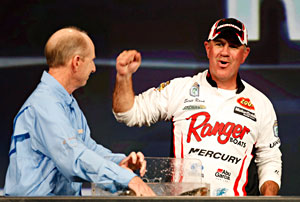 Arkansas angler Scott Rook sits in 2nd place at the 2011 Bassmaster Classic on the Louisiana Delta with 19-6. Photo Credit: B.A.S.S. / Gary Tramontina
Rook, who finished in second place in the 2001 Classic on the Louisiana Delta, said he is sharing water with VanDam and Martens, but the area is large enough for sharing.
"It's a huge spawning flats, 2 ½ to 3 feet deep," said Rook. "It's got thousands of cypress stumps. I know there's fish in there spawning."
Rook said his fish came slowly. He had two by noon, but then the bite turned on.
"Normally, with a full moon, they start biting again at noon, and they did," he said. He had a 3 ½-pounder at noon, then two more, each about 10 minutes apart. His day's total was 19 pounds, 6 ounces.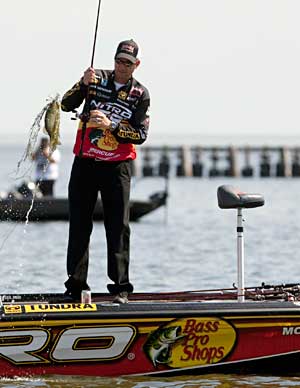 2010 defending Classic champion Kevin VanDam holds down third place with 19-3 at the 2011 Bassmaster Classic. Photo Credit: B.A.S.S. / James Overstreet
VanDam, the angler who bested Rook in 2001, described his day as "decent."
"I was really hoping to have an outstanding day today and get a big bite or two," he said. "The fish were a little bit fickle. They're thinking about spawning and not eating real well, so the bite was a little funny. It was definitely a struggle, but there's quality in the pattern I'm fishing."
VanDam said he will trust his Day 1 success and return to his spots on Saturday.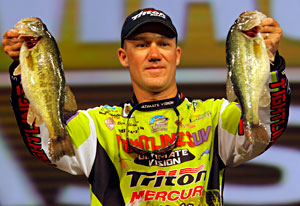 Lake Quivira Kansas bass pro Brent Chapman's 18 pounds even puts him in fourth place after day one of the 2011 Bassmaster Classic. Photo Credit: B.A.S.S. / Gary Tramontina
Chapman said he hopes to duplicate his 18 pounds of Friday by returning to his southerly spot in the Venice area.
"I don't think it showed itself," Chapman said. "It's got a lot of fish, I think I can do even better."
Lane said he found numbers of bass today, but not of the quality he had hoped for.
"The tide was lower, and the bigger ones just didn't bite," he said.
Martens grimaced when told of Saturday's forecast for early morning dense fog. He's determined to stick with his spot.
"I'd like to get there early in the morning. They bite better then," Martens said. "As much as I caught today, and the quality I'm seeing, hopefully I'll get enough to maybe win this thing."
Competing in his 12th Classic, Martens has ended up in the runner-up spot three times.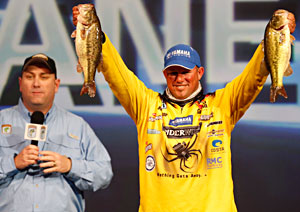 Bobby Lane of Lakeland Florida holds down fifth place after day one of the 2011 Bassmaster Classic with 16-12. Photo Credit: B.A.S.S. / Gary Tramontina
Unlike Martens and VanDam, Lane is making a long run to the Venice area. He said he got to his area by 10:30 a.m., fished until 12:30 p.m., then headed in and arrived 45 minutes early. He said another fog delay wouldn't hurt him too much, and just three hours of fishing time on Saturday will suit him.
"That's plenty of time — if you're around them," he said.
2011 Bassmaster Classic local hosts: Louisiana Office of Tourism, Greater New Orleans Sports Foundation
2011 Bassmaster Classic Official Sponsors: Toyota Trucks, Berkley, Bass Pro Shops, Evan Williams Bourbon, Humminbird, Mercury, Minn Kota, Skeeter, Triton, Yamaha
About B.A.S.S.
For more than 40 years, B.A.S.S. has served as the authority on bass fishing. The organization advances the sport through advocacy, outreach and an expansive tournament structure while connecting directly with the passionate community of bass anglers through its Bassmaster media vehicles.
The Bassmaster brand and its multimedia platforms are guided by a mission to serve all fishing fans. Through its industry-leading publications — Bassmaster Magazine and B.A.S.S. Times — comprehensive website Bassmaster.com, and ESPN2 television programming, Bassmaster provides rich, leading-edge content true to the lifestyle.
The Bassmaster Tournament Trail includes the Bassmaster Elite Series, Bass Pro Shops Bassmaster Open Series, B.A.S.S. Federation Nation events presented by Yamaha and Skeeter Boats and the ultimate celebration of competitive fishing, the Bassmaster Classic.
B.A.S.S. offers an array of services to its more than 500,000 members and remains focused on issues related to conservation and water access. The organization is headquartered in Celebration, Fla.
2 comments
GreatLakesBass.com member Ryan Said is in 44th place with 3 keepers for 4-15. I asked him, despite a tough day, if he was still having fun. With a big grin, he said, "Oh yeah!"