Ryan Said Ready For First Bassmaster Classic
By editor on Feb 17, 2011 | In Bass Tournaments, BASS, Bassmaster Classic, Pro Anglers, Ryan Said
Shortly after we arrive, competitor boats start piling in. Pretty soon there are 13 Classic contenders fairly close by including King Kong - KVD, who is suffering a little from a touch of something nasty. Maybe a virus. Maybe something he ate, he says.
Feels real good to make some casts finally today, Ryan tells me. Fishing down back through water Kevin and others had worked over Ryan nails a small keep largemouth bass on a chatterbait. I can tell that he really enjoys getting one in the boat. Plus I get to practice trying out the BASStrack phone thing.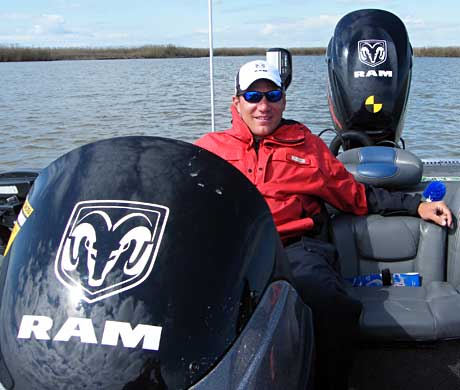 2010 Bassmaster Northern Opens points champ Ryan Said has a smile on his face despite a challenging and difficult day on the Louisiana Delta - he gets to fish the 2011 Bassmaster Classic after all. Photo Credit: Dan Kimmel
Ryan takes a look at a few more things and then decides it's time to head in. "Trip said if we were late, we'd be in his doghouse," Ryan says with a smile on his face. You don't want to be in the doghouse at the Bassmaster Classing, I'm betting.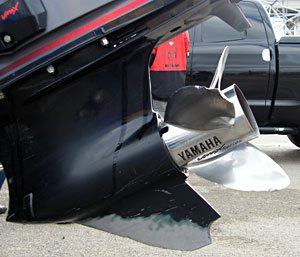 Ryan Said's Yamaha outboard lower unit and prop take a beating on the last official practice day for the 2011 Bassmaster Classic on the challenging Louisiana Delta.
Photo Credit: Dan Kimmel
We pull into the state park launch area. Ryan's family is there waving, and Dad Fred puts the trailer in the water. After pulling out, Ryan look back at the prop and says, "guess I did a good job on that lower unit. Now I know why I was only getting about 65 coming back." The prop edge of all three blades is bent, gouged and dented. But he had been sure the whole skeg would be gone. No more of that missing.
Quick check by the Yamaha crew and they recommend Ryan replace a slight bent prop shaft. "This is the Bassmaster Classic afterall," one of the techs says. Ryan agrees with another smile on his face. "But I'll just swap out to my other prop," he decides, rather than buy a new one.
I know this is a long story, but it still does not do justice to the entire adventurous day we had, and to Ryan's effort to prepare for the biggest tournament of his life! Yeah, he's a little frustrated about how much of the day went. "I've always been the person who meets all my challenges head on," he told me earlier in the day. Then he relates how some fear of the danger of skydiving led to him jumping (literally) right into it by doing, not one, but two 15,000 foot jumps!
I have no doubt Ryan is prepared and able to handle an event this big. When all said and done, he has a plan. He knows it is the best option for him now. And he's ready to go fishing.
The real fun starts tomorrow, Friday February 18, 2011, when Ryan and 49 other anglers go out for day one of the 2011 Bassmaster Classic on the massive Louisiana Delta. I'll be riding along with Federation qualifier Dave Watson while cameraguy gets to see what Ryan can do with his game plan.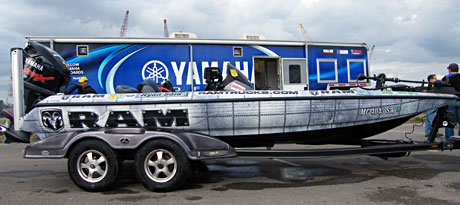 Michigan bass pro Ryan Said has a great Dodge Ram Trucks boat wrap for the 2011 Bassmaster Classic and Elite Series. His rig includes a new Minn Kota Talon shallow water anchoring device. Photo Credit: Dan Kimmel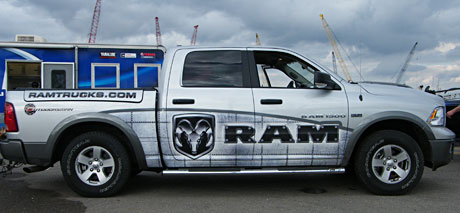 Ryan Said travels to the Bassmaster Classic in style with his new Dodge Ram Outdoorsmen pickup truck with a cool Ram Trucks wrap. Photo Credit: Dan Kimmel