Ryan Said Ready For First Bassmaster Classic
By editor on Feb 17, 2011 | In Bass Tournaments, BASS, Bassmaster Classic, Pro Anglers, Ryan Said
That didn't sound good
We are running along when Ryan's GPS unit stops updating his route. "Been working perfectly this whole time," Ryan says as he comes off plane. He switches over to using the map on his Humminbird side imaging unit. He manually moves the cursor on his other unit and compares it too the map on the Humminbird.
We come to one spot where a channel on the map apparently disappears near an oil machinery island. Ryan wisely comes off plane and slowly idles around trying to find an actual channel. Bang! The motor hits something hard. You have to understand that there are almost no channel markers here, or you're running across the middle of a huge bay and there is one marker in the middle!
There are oyster bars and oil industry machinery everywhere! Not to mention the stick forests and the crab trap floats - we bumped over three crab traps during the day. They can get completely wrapped around your prop and lower unit. Ryan was carrying a knife for that very reason and got one chance to cut a trap off earlier in his practice.
Ryan finds water over 3 feet deep again and off we go. We still run along ways yet, twisting and turning through wide channels, and narrow channels and lots of shallow water. After running almost two hours at speed, we come to a channel that Ryan was told would get him into an area, and too the Venice Marina - the only place to get gas, which is a must running this far and having to go back again. The channel is blocked by a wooden structure?? Shoot.
Ryan tries a nearby channel. There are no shortages of channels going in every direction! Too shallow. We get temporarily stuck and Ryan uses a push pole to get us back to a little deeper water. Ryan looks at the map and spots a possible alternative. Off we go and minutes later, we are in the middle of a small bay stuck bigtime on a shallow mud flat.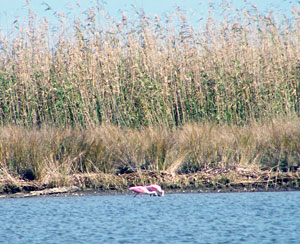 No shortage of amazing wildlife on the huge Louisiana Delta like this pair of beautiful roseate spoonbills feeding nearby that we watched while waiting to be pulled of the mud flat.
Photo Credit: Dan Kimmel
"We're not getting off here with help," Ryan says matter of factly and starts making phone calls. Eventually, we learn there is a sheriff's boat not too far away. Understand, we have seen few boats and no other competitors for a long time. Ryan provides the GPS coordinates and a description, "you can't miss it with Dodge Trucks all over it." I'm thinking, how can they find it?!?
We are in a small bay in the middle of a vast array of channels behind walls of marsh weeds!! As usual though, the locals know their water. We have to wait over an hour because of some other situation, but after a pleasant conversation and some impressive patience, we hear the roar of an airboat.
The deputies come roaring around a bend and right into our little bay. Hook this rope up to the bow and then lay down on the floor ducking your head under the dash. A few seconds of loud roar and good coating of wind-driven mist later, we are back in the slightly deeper channel, no charge! The very friendly detectives make a couple recommendations on staying in safe depth and off they go.
At this point, with so much time gone and no lines even wetted, Ryan decides to head to Venice Marina, fill back up on gas and turn around to make the long run back. We have another delay passing a giant machinery boat the size of a large house in one channel and waiting for a work barge to gas up. Then we turn around after finally seeing three other contestants nearby to repeat our run in reverse.
At some point, Ryan had checked on his lower unit to see that the last few inches of the tip of the skeg are now gone. Motor seems okay though and no further beeping. We make it back to the very shallow area Ryan hit something in earlier. He wisely tries to idle slowly back through looking for any semblance of a channel. A 100 yards or so past the original bad spot and Bam! He hits something solid again.
Right then a local boater motors up to ask where we are trying to get to. Ryan says he's okay not because he's back on his track, but is there any safe way through? That are is dangerous, the local says. Oyster bars and lots of hidden oil rigging, he says. No kidding.
We finally get back close to the ramp area and Ryan says he wants to check some close spots. He needs to fish at least a little and he has mentioned he is a little frustrated at making such long, time-consuming run with no chance to check out any fish or spots he found in pre-practice.
He's handling it pretty well, I think, but this is the Bassmaster Classic!! And he knows it! He does feel good about one thing at least out of the experience. He is sure now he will capitalize on more fishing time by sticking with fish he has found close to the launch ramp and forget about making that long run. He no longer has to worry about serious fog delay, making sure he gets gas from the one source when he needs it and hitting anything or getting stuck.
We run into a large lake or bayou. The water has changed a lot. Floating, dead water hyacinth and other weeds all over the place. But the water has wormed up from last weeks 40s into the high 50s.