Ryan Said Ready For First Bassmaster Classic
By editor on Feb 17, 2011 | In Bass Tournaments, BASS, Bassmaster Classic, Pro Anglers, Ryan Said

Final practice day is over, now the fun begins!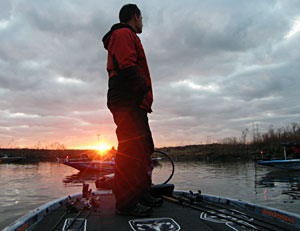 Michigan pro bass angler Ryan Said waits for the morning blast off of his final official practice day before the 2011 Bassmaster Classic. Photo Credit: Dan Kimmel
Imagine fishing your first Bassmaster Classic on a giant body of water laid out like a madman's maze, against the best anglers in the world including many you've watched on the Bassmaster's while growing up. That's what GreatLakesBass.com member Ryan Said is actually living!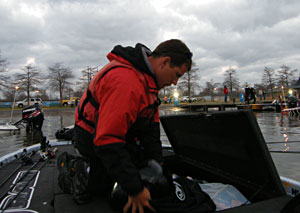 Bassmaster Classic rookie Ryan Said makes some final equipment checks while waiting to go on the Louisiana Delta. Photo Credit: Dan Kimmel
I spent the last official practice day of the 2011 Bassmaster Classic on the massive Louisiana Delta system with Ryan, watching him prepare and decide how he will start his first day of his first Bassmaster Classic. This is just a little of that day from my perspective with some refreshing frankness from Ryan.


Wanna go for a boat ride?
The first thing I get is a text from Ryan asking if I have a helmet or at least a good face mask. Why? "Because we are making a pretty long run first thing," Ryan tells me.
Boy, did we! But not before a little shake up thanks to some Delta mud. Ryan is boat number 33 so that is the order he takes off Friday and we took off this Wednesday morning. As we idle out under the bridge to take off, the engine alarm goes off. Beeeeeeeeeepppppp! No way, I think. Ryan looks at me as says everything has been working perfect all week.
He makes the snap decision to turn around and troll back to the dock. The Yamaha crew is standing there waiting. There are definitely some perks to qualifying for the Super Bowl of bass fishing!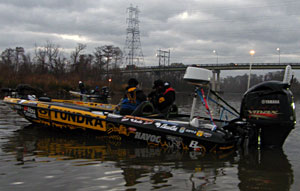 Something new at the 2011 Bassmaster Classic - bass tournament anglers with radar strapped to their back decks to help counter the potential for fog on the complex Louisiana Delta waterway.
Photo Credit: Dan Kimmel
I get out of the way. They jump in the boat. Four or five quick tests and they determine the engine was getting hot from some of that fine Louisiana mud. We are launching in a shallow bay at Bayou Segnette (sih net) State Park.
Off we go again. This time for real and hang on. We have to run 4,000 rpms out to the second bridge per tournament director Trip Weldon. We pass a sheriff's boat next to another bass angler who has stopped for some reason and then we hit it!
Down a long winding channel. Across a really big lake! Out into another long channel and then another. We go and we go and we go. It is pretty chilly still and at almost 70 mph it feels cold after a while.
After a while, we enter some large bays just off the Gulf of Mexico. You can smell the difference in the air. And see all the trawlers and shrimp boats. Tons of crab trap floats, and about a million tall sticks and saplings sticking up all over the place. Sometimes like a stick forest and sometimes in long thick rows. And oil piping and mechanisms everywhere you look. No apparent rhyme or reason to them!
At times, we run obvious routes or channels. At other times, I only know Ryan is trying to follow a set track through seen and unseen obstacle and obstructions, zigzagging so much through channels and bays that after a while, I have no idea where we are or where we are headed.
Dolphin Dodging
We running along back in a huge bay that faces the Gulf when a giant fishy-looking back rolls out of the water ahead of us. Ryan slows a little and looks at me like, did you see that? Yup. I did. Pretty soon, we start seeing them fairly regular. Dolphins! Some of the really BIG!
Some of the dolphins just porpoise out of the water, but others rip through large bait! We even see them inside some of that channels farther back in. A few times Ryan has to swerve out of concern we will pass right through them at high speed. A couple times they boil right up in front of us including one group of small dolphins that Ryan comes off plane out of concern that we will cut it way too close. Ryan doesn't even see one big dolphin that comes up right next to the nose of the boat as we blast through a small channel at over 65 mph! I tell Ryan I feel like I'm back in Brazil!