Andrew Solomon Wins NBAA Overall Angler of the Year
By editor on Feb 12, 2011 | In NBAA

NBAA News
Angler of the Year & Super Big Bass Drawings Results!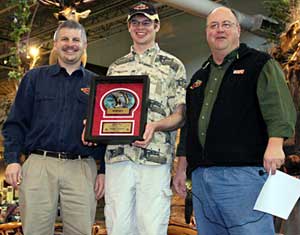 NBAA National Director Jack Horning (L) presents the 2010 NBAA overall angler of the year award to Andrew Solomon along with NBAA owner Jim Sprague (R). Photo Credit: NBAA
On hand for his first NBAA overall Angler of the Year title was Andrew Solomon. Andrew came close last year and decided that 2010 would be his year. For winning the overall Angler of the Year title, Andrew won himself a Power Pole shallow water anchoring system. Plus, he won a great plaque sponsored by Wrangler Rugged Wear. Congratulations to Andrew on a fantastic 2010 season.
Other special drawings included the Angler of the Year award and Super Big Bass drawings. Anglers who own one or more of the necessary products and register put themselves in a position to win great prize packages. Get complete details on winners, prizes including the big quad runner, and more pictures on the NBAA forum.