The vow of Ryan McMurtury
By editor on Feb 8, 2011 | In BASS, Bassmaster Classic, Weekend Series

B.A.S.S. News
2011 Bassmaster Classic qualifier Ryan McMurtury got off to a bad start this season, but his correction was swift and sure. The bad start was a 145th-place finish in the Jan. 20-22 Bass Pro Shops Bassmaster Southern Open on Florida's Lake Tohopekaliga.
A week later, the South Carolina angler won a tournament on Lake Murray in his home state of South Carolina. "I didn't fish my strengths (at Toho), and I won't let that happen again," he said. "I vowed to never finish that low in a tournament again."
The tournament he won was a one-day divisional of the Toyota Tundra Bassmaster Weekend Series operated by American Bass Anglers, the same circuit through which he earned his ticket to the Classic. The Weekend Series event was not the intense contest of a three-day Open, but a win is a win.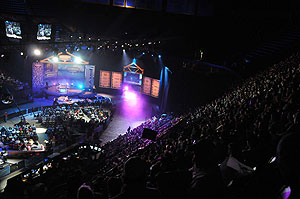 The 2010 Bassmaster Classic Arena scene - what awaits all the 2011 Classic qualifiers! Photo Credit: B.A.S.S.
McMurtury is riding the high all the way into his first Classic, Feb. 18-20 on the Louisiana Delta out of New Orleans.
"About a month ago, I was just happy to be able go fish it. The closer I get to the Classic, the more determined I am to go down there and win it," he said.
From the small town of Abbeville, S.C., McMurtury is a certified surgical technician and garage lure maker (his Classic arsenal includes many one-of-a-kind, hand-painted "secret" weapons). His flex-time work schedule and passion for feeling "the tug of anything on the end of my line" gets him out on the water many times a week, so he isn't a typical "weekend warrior."
He aspires to the competitive level of full-time bass pro. He's already looking like one with his newly wrapped boat sponsored by Omega Rod and Area 51 Wraps.