Randy Montana, Casey Ashley to Perform at 2011 Bassmaster Classic
By editor on Feb 8, 2011 | In BASS, Bassmaster Classic

B.A.S.S. News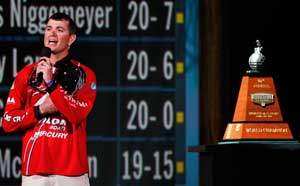 Casey Ashley to sing at the 2011 Bassmaster Classic in the New Orleans arena with a free concert from the Costa stage. Photo Credit: B.A.S.S.
CELEBRATION, Fla. — Mercury/Nashville recording artist Randy Montana and Casey Ashley have signed on to perform live, free concerts from the Costa stage for thousands of fishing fans filling the New Orleans Arena during the 2011 Bassmaster Classic. The Bassmaster Classic is set for Feb. 18-20 on the Louisiana Delta out of New Orleans, La.
"We live to fish, and we love listening to country music — especially good country music by the likes of Casey, who is on Costa's pro staff, and Randy Montana," said Al Perkinson, vice president of marketing of Costa, a longtime partner of B.A.S.S. "The Costa stage will definitely be rocking this year at the Classic. The concerts are a great way to cap off a weekend of intense bass fishing and action-packed weigh-ins."
Ashley, a Bassmaster Elite Series pro, will preview the weigh-in Friday, Feb. 18, at 3:30 p.m. CST, and Montana will rev up the crowd Saturday, Feb. 19, at 3:30 p.m. CST.
"I love to bass fish, and I do a lot of turkey hunting. Fishing and hunting are the things I like to do in my downtime," said Montana. "To be able to play a show and be part of one of my favorite hobbies in the world, it's gonna be a fun couple of days."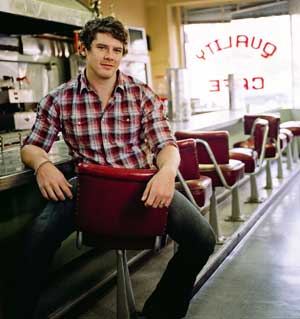 Mercury Nashville recording artist Randy Montana will perform at the 2011 Bassmaster Classic in New Orleans.
Photo Credit: David Tsay
Mercury/Nashville singer/songwriter and Nashville native Randy Montana landed onto the country music scene in 2010 with his debut Top 40 single, "Ain't Much Left Of Lovin' You." After touring the nation last year with artists such as Sugarland and Little Big Town, Randy continues to connect with fans with his powerful new single, "1,000 Faces," which he wrote with CMA Award winner, Tom Douglas.
Montana, an award-winning high school quarterback and avid outdoorsman, is son of Nashville hit songwriter, Billy Montana. After signing with Sony Music Publishing in 2008, Joe Fisher of Universal Music Group discovered him, signed him and set him to work on his debut album. The album, Randy Montana, combines Montana's compelling storytelling and vivid imagery with his rocking guitar-driven sound and is due out later this year.
Montana said he has great respect for the Bassmaster Classic contenders, and he hopes to stick around for the weigh-in. "I would like to see it go down," said Montana.
"Understanding what to do in certain weather conditions and during any of the feeding patterns, to be able to show up on a lake and do some pre-fishing, and then for those guys to catch quality fish, it's incredible!" he said.
What do Montana and the 2011 Bassmaster Classic contenders have in common? "Anytime you can play in front of that many people, it's good exposure. You just hope to bring home a few fans. We'll hit it hard."
For more information on Randy Montana, visit RandyMontana.com.
For more details on the Bassmaster Classic, visit Bassmaster.com/Classic.