Prough Maintains Lead At Walmart FLW Tour On Lake Okeechobee
By editor on Feb 5, 2011 | In Bass Tournaments, FLW Tour, FLW Outdoors
FLW Outdoors News
Aymon Wilcox Wins Co-Angler Title, $20,000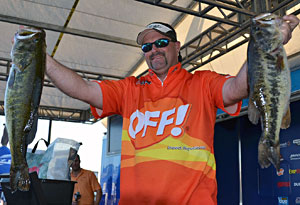 Florida pro Chad Prough maintains his FLW Tour Lake Okeechobee lead for the third day of bass tournament competition. Photo Credit: Brett Carlson
CLEWISTON, Fla. (Feb. 5, 2011) – Walmart FLW Tour pro Chad Prough of Chipley, Fla.,caught a five-bass limit weighing 20 pounds, 8 ounces Saturday and continues to lead the Walmart FLW Tour presented by Evinrude on Lake Okeechobee advancing to the final day of competition as the No. 1 seed. With a three-day catch of 15 bass weighing 87-15, he now holds a 5 pound, 1 ounce lead in the tournament.
"If I don't catch anything tomorrow I'll still go home happy," said a still shaking Prough who is looking for his first FLW Outdoors win. "This has been such a phenomenal week of fishing, I feel like I am living a dream.
"Today was my slowest day of fishing so far," added Prough. "I lost a five or six pounder at the end that might really come back to haunt me tomorrow. My area definitely saw some pressure, a lot of local pressure and there were a few other tournament guys there that I hadn't seen all week. I will probably have to go to my secondary spot first tomorrow. The big females weren't moving up in my area today, I think because of all the pressure. There are plenty of bucks in there, but to win this tournament I am going to have to find those big females looking for beds.
"I did about half sight-fishing and about half throwing long casts. The wind picked up today and that really hurt the sight-fishing," said Prough.
Prough is looking forward to the final day of competition and said, "It's a little nerve-racking to fish in first place, but now that I made the final top-10 some of the pressure is off. Tomorrow I am just going to go out and have fun!"
In yet another day of phenomenal fishing, Lake Okeechobee was described as alive and well. All 20 pro anglers caught a five-bass limit with nearly half of them weighing over 20 pounds. Every angler that walked on stage said that they have never seen Lake Okeechobee fish this well.
Pete Thliveros of Saint Augustine, Fla., advanced to the final round of 10 pros in the No. 2 spot with a three-day total of 15 bass weighing 82-14.
"I made a mistake yesterday by not going to the area I started in today," said Thliveros, who has two top-10 finishes on Lake Okeechobee in FLW Tour competition. "The females are moving up on beds and they are big.
"It's amazing to me that the amount of pressure this one mile stretch of bank has seen and is still producing the amount of big fish that we have seen cross this stage today. It has been under tremendous pressure and there are still big ones out there daring to be caught," added Thliveros.
Rounding out the top-10 pros and advancing to the final day of competition are:
3rd: EverStart pro Randall Tharp, Gardendale, Ala., 15 bass, 81-4
4th: Brandon McMillan, Belle Glade, Fla., 15 bass, 81-3
5th: Terry Scroggins, San Mateo, Fla., 15 bass, 77-8
6th: Duracell/Gillette pro Jacob Powroznik, Prince George, Va., 15 bass, 76-14
7th: Andy Morgan, Dayton, Tenn., 15 bass, 73-2
8th: Jake Morris, McKee Ky., 15 bass, 72-13
9th: Fred Roumbanis, Bixby, Okla., 15 bass, 72-4
10th: Dean Rojas, Lake Havasu City, Ariz., 15 bass, 69-8
Final results for the remaining field can be found at www.FLWOutdoors.com
Overall there were 100 bass weighing 393 pounds, 12 ounces caught by 20 pros Saturday. The catch included 20 five-bass limits.
Pros are competing for a top award of up to $125,000 this week plus valuable points in the hope of qualifying for the 2012 Forrest Wood Cup, the world championship of bass fishing. The top five anglers in the points standings from the four Walmart FLW Tour Open tournaments will qualify.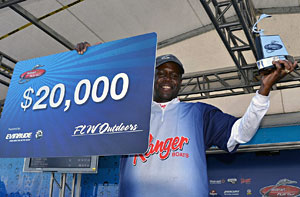 Okeechobee FLW Tour Co-angler champion Aymon Wilcox shows off his trophy and $20,000 check. Photo Credit: Brett Carlson
Aymon Wilcox of Lauderdale Lakes, Fla., won the Co-angler Division and $20,000 Saturday with a three-day total of 15 bass weighing 55 pounds, 14 ounces followed by George Kapiton of Inverness, Fla., in second place with 15 bass weighing 53-10 worth $7,625.
"I've been close so many times that it feels real good to finally win one," said Wilcox, who has six previous FLW Outdoors top-10 finishes in the last six years. "It was a great week of fishing. Basically I used Tuscaroran Stick Bait, frogs and NetBait Paca Craw all week long to catch all my fish.
It was a little slow today, I was pretty nervous, but then about 1 p.m. I caught my 4-pounder and I relaxed just a little."
Pages: 1· 2
1 comment
Top finishing Great Lakes angler:
14 THEO CORCORAN WATERFORD, MI 5 15-11 5 15-10 5 8-11 15 40-00 $1,500